Rebecca Coder Park
---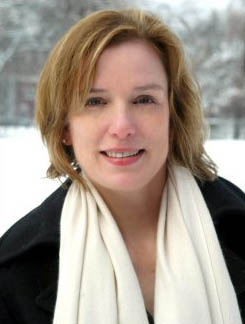 Not Only a Place, but a Philosophy
Posted: October 17, 2020
Much of Francis Field as it appears today is due to the vision and work of Rebecca Coder (1969-2018), who was the first president of the Friends of Francis Field, and one of its founding members.
Beginning in 2007, she championed a landscape architecture plan for tearing down a high, chain-link fence that surrounded the property, and installing improvements to create a well-designed public recreation space that would welcome and serve the increasingly residential neighborhood that the West End was becoming.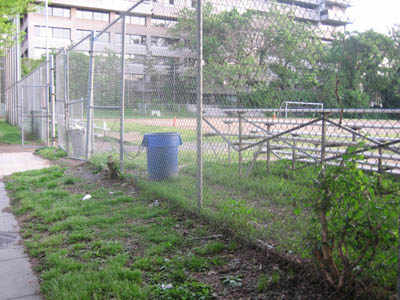 Working with—and sometimes against—the D.C. Department of Parks and Recreation as it existed then, she attended a series of zoning hearings, "stakeholder" sessions, and public meetings to adapt the space for the uses that were being discussed.
A professional landscape plan was then developed and approved as part of a zoning case.1
As part of her efforts to improve the ugly, bare-dirt field, she ran for election to the local Advisory Neighborhood Commission (ANC-2A) in 2008, unseating an incumbent commissioner who was unresponsive to community requests.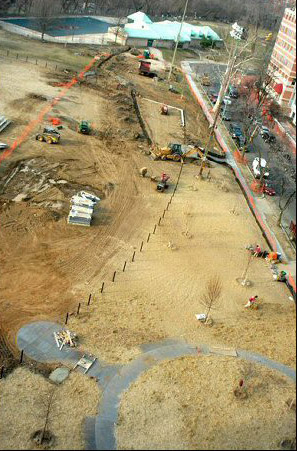 In 2010 the first phase of the landscape plan was implemented—with benches, trees, walkways, trash receptacles, and for the first time ever, a drinking fountain on Francis Field. All of it was done with private funds, and a budget of $150,000. The architectural fabric of Francis Field was permanently changed.
While Francis Field was Rebecca's great project, she also played an important role in shepherding community support for a new West End library and a new fire station a block away. Those projects began in in 2009 when the plans were drawn up and were completed in 2017, when both facilities were opened as mixed-use buildings with residential units and retail space.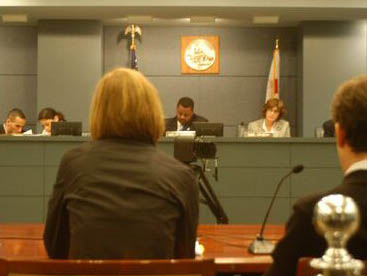 Her original ANC district was the entire West End, from 20th Street on the east to Rock Creek on the west. In 2009, she also introduced the resolution that resulted in the naming of Duke Ellington Park at New Hampshire Avenue, 22nd, and M Streets. The legendary jazz musician was born a few yards away.
Rebecca also played a role in saving the historic Thaddeus Stevens Elementary School building from being turned into rental apartments, and in preventing the former Francis Junior High School from being closed.
Fixing the bare-dirt condition of the playing-field space on Francis Field was a constant concern under an ever-changing parade of DPR directors—seven in all between 2007 and 2017, under three different mayors.
An attempt to fix the central field in 2013 stalled and never found its way through the District bureaucracy at that time. Rebecca's philosophy was one of perseverance in learning how the system operated—then working through it in a smart and successful way. It was something she taught the rest of us.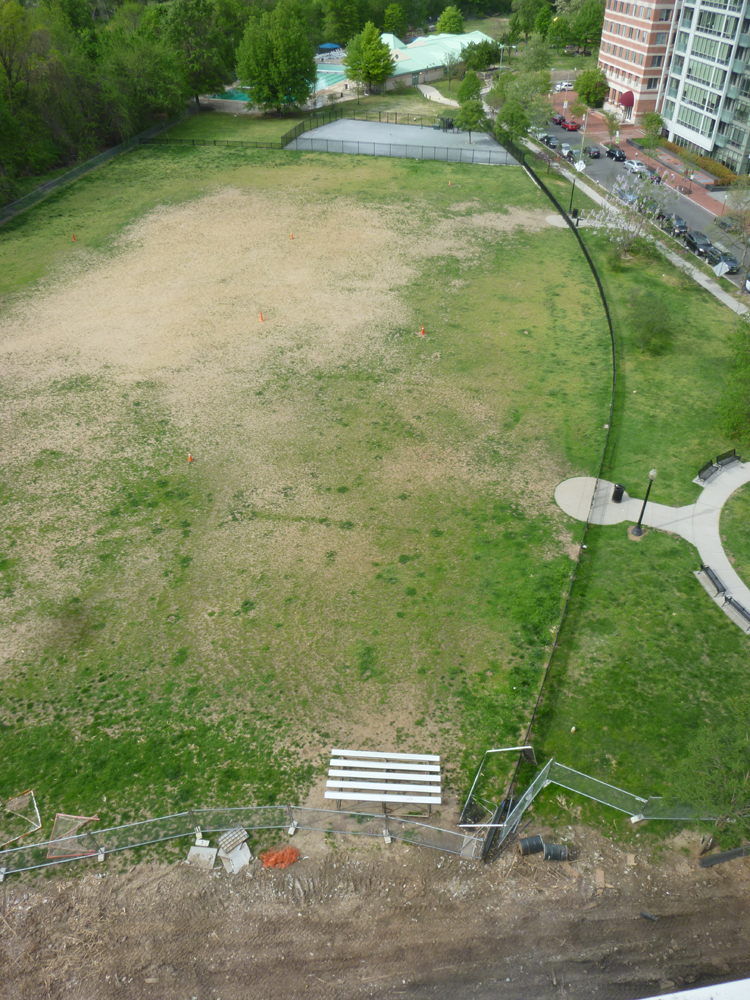 In June 2016, FFF and ANC-2A launched another attempt to fix the field with private funding, this time with the cooperation of the administration of Mayor Muriel Bowser.
That project was begun by defining the multiple uses that the field should provide, according to its neighbors, the Mayor, the District Council, and the National Park Service—which owns about half of the playing field area. The agreed-upon objectives of Francis Field were stated in an important resolution.2 It was to provide:
A green, pleasant and safe recreation area
Athletic field space for school, youth, and community sports
Passive space for non-athletic rest and relaxation
Provision for the daily needs of community pet owners
An environment appropriate for its residential proximity
A natural buffer area between Rock Creek Park and urbanization
The project which resulted began in May 2017 with the planting of 43 trees, all of them on areas designed for passive, non-athletic recreation.3
Rebecca and her husband Chris Haspel were among the 15 volunteers from FFF that participated in that project. They are shown in the photo below.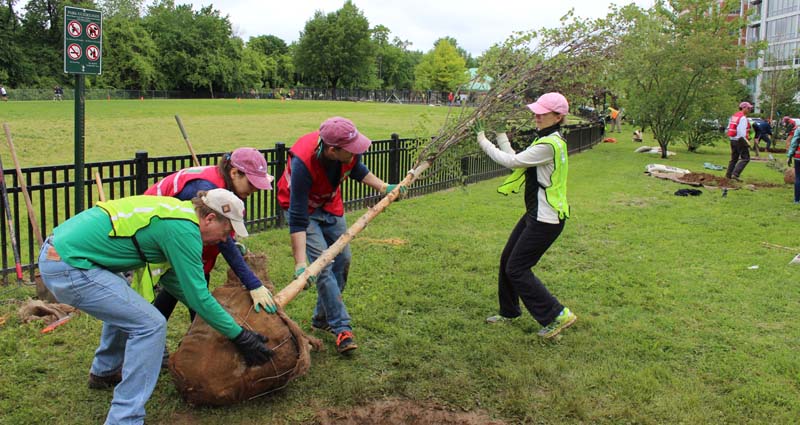 That summer an experimental greening project authorized by DPR and the National Park Service was begun to decompact the central field, plant grass, and fertilize. This was done under National Park standards, with no herbicides, specified species of grass seed, and only organic fertilizer. At the same time, FFF also studied the water infrastructure and hydrology of the field and had running water restored to it using pipes run from the pumphouse of Francis Swimming Pool.
The results of that project exceeded expectations. When the field was reopened to play and permitting in the spring of 2018, the turf was green and living, and without any holes, debris, or abandoned equipment.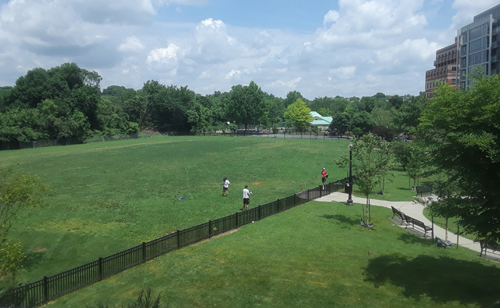 During the fall and winter of 2017, Rebecca monitored the progress of the field restoration but could no longer participate in it. Few of her colleagues knew of her 13-year battle with ovarian cancer.
In March, when the field was reopened to sports play, she was pleased to see teams of boys and girls from the School Without Walls High School taking part in lacrosse practice on green grass rather than bare dirt and mud. None of us had ever seen the field look better or be more safe for youth sports and school activities.
Rebecca died three weeks later, on May 1, 2018. Despite her long illness and extensive rounds of treatment, she always found time to help others.
For her service to the neighborhood she was honored with a plaque on the Wall of Honor at the West End Library in May 2019. That project was initiated by the West End Library Friends.4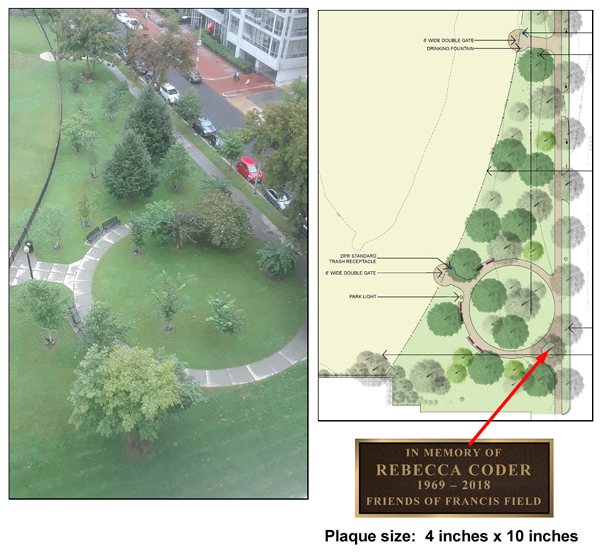 The ANC and the Friends of Francis Field want to remember Rebecca on Francis Field, too. As part of our new partnership agreement with DPR, FFF will improve a section of the field between 25th Street and the athletic field by removing obsolete elements, leveling the ground, and enhancing the landscaping to make it more park-like.
While Francis Field will not be renamed, this small section will be called "Rebecca Coder Park." To be official, this will require legislation by the District Council and the signature of the Mayor.
A small brass plaque will be also be installed at the sidewalk level in her memory.
It is the intention of FFF to honor Rebecca's spirit and style in all our other projects as well. She believed in doing things in the smartest possible way, running trials and experiments to find solutions, and working with others while enjoying the pursuit of common goals. She was a wonderful neighbor, and she left the West End neighborhood in much better shape than she found it.
Donations to the Rebecca Coder Park Fund are welcome. See the About & Contact page on this website.
---
Notes
01. See background article on this website describing the 2009 master plan and its development: The Master Landscape Plan for Francis Field, May 24, 2017.
02. Advisory Neighborhood Commission 2A, Support for Improvements to Francis Field with Private Funding. June 15, 2016. PDF.
03. See background article on this website on the May 2017 tree-planting: Tree Planting: Mission Accomplished on May 13!
04.See article on this website: Rebecca Coder (1969-2018) Honored at Library
05.See obituary article on this website: Remembering Rebecca Coder (1969-2018).
---