Rebecca Coder (1969-2018) Honored at Library
Posted: May 15, 2019.
A plaque for Rebecca Coder, the first president of the Friends of Francis Field (FFF), and later an Advisory Neighborhood Commissioner for the West End, was installed on the Wall of Honor at the West End Library on Saturday, May 11.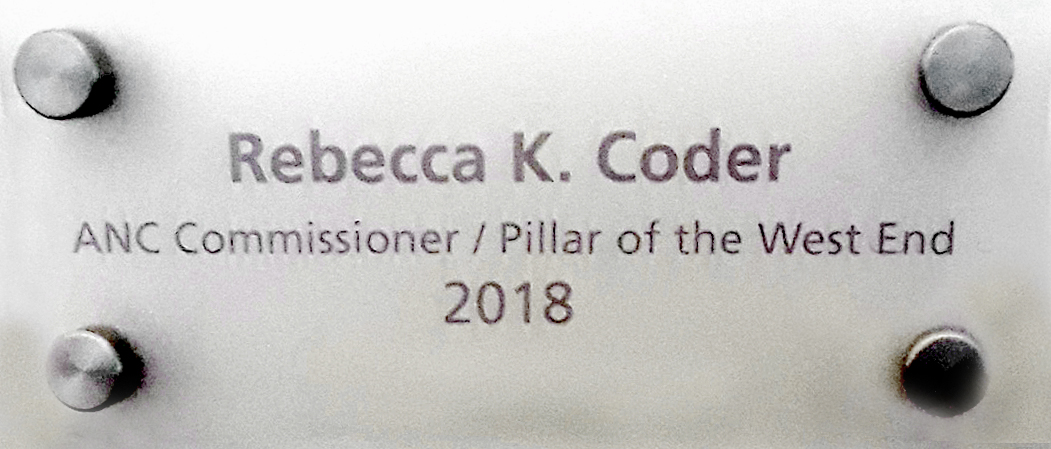 The nomination was made by the West End Library Friends to the District of Columbia Board of Library Trustees in July 2018, two months after Rebecca's death at the age of 49. Co-sponsoring the nomination were five other organizations.
(The nomination letter and resolution by the Library Trustees is included on this website.)
Susan Haight, president of the Library Friends, arranged a ceremony preceding the installation of the plaque. She was one of the four speakers who remembered Rebecca and her work. The others were Jack Evans, District Councilmember for Ward 2; Patrick Kennedy, vice-chair of Advisory Neighborhood Commission 2A; and Gary Griffith, president of Friends of Francis Field.
Members of Rebecca's family who attended were Chris Haspel, her husband of 21 years; her sister-in law Kay Haspel; her brother Joshua Coder; and her sister-in-law Cecilia Coder.
A group of more than 30 attended the ceremony, including several former commissioners of ANC-2A; members of the Foggy Bottom West End Village, which Rebecca helped to found; and members of FFF.
Councilmember Evans said during his remarks that a memorial plaque for Rebecca will also be placed on Francis Field.
ANC-2A made that request in a resolution to the councilmember on September 20, 2018, a copy of which is on this website, as is a graphic of the plaque and its location.
The placing of the memorial plaque on Francis Field may require Council-initiated legislation. Thus, Evans' announcement that it would be done was reassuring.
An obituary, Remembering Rebecca Coder, who died on May 1, 2018, is also included on this website.