---
ANC Redistricting Task Force Defines West End More Correctly
Posted: April 12, 2022.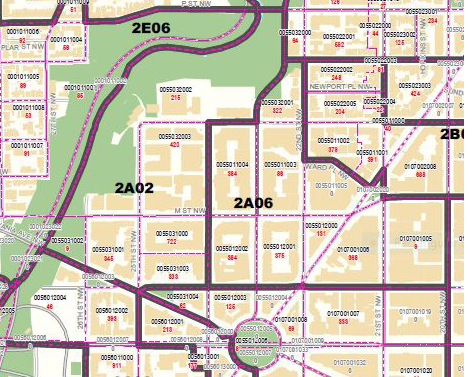 While the process is not quite completed, the Ward 2 Redistricting Task Force has completed its work. A detail of its final proposed map is shown at left. The complete map can be found at this link, and will open in a new window.
The most important change in the new boundaries, as shown in the detail, is that Francis Field, Francis Swimming Pool, and what is now called the Francis Stevens Education Campus will all be included as part of single-member-distict 2A02.
For the last 30 years, most of swimming pool, and all of school, have been in the Dupont Circle ANC-2B. The new map puts them, and the entire block, in the Foggy Bottom/West End ANC-2A.
The new map also defines the West End more neatly and correctly in two, single-member districts, 2A02 and 2A06.
Early maps of the Redistricting Task Force that moved part of the West End into the Kalorama or Dupont Circle jurisdiction were withdrawn. (See March report on this website for background.)
The District Council's Subcommittee on Redistricting will hold a final hearing on April 28. Those wishing to testify are required to register. The hearing notice can be found on this website.
The mark-up of the bill is scheduled for May 24, and the bill must be passed by June 7 for the new boundaries to be used for the November 8, 2022, general election, when the non-partisan ANC commissioners will be elected.