Mayor Hears Views on Foggy Bottom/West End
New DPR Director Will Meet on Stalled Projects
Posted: October 18, 2019.
Mayor Muriel Bowser appeared before the Foggy Bottom/West End Advisory Neighborhood Commission (ANC-2A) at its October 16th meeting. According to the agenda, she was to make remarks "regarding administration priorities." This was to be followed by "a discussion regarding community conerns." She did, and it was.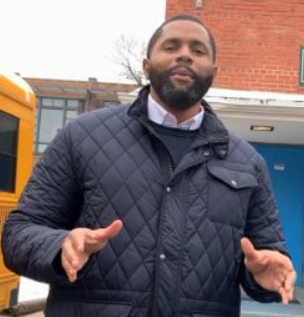 One of the results was an agreement by her new director of the Department of Parks and Recreation (DPR) to meet with representatives of the Friends of Francis Field (FFF) about several stalled plans and requests to solve problems.
Delano Hunter, appointed to the position in January 2019, was there. He listened, and was handed a letter requesting that he meet with FFF on issues that were supported by ANC-2A resolutions in 2018 and 2019, but not acted upon. He agreed to set a date to meet sometime soon.
Hunter succeeds Keith Anderson, who is now director of the D.C. Department of General Services (DGS). Hunter (shown at left in a recent photo) is a native Washingtonian and holds an MBA degree from Johns Hopkins University.
The day after the ANC meeting, FFF received a signed agreement from DPR, which will help to get things moving on the revised master plan for Francis Field, was which was sent to DPR in December 2018. This was not an approval of the plan, but of the donation and its amount. It is a technical step required for the District government to legally receive private funds.
It states that the District may accept an in-kind donation valued at $20,000 from FFF "to provide professional landscape architecture plans for revision of DPR's 2009 Master Plan to include additional landscape plantings, removal of obsolete elements, and other improvements."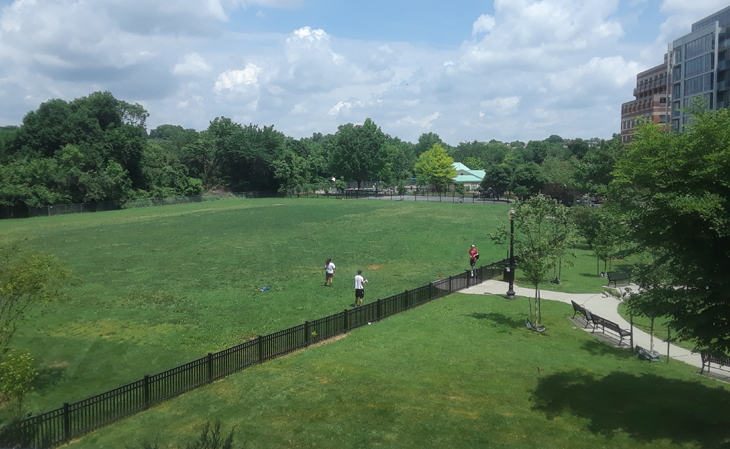 FFF made a similar public-private partnership donation of $25,000 for in-kind improvements in 2017. It included planting 43 trees and an experimental project that left the athletic field with a green, living turf surface after decades of bare dirt.
The condition of the field on May 19, 2018, is shown in the photograph at right. The earlier work is described in several articles on this website, including the May 2018 Report.
The field conditions have deteriorated substantially since the 2017-2018 greening due to over-permitting by DPR and under-maintenance by DGS and the contractors it hires.
That is another matter about which DPR and FFF need to talk.
FFF attempted to address that problem through channels, including a resolution to DPR by ANC-2A on June 20, 2018, which went unanswered and unresolved. The "Over-Permitting and Under-Maintenance" resolution is on this website in PDF format.
Large adult "social sports" and "kick-ball" leagues, which seldom used the field before 2017, began to be permitted on the field in large numbers in 2018, some with many more players than the 50 listed by DPR as the field's capacity. They have returned in 2019.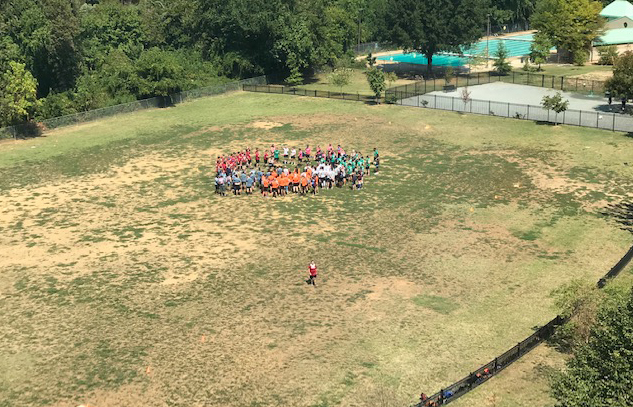 A recent photo taken by a neighboring homeowner on Sunday, September 8, 2019, gives an example of the number of players on the field at one time now—and the field conditions that have resulted. It is shown at left.
FFF counts 108 players in the photo. (Try it yourself with a larger photo and look at the field's condition.) And this is only six of the 18 teams that play over the three-hour permit. Thus, 108 x 3, or 324 pairs of cleated shoes each Sunday ... and for just one permit-holder. An NFL pro-football team would have only 22 pairs of cleated shoes on the field over the same time period, not counting those of the referees.
FFF encourages sports activity on the field, but recognizes that it must be balanced by proper maintenance to provide living turf with a safe surface.
Under the DGS contracts awarded for field maintenance, Francis Field is not maintained to support its current usage under DPR permitting. It is seldom planted, repaired, or evaluated. Fort Myer Construction, historically a large contributor to mayoral and council election campaigns, continues to hold the current contract. It hires a subcontractor for the work.
The October ANC-2A meeting had a crowded agenda, and FFF knew there would not be time to show photographs, or argue the permitting case in any detail. In addition to Hunter, at least one other important department head was present—Lewis Ferebee, the new chancellor of D.C. Public Schools.
The meeting room at the new West End Library is large, and filled up early. There are 40 ANC's in the District. None of them expect mayors or department heads to visit more than once a year, if that. Lower-level staff people are usually assigned to ANC visits.
In the photograph below, the Mayor is shown with six of the eight ANC-2A commissioners. Seated left to right are: James Harnett; Patrick Kennedy, vice chair; William Kennedy Smith, chair; Nicole Goldin, who represents the district in which Francis Field is located; Jeri Epstein; and Trupti Patel. Chancellor Ferebee is shown listening in the near foreground. Councilmember Jack Evans, who represents our Ward 2, was seated in the second row. DPR Director Hunter was standing, further back.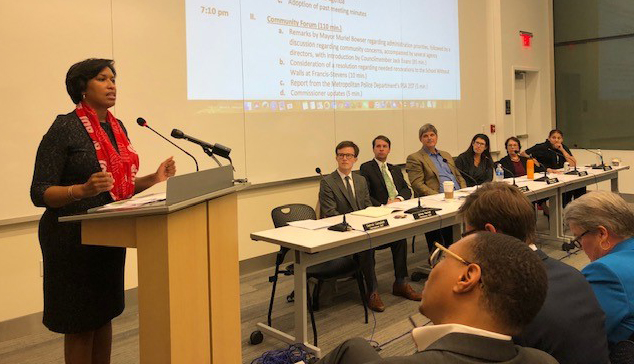 The Mayor brought the school chancellor along for a reason. Schools are of growing interest to ANC-2A, and the elementary school that serves our area is the former Francis Junior High School on N Street, which has become the "School Without Walls at Francis-Stevens." It is now "K-through-8" and also has pre-school.
Thaddeus Stevens Elementary, where President Jimmy Carter sent his daughter, is closed. Francis-Stevens, as we call it, is now the public school that President Trump's youngest son would attend if his parents wanted him to. The Obama family didn't send their daughters there, either. There are better private schools.
Several parents and teachers came to the ANC meeting to urge that Francis-Stevens be expanded. It has been getting better now that it shares a principal, Richard Trogisch, with the high-performance School Without Walls High School in Foggy Bottom. Principal Trogisch was also in the audience, and arrived early enough to get a seat.
So those of us who came to discuss Francis Field were outnumbered, and we had to wait our turn.
The adults, however, let the kids do most of the talking, and they stole the show, reading their prepared remarks with courage and conviction. The school is apparently still far from perfect.
One little girl, hardly taller than the chair in front of her, told the Mayor that the toilets in the restroom she had to use were bad and they had to be flushed twice.
A red haired boy, a foot taller, reported with a newscaster's precision how slow the old computers are, and that they take forever to get on the Internet. Not nearly as good as the kids have at home.
Another boy the same age, huskier but soft-spoken, described the condition of the field where his soccer team practices, and how dust gets in everyone's eyes and they have to wear goggles because it has so much dirt. That, many of us knew, was this year's Francis Field. We never saw this kid before, but he couldn't have made a better case for DPR and its permit office to pay some attention to what is happening out there.
After the school discussion ended, FFF representatives spoke and delivered the letter to Hunter requesting a meeting to discuss the over-permitting that had left the field "a wreck," DPR's long delay in responding to the landscape plan submitted 11 months ago, and unresolved partnership issues that have been aging at DPR for eight months. A copy of the Request for Meeting letter is on this website.
Hunter, standing far from any microphone, said little but agreed verbally to the meeting. He spoke to several of our members afterward and listened to their concerns. FFF received the signed donation agreement by email the following day.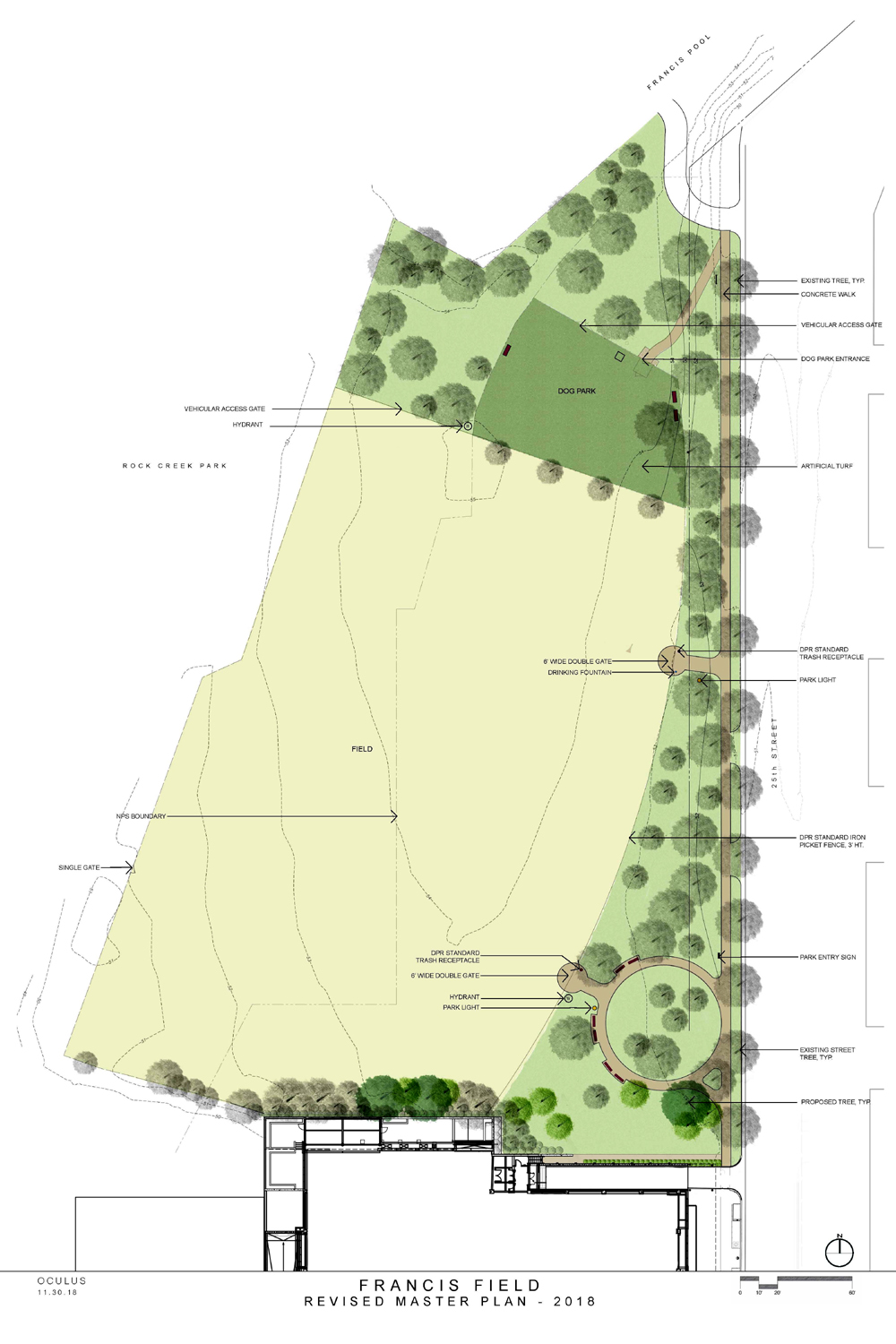 As for the stalled landscape plan, the architectural drawings were begun in 2016 and completed in November 2018, at a cost to FFF of about $2,500. The plan was first explained on this website on May 26, 2018, (see First Look article) and again on February 11, 2019, in greater detail (see Changes Explained article).
It was presented to the community at the February 21, 2019, public meeting of ANC-2A.
The plan was not and is not controversial. It mostly records changes that have already been made, adds 11 trees, and improves some planned but unfinished landscape plantings.
After that February presentation, ANC-2A passed a unanimous resolution of support, requesting "that DPR approve the FFF proposed revised master plan as submitted." The full resolution is on this website (see Revised Master Plan for Francis Field). It was sent to Hunter on March 3, seven months ago. The main drawing is shown at right.
The complete set of drawings includes a sub-plan for the planting of additional trees, and a sub-plan for a rear-field landscaping planting.
FFF had hoped to begin this work as early as April 2019—the spring planting season—but there was no response from DPR. Once DPR approves the plan, it must also be submitted to the U.S. Commission of Fine Arts, which approved the 2009 plan. (See explanation in the 2009 Master Plan article on this website.)
FFF will look forward to meeting with Director Hunter and hopes that the information, drawings, and documents on this website will make it easy for him and his staff to move forward on this in time to get some planting done before winter.
This October meeting with the Mayor was an excellent start on addressing this issue and others. It was productive and civil, almost a text-book lesson on democracy in action on its most local level. Norman Rockwell should have been there to draw it, with its standing-room-only crowd of A-list participants in a district that includes the White House, the Ritz-Carlton Hotel and Residences, Trader Joe's, the Lincoln Memorial, and the Francis Swimming Pool, where the Mayor's mother and many other African-American residents learned to swim.
The discussion was largely about the familiar issues of schools, "parks and rec," dangerous sidewalks, and homeless encampments; but it also had a 21st-century tinge with excursions into Airbnb's and whether solar panels should be allowed on historic preservation properties. The Mayor proved sharp and connected. The school kids gave her an A, and they were pretty sharp themselves.
Mayor Bowser's term—her second—runs until 2023. But there will be a District Council election in 2020, with a primary election in June. Jack Evans will have opposition if he runs again. There are already five announced candidates looking to represent Ward 2 in his place. All of our ANC commissioners' seats will also be up in the general election in November 2020.
FFF, as a non-profit charitable organization, does not endorse candidates. We wish local journalism was healthier, and that our home town newspaper covered the neighborhoods better. Perhaps the local universities will someday fill that function—and we have one of those, too, George Washington University, in our ANC district. In the meantime, FFF will try to keep the neighborhood informed on the "parks and rec" front.