---
FFF Partnership Recognized with DPR Award; Griffith Retiring as FFF President
Posted: November 8, 2022.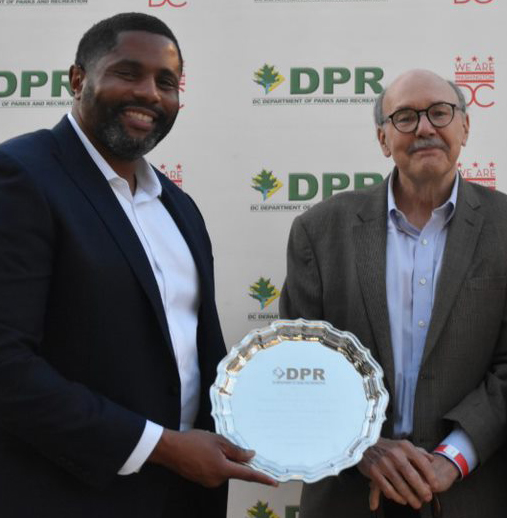 This September, DPR recognized FFF's decade-long cooperation with the director's partnership award, stating that FFF "helped bring to realization the metamorphosis of what was once a dirt lot surrounded by an ugly, 10-foot chain link fence."
"Today," the statement went on, "Francis Field is a beautiful and lush park where youth and adults play sports, neighbors rest on benches, dogs run off leash in their own designated area and the perimeters of the park grow full with trees, shrubs and flowers."
The photo at right shows DPR Director Delano Hunter presenting the award to Gary Griffith, president of FFF.
At this year's Annual Meeting of FFF on October 28, Griffith announced that he would be retiring as president of the organization in December, after serving five years in that role. He previously served as the FFF secretary for ten years.
He will continue to be a member of the Board of Directors.
Annual Meeting Report
This year's Annual Meeting was one of the most successful in FFF's fifteen-year history, with more than thirty people in attendance, and seven new members recruited.
Also at that meeting, Brad Kerchof, chair of the landscaping committee, was elected to the Board of Directors by the membership. The meeting was chaired by Beth Monroe Chase, who was elected to the Board last year. Treasurer Laura Belt reported that the FFF was in solid financial shape for the year ahead.
---