July 2022
---
"Rebecca Coder Park" Legislation Passes in DC Council, Goes to Mayor
Updated: July 14, 2022.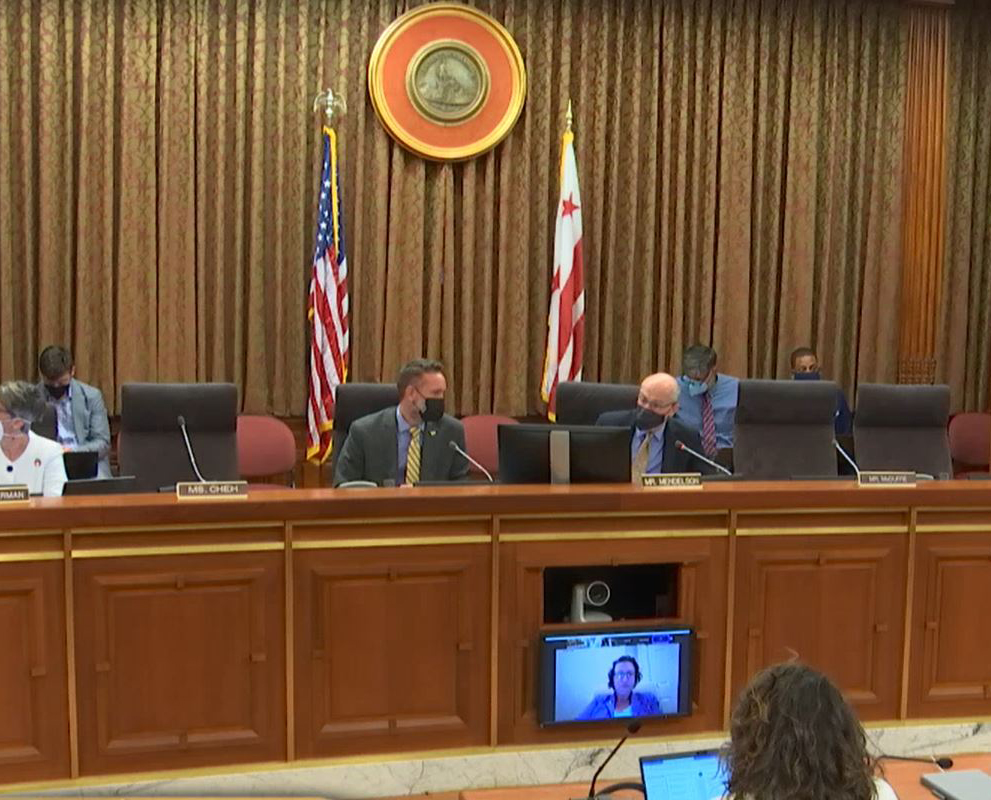 Legislation to name a small section of Francis Field for neighborhood leader Rebecca Coder is closer to becoming reality. It was passed by the Council of the District of Columbia on July 12, on its required second reading. This was the third time Council members had voted to approve it: once in committee, and twice in the full council. That's the usual process.
Next, the "Rebecca Coder Park Designation Act of 2022" needs to be signed by Mayor Muriel Bowser; and then sent to the United States Congress, which has 30 days to reject it. If there is no objection by the end of that period, the Act becomes a Law.
The legislation was introduced on May 3, 2021, by Ward 2 Councilmember Brooke Pinto. It is Bill 24-233 on the Council's website, and its full legislative history and hearing testimony can be found there. It is up to date with the voting details of the July 12 legislative meeting.
See also the background articles on Rebecca Coder Park on this website, particularly Not Just a Place but a Philosophy. Others are also listed on the Site Map.
---
Volunteers Pitch In To Complete FFF-DPR Partnership Improvements
New Plan for 2023-2025 Approved by Advisory Neighborhood Commission
Posted: July 13, 2022.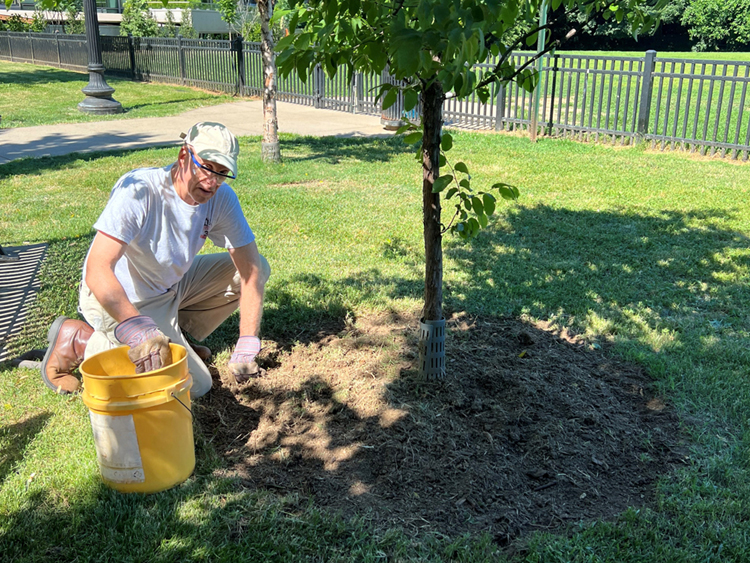 Our Friends of Francis Field (FFF) organization is continuing to make the improvements to Francis Field specified in its 2019-2022 partnership agreement with the D.C. Department of Parks and Recreation (DPR).
Volunteers and our landscape contractor were concentrating in June on weeding the beds of the rear-field landscaping, and establishing mulch circles around the trees in that area and in the proposed "Rebecca Coder Park" area along 25th Street NW.
As shown in the photograph at left, the mulch circles involve digging circular, weeded rings about three feet in diameter around the trunks of young trees, and then spreading hardwood mulch about three inches deep.
This decreases the tree's competition for nutrients and water with the grass and weeds that otherwise grow around it. The mulch also retains moisture that encourages the growth of the tree's root system.
Lastly, the mulch rings provide some protection of the tree trunks from industrial mowers and weed whips during routine mowing maintenance.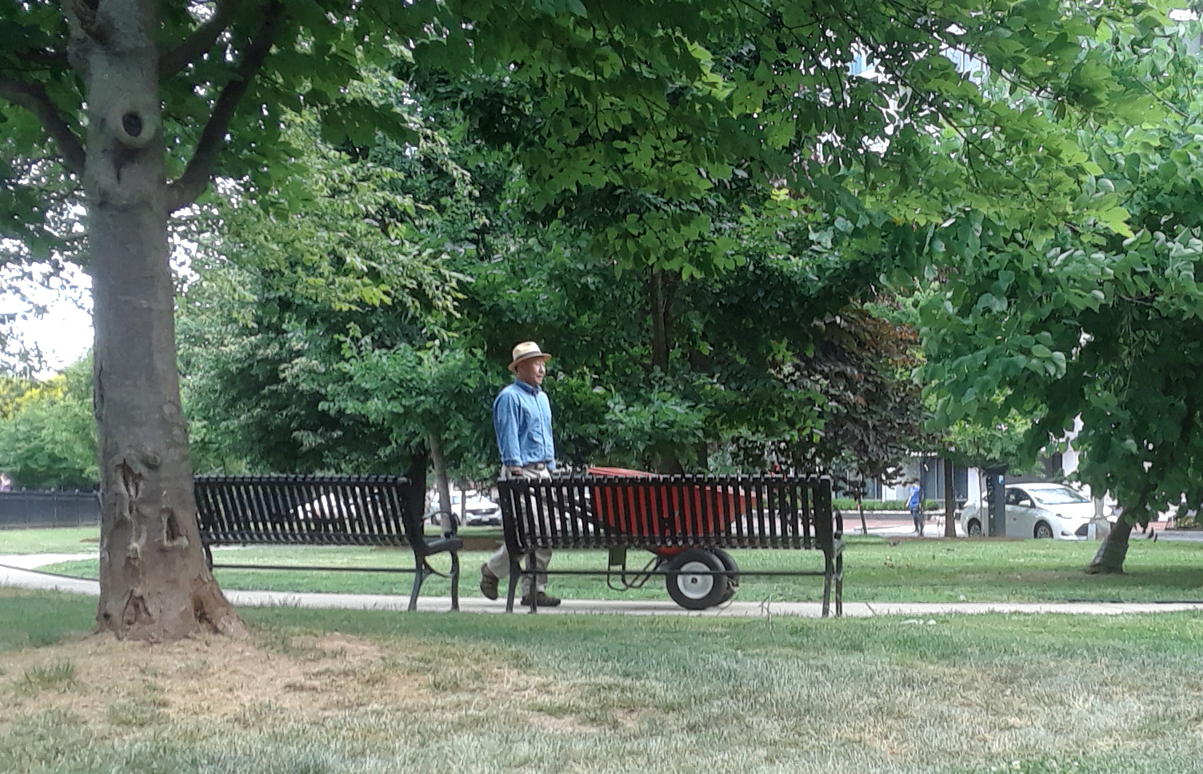 These same areas—the "Rebecca Coder Park" area and the rear-field landscaping—will also be the focus of FFF's new partnership plan for 2023-2025, which has been now been submitted to DPR.
The partnership plan also encourages the continuation of the Francis Tree Lab concept launched in 2019 in cooperation with the Casey Tree Foundation. The new plan welcomes the Urban Forestry Division of the D.C. Department of Transportation, which has been participating informally from the start.
The new, three-year plan, was presented to Advisory Neighborhood Commission 2A at its June 20 meeting. It was given the ANC's support in a resolution introduced by Chairperson Joel Causey and passed unanimously.
The entire ANC-2A resolution of support can be found on this website. FFF has had a partnership agreement with DPR since 2013, which has been renewed continually with updated project plans.
---
Calling All Candidates for West End Seat on Neighborhood Commission!
Election Process Begins with Nominating Petitions Available on July 20
Updated: July 21, 2022.
West End residents who have considered volunteer public service should be aware of an open opportunity to serve as an elected member of the local Advisory Neighborhood Commission.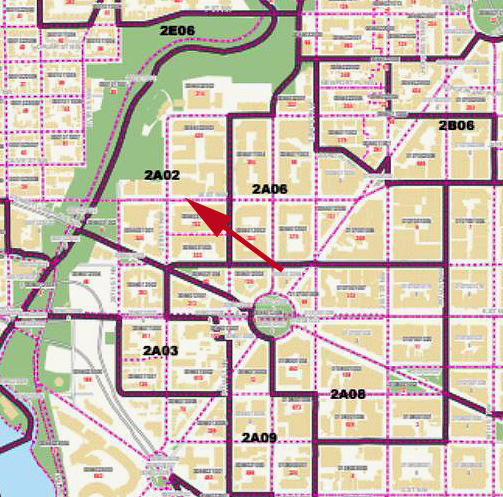 Due to the redistricting that takes place every ten years, in January 2023 there will be nine seats rather than eight on the Foggy Bottom and West End commission, which is known as ANC-2A. These are non-partisan and non-paid elected offices that are at the entry level of District of Columbia government.
Each of the commissioners is elected from a small district of about 2,000 residents. Francis Field is located in what is numbered as single-member district 2A02. It is shown on the new map at right which will become effective in five months, highlighted with a red arrow.
See also larger, individual maps for single-member disticts 2A02 and 2A06 which are the two that will make up the West End neighborhood in 2023.
The incumbent 2A02 commissioner, Joel Causey, who resides on 23rd Street NW, will reside in 2A06 in 2023, due to the redistricting. Thus, the 2A02 seat will be open to someone new.
Candidates must be registered to vote in their single-member District for at least 60 days prior to the election.
To be on the November ballot, the election process also requires candidates to collect 25 signatures from registered voters living in their single-member district. Those signatures must be on "nominating petitions" that can be obtained on and after July 20 from the Board of Election. The petitions must be returned by August 10.
Complete information for prospective candidates about the process and ballot access can be found on the website of the D.C. Board of Elections.
Elected commissioners serve two year terms. ANC-2A usually holds a public meeting once a month, except in August and December. The ANC-2A website has information and agendas from past meetings, and video recordings of those conducted by Zoom since 2020.
---