July 2021
---
Summer Planning for Autumn Planting in Rear-Field Area
Posted: July 10, 2021.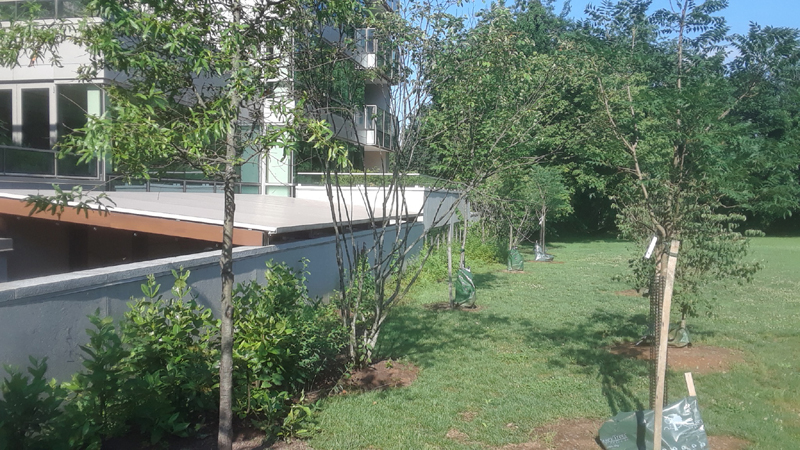 The rear-field planting of 11 new trees requested by the Urban Forestry Division (UFD) of the D.C. Department of Transportation has been now been completed. There is still one dead tree to be removed in that area, and replaced with a different species or variety—one more suited to the conditions there.
Casey Tree Foundation has been donating the trees for planting in a cooperative program with UFD, the D.C. Department of Parks and Recreation (DPR), and the Friends of Francis Field.
This fall we should be adding shrubs and other landscaping plants to the area closest to the building. We'll be working with a consultant and a contractor to study the soil and light in advance of the final planting schedule and plant selections.
We are also trying to gauge interest in the educational aspects of the field's plants, trees, and natural features for pre-school and elementary school teachers.
For background on this area of the field see Rear Field Landscaping, posted on this website April 2, 2011.
Rear-Field Landscape Architecture

The architectural plan for Francis Field was required by a 2007 zoning case, and is under the review of the U.S. Commission of Fine Arts. A revised master plan was submitted by DPR and approved in March 2020. It includes sub-plans for the new tree plantings as well as the rear-field landscaping.
A detail of the rear-field plan is shown at left. There a three drawings in the plan, showing former plantings, trees, and new plantings. The entire set of approved landscape drawings is on this website. See Revised Master Plan. There are three sheets of landscape drawings there for this project.
Francis Tree Lab: Good luck, Becky!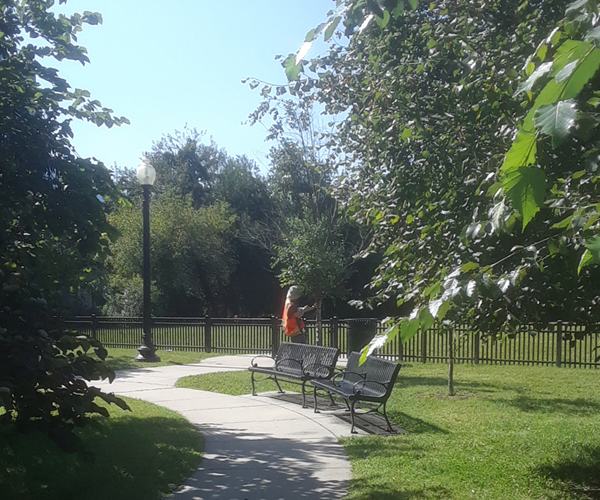 Some of the young children who come to the field have been told that the trees there are looked after by tree fairies with orange wings. They fly in from time to time to make sure the trees are happy. They can also make new trees appear, when they think that might be nice.
This reminds us that one the founding members of the Francis Tree Lab has flown away to another city.
Becky Schwartz for the last several years was an arborist with the Urban Forestry Division (UFD) of the D.C. Department of Transportation. She has been involved with the trees on Francis Field since the spring of 2017 when she was with the Casey Tree Foundation. Then she chose and helped to plant 43 trees on May 13, 2017. Since she joined UFD she has selected 11 additional trees and their locations. All of them are now in place.
We wish Becky the best in Boston, and hope she will fly back from time to time.
---
Breaking News: DPR Director Hunter To Ban Dogs from Francis Field
Issues Letter with Plans for New Fences, Locks, and "No Dog" Signs
Posted: June 14, 2021.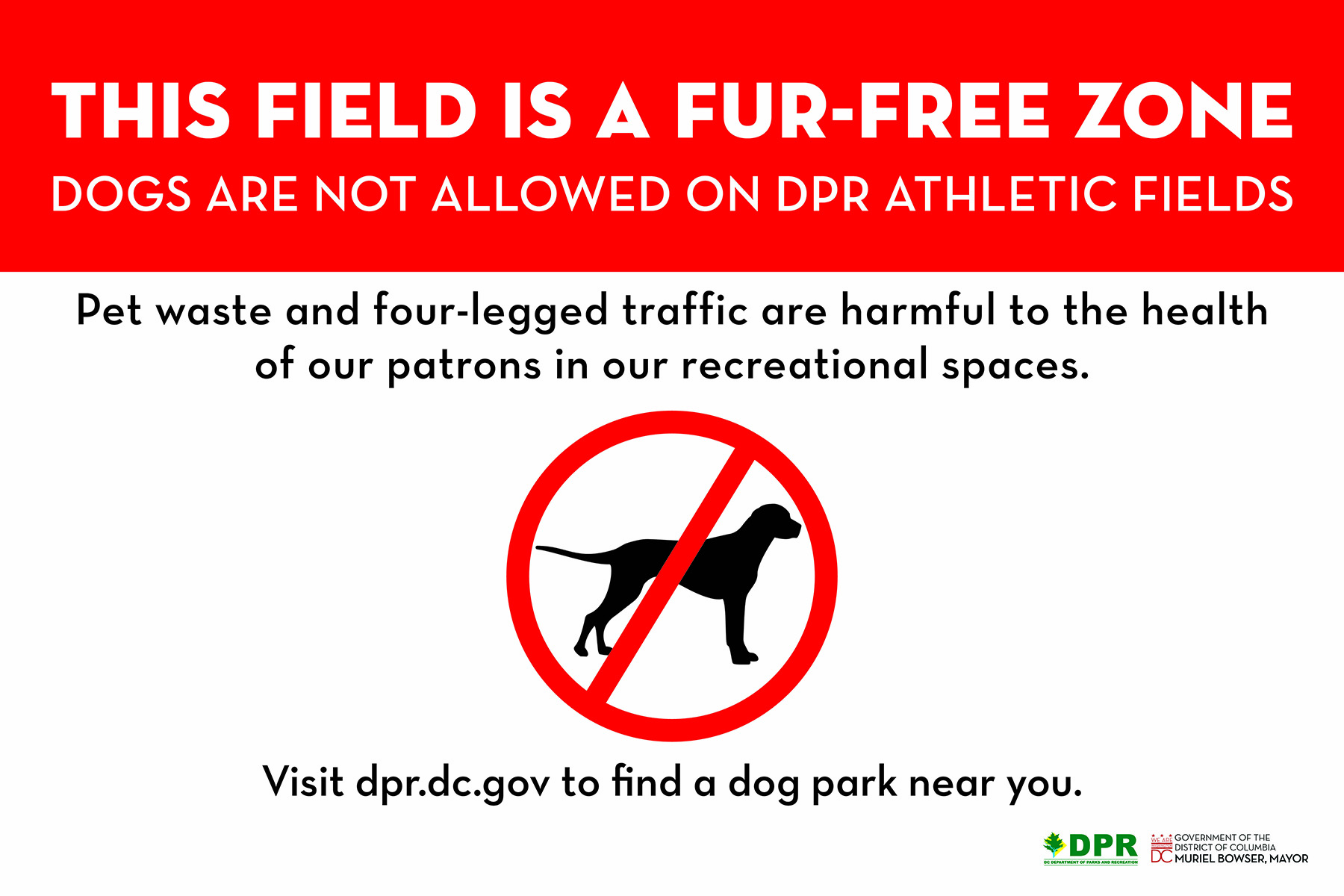 In response to complaints by Advisory Neighborhood Commission 2A, DPR Director Delano Hunter has issued a letter to "Francis Field Stakeholders" stating in part:
"Dog usage poses the most significant risk to the condition of the field. Despite enforcement efforts, we recognize that entrenched patterns of behavior adversely impact the surface."
His letter states that signs have been posted. If so, it may be that they have been removed.  An example is shown at right.
Director Hunter's letter of June 11, 2021, can be read in full in PDF format on this website.
Friends of Francis Field (FFF) has not responded to Hunter's letter, and is seeking comment from its Board of Directors and membership before it does so. FFF has a partnership agreement with DPR. It has both opposed and agreed with DPR positions since 2008.
Advisory Neighborhood Commissioner Joel Causey, who currently represents the Francis Field area, responded to Hunter in an email message stating: "These all sound like great solutions and we look forward to seeing if each can become a reality."
Commissioner Causey also stated that Hunter's letter will be discussed at the ANC-2A meeting scheduled for Wednesday evening June 16. See the ANC's website for details: www.anc2A.org.
---
Legislation Filed in Council for Rebecca Coder Park!
Posted: May 5, 2021.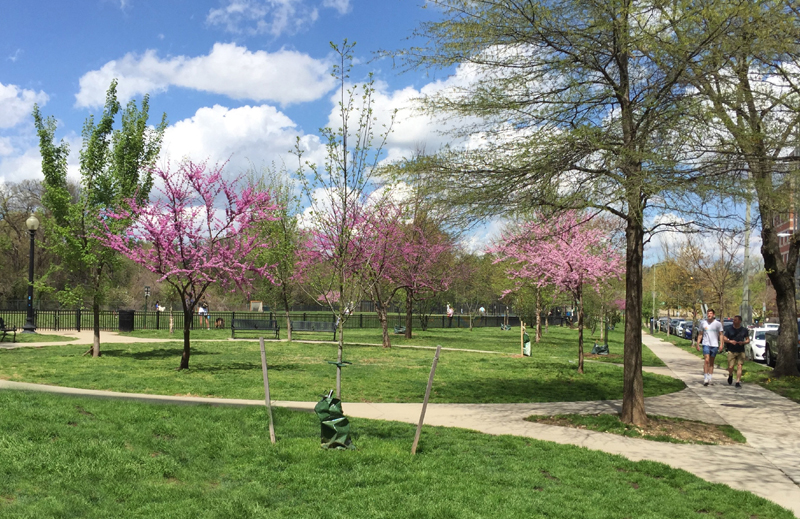 As reported in Mays's West End Flyer, Councilmember Brooke Pinto filed the "Rebecca Coder Park Designation Act of 2021" in the Council of the District of Columbia on May 2.
If passed by the Council and signed by the Mayor, it would designate a small section of Francis Field to be named in the memory of former Advisory Neighborhood Commissioner Rebecca Coder, who died in office on May 1, 2018, in her tenth year of representing the West End. She was then 49 years old, and had fought a long battle with ovarian cancer.
In a letter to the Council, Pinto stated: "The bill memorializes her successful efforts to provide passive recreation space in the West End neighborhood, specifically the portion of Francis Field that is now a small pleasant park area, where neighbors can walk dogs, sit on benches, and enjoy this small outdoor space, created in 2009 under her leadership."
See the full article in the May issue of the West End Flyer below.
See complete text of "Rebecca Coder Park Designation Act of 2021" and Letter to Council by Councilmember Brook Pinto.
---
West End Flyer for May
Posted: May 5, 2021.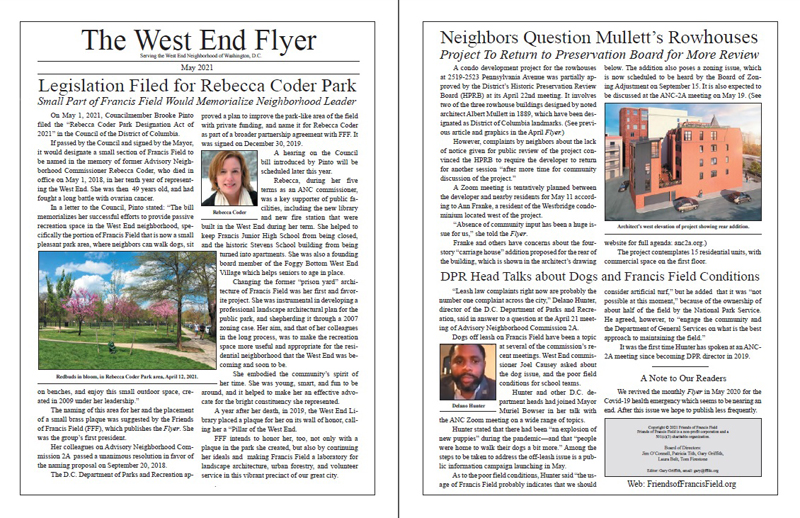 Articles this month:
Legislation Filed for Rebecca Coder Park: Councilmember Pinto introduces bill in District Council.


Neighbors Question Mullett's Rowhouses: Project will return to Preservation Board for more review.


DPR Head Talks about Dogs and Francis Field Conditions: Delano Hunter speaks for first time at an ANC-2A meeting.


View May 2021 issue: PDF will open in new window. Access back issues of the West End Flyer on this website.
---
ANC-2A Forms Committee to Deal with Dogs on Francis Field
Posted: April 2, 2021.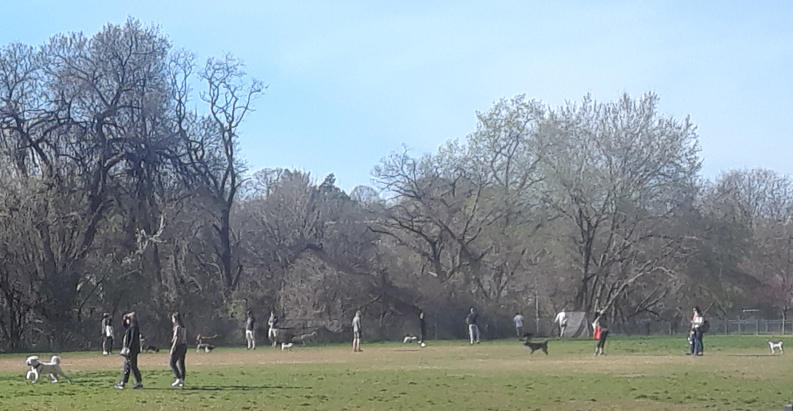 As reported in April's West End Flyer, Dogs busted the Zoom!
The March 17 meeting of Advisory Neighborhood Commission 2A had 99-people in its waiting room, a limit the software could not exceed, and one that had not been reached in any previous meeting. People interested in items further down on the agenda were asked to get off to make way for the "Francis Field and Francis Dog Park" discussion.
During the process, Commissioner Joel Causey, from the district where the field is located—on 25th Street NW between M and N—said that dogs off leash were a problem all over the District, and advised that Francis Field "at this point is unusable." He informed owners who continued to break rules that the enforcement was "about to get ramped up" with ticketing.
See the rest of the story in the April edition of the West End Flyer.
---
Spring Plans for Francis Field
Posted: April 2, 2021.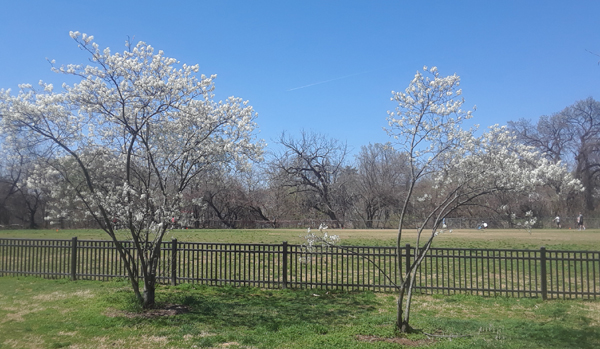 While the playing field issue gets straightened out, FFF has three other projects underway this spring, all of which have an educational element to them. Each deals with the small "passive rest and relaxation" areas rather than the extensive, multi-use central field:
Francis Tree Lab. With our associates at the Casey Tree Foundation and the Urban Forestry division of the D.C. Department of Transportation we are seeing what we can learn from our 50-some trees, and we will be trying to clone or graft one of them. See "Tree Lab" section on this website.
Rear-Field Landscaping. We are implementing an approved landscape plan there with volunteer gardeners and professional landscape contractors. See "Rear-Field" article on this website.
Rebecca Coder Park. This is the small area between 25th Street and the playing field, and includes the circular sidewalk area. It is the special focus of our current agreement to improve the field with private funding. It is one of the most visited areas of the park, where dogs on-leash are frequent—and welcome—visitors. See "Rebecca Coder Park" section of this website.