April 2021
---
ANC-2A Forms Committee to Deal with Dogs on Francis Field
Posted: April 2, 2021.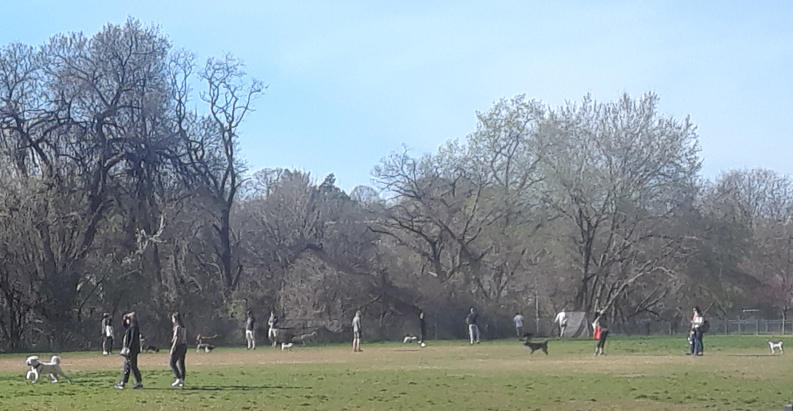 As reported in this month's West End Flyer, Dogs busted the Zoom!
The March 17 meeting of Advisory Neighborhood Commission 2A had 99-people in its waiting room, a limit the software could not exceed, and one that had not been reached in any previous meeting. People interested in items further down on the agenda were asked to get off to make way for the "Francis Field and Francis Dog Park" discussion.
During the process, Commissioner Joel Causey, from the district where the field is located—on 25th Street NW between M and N—said that dogs off leash were a problem all over the District, and advised that Francis Field "at this point is unusable." He informed owners who continued to break rules that the enforcement was "about to get ramped up" with ticketing.
See the rest of the story in the April edition of the West End Flyer below.
---
West End Flyer for April
Posted: April 2, 2021.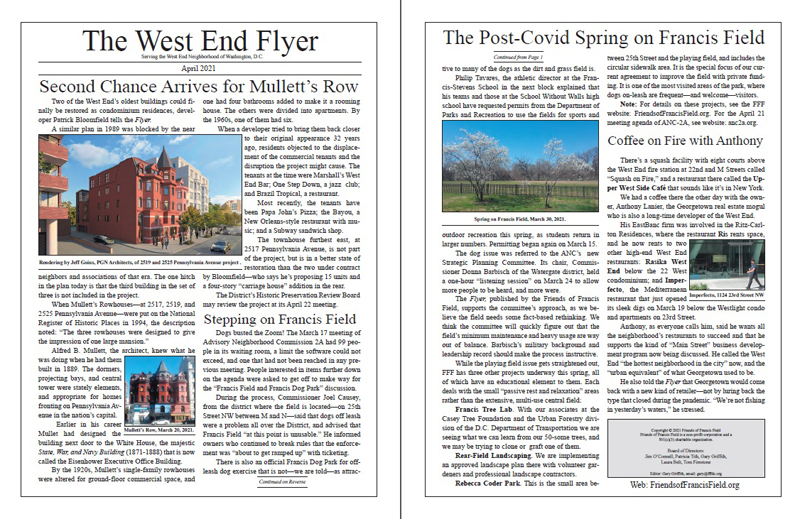 We revived the Flyer in May 2020 for the Covid-19 health emergency, and will be phasing it out as life returns to normal this spring. Articles this month:
Second Chance Arrives for Mullet's Row: Developer plans condominiums at West End's oldest historic building.


Stepping on Francis Field: Post-Covid strategic plan taken up by ANC-2A.


Coffee on Fire with Anthony: West End landlord Anthony Lanier in favor of "Main Street" business development.


View April 2021 issue: PDF will open in new window. Access back issues of the West End Flyer on this website.
---
Spring Plans for Francis Field
Posted: April 2, 2021.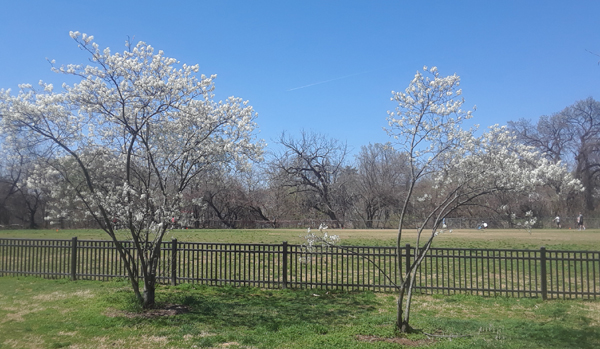 While the playing field issue gets straightened out, FFF has three other projects underway this spring, all of which have an educational element to them. Each deals with the small "passive rest and relaxation" areas rather than the extensive, multi-use central field:
Francis Tree Lab. With our associates at the Casey Tree Foundation and the Urban Forestry division of the D.C. Department of Transportation we are seeing what we can learn from our 50-some trees, and we will be trying to clone or graft one of them. See "Tree Lab" section on this website.
Rear-Field Landscaping. We are implementing an approved landscape plan there with volunteer gardeners and professional landscape contractors. See "Rear-Field" article on this website.
Rebecca Coder Park. This is the small area between 25th Street and the playing field, and includes the circular sidewalk area. It is the special focus of our current agreement to improve the field with private funding. It is one of the most visited areas of the park, where dogs on-leash are frequent—and welcome—visitors. See "Rebecca Coder Park" section of this website.