February 2021
---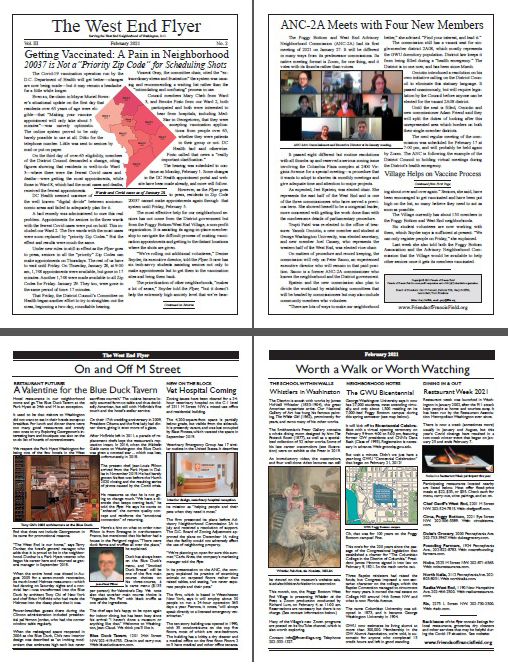 West End Flyer for February
Posted: February 1, 2021.
Getting Vaccinated: A Pain in the Neighborhood: 20037 is not a "priority Zip Code" for scheduling shots.


ANC-2A Meets with Four New Members: Advisory Neighborhood Commission elects officers, will form committees.


A Valentine for the Blue Duck Tavern: New chef takes over at this high-quality hotel restaurant.


Vet Hospital Coming: Veterinary Emergency Group to open facility at 2311 M Street NW.


Whistlers in Washington: Two opportunities to learn about James McNeill Whistler, his paintings and watercolors.


The GWU Bicentennial: George Washington University celebrates its founding as Columbian College in 1821.


Restaurant Week 2021: Fixed-price meals featured at $22, $35, or $55 at eight neighborhood restaurants.
View February 2021 issue: PDF will open in new window.Access back issues of the West End Flyer on this website.
---
Landscaping Implementation Underway: Getting Ready for Spring
Posted: November 16, 2020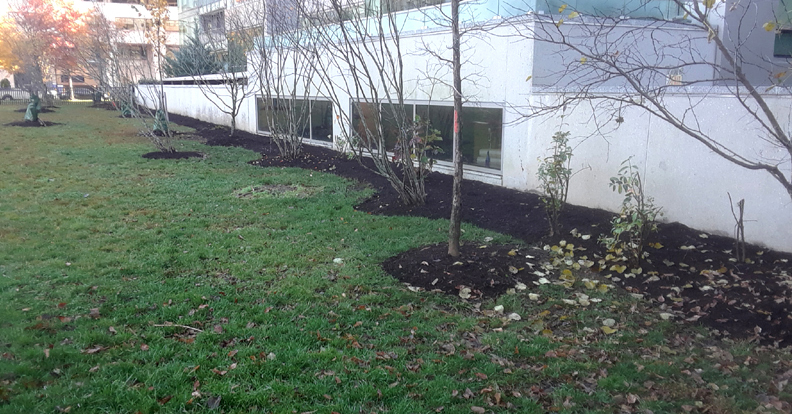 FFF is pleased to announce that it has gotten shovels in the ground this month to begin the implementation of the revised landscape plan for Francis Field in partnership with the D.C. Department of Parks and Recreation.
This new, multi-year project will improve several areas of the field, using a combination of private funding and volunteer hours.
Part of the new work, done by a professional landscape contractor hired by FFF, is shown in the photograph at right.
This is the "rear-field landscaping area" at the south end of Francis Field, where weeds were cleared and beds established for additional planting in the spring.
Volunteers had cleared many of the weeds a few days before. Existing plants worth saving were pruned and the beds were mulched. This area abuts the playing field, and is one of the areas that will be made more park-like under the plan approved by the U.S. Commission of Fine Arts on April 16, 2020.
The complete landscape plans are available on this website. See Revised Landscape Plan article.
---
Annual Membership Meeting Report
Posted: November 8, 2020
This year's membership meeting of the Friends of Francis Field was rescheduled twice due to the Covid-19 situation. It was held by a Zoom video conference on October 28, 2020, from 7:00 to 8:00 pm. This was quite a change from those FFF has held since 2016, which have been more social ... all had refreshments provided by a hard-working hospitality committee.
Board member Jim O'Connell served as meeting chair, and Gary Griffith, president, gave a slide presentation on plans for the year ahead.
The only business matter was the election of two members of the board of directors whose terms of office were expiring. Pat Tith and Tom Firestone were both re-elected to three year terms by the membership, which voted by PDF ballots, something new for FFF this year. Each candidate received 18 votes from members in good standing and up-to-date with dues.
Laura Belt, acting treasurer, filed a written report to the board on October 26, and reported to the membership that the corporation was in sound financial shape, and current with filings required by the Internal Revenue Service and the Corporations Division of the District of Columbia.
Madelyn Appelbaum, corporate secretary, reported that the corporate log was up-to-date in recording actions taken by the Board since the previous annual meeting on April 24, 2019.
FFF looks forward to hosting an in-person meeting, with more social interaction, in the fall of 2021.
---
Welcome to the New FFF Website
During the Covid-19 situation, we've been concentrating on producing the Flyer and its listings. We are also going forward with our prior projects, which for the rest of 2020 and 2021 will be the Francis Tree Lab, and Rebecca Coder Park.
Each will have its own section of the site. We do not know how long we will continue the Flyer, but for now, it will have a section, too.
---