October 2020
---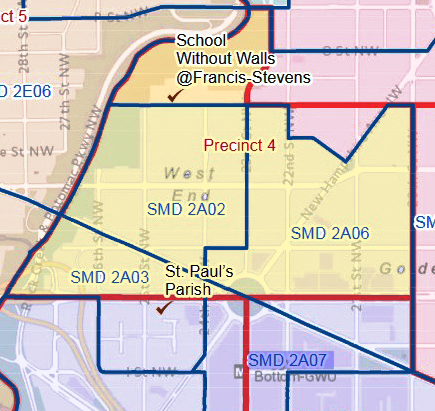 DC Ballots are Being Mailed!
Posted: October 1, 2020
Many of us just received our District of Columbia 2020 election ballots.
Our ballots in the West End neighborhood should be marked either "ANC 2A02" or "ANC 2A06" at the top of the first page.
Those are the two "single-member districts" of Advisory Neighborhood Commission 2A that make up the West End. There are eight seats in all. Six of them are in Foggy Bottom.
The map at right shows "Precinct 004" as it is called on the ballot. It is highlighted in yellow. SMD 2A02 is the western half of the West End. SMD 2A06 is the eastern half.
Candidates for the Advisory Neighborhood Commission in 2A-02 or 2A-06 should be the last item on the ballot, at the bottom of the second page.
FFF encourages voter participation but does not endorse candidates. This month's Flyer explains the candidate situation for all eight seats in ANC-2A. See below.
---
West End Flyer for October
Posted: October 1, 2020.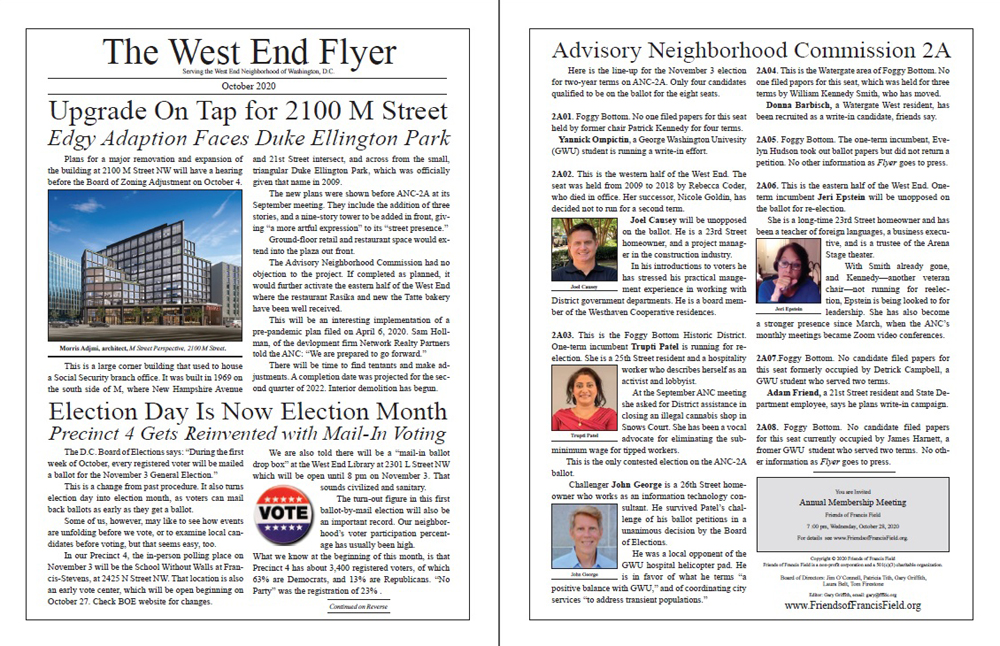 Upgrade on Tap for 2100 M Street: Pre-Covid plan for expansion and renovation of existing office building goes before Board of Zoning Adjustment on October 7.


Election Day Is Now Election Month: Ballots are to be mailed to all registered voters "first week in October," several choices for casting them. Record turnout and mail-in expected.


Advsory Neighborhood Commission 2A: Candidates will be on the ballot for only three of the eight seats. West End will be represented, however. Seat-by-seat report.


Listings for West End Dining, 2.0: Restaurants and bars are still in Phase Two of Covid-19 reopening order until October 9. That status could change this month.
View October 2020 issue: PDF will open in new window. Access back issues of the West End Flyer on this website.
---
Welcome to the New FFF Website
During the Covid-19 situation, we've been concentrating on producing the Flyer and its listings. We are also going forward with our prior projects, which for the rest of 2020 and 2021 will be the Francis Tree Lab, and Rebecca Coder Park.
Each will have its own section of the site. We do not know how long we will continue the Flyer, but for now, it will have a section, too.
---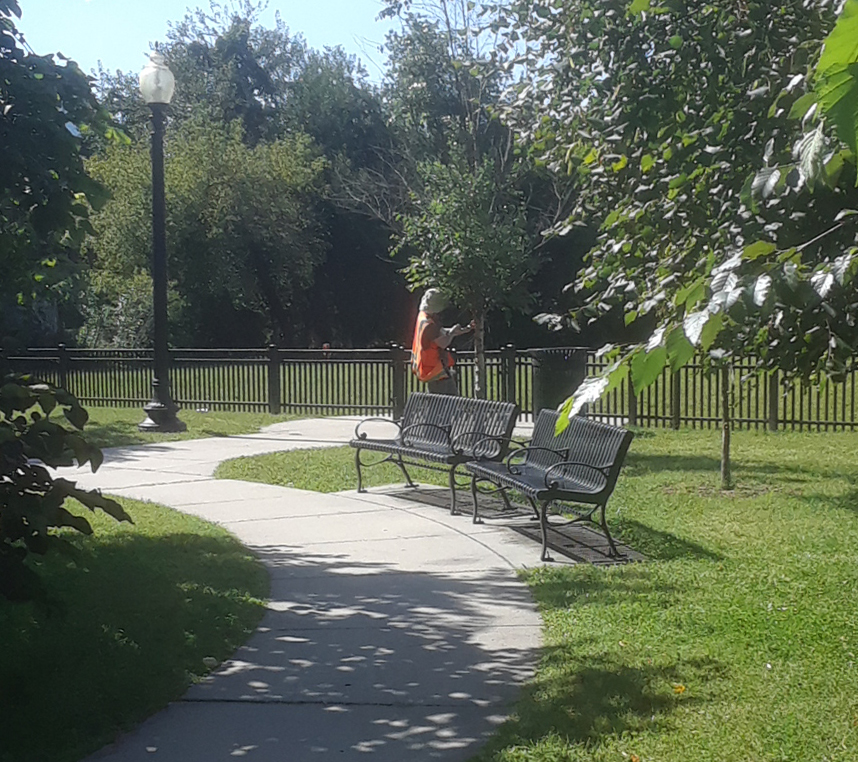 Tree Lab Project: Tree Removal and Stump Grinding
Posted: October 1, 2020
More than a dozen trees on Francis Field will removed this fall, and replaced with new, healthier trees in a few months. Work is scheduled to begin this week.
Arborists with the Casey Tree Foundation and the Urban Forestry Division of the District Department of Transportation (DDOT) have been working with Friends of Francis Field to study this public space as a "Tree Lab" and see what we can learn and pass on to others.
Over the last year Becky Schwartz of DDOT and Cece McCrary of Casey Trees have been mapping and examining the 60-some trees within the field's boundaries More than 40 of those were planted by volunteers in 2017.
Most are surviving well, but a couple have died. Others are not entirely healthy. They have been marked with orange paint on their trunks, and will be cut down soon by a private contractor hired by DDOT.
The large trees removed will have their stumps removed by grinding so that new trees can be planted in the same spot. A pruning session is also being scheduled.
---
FFF Annual Meeting on October 28
The Annual Meeting of Friends of Francis Field will be held on October 28, at 7:00 pm. Members may vote, public is invited. This year's meeting will probably be held as a Zoom video conference. Details will be announced and updated in this space on this website as plans become firm.
---