Revised Master Plan for Francis Field Now Drafted
Awaits Review by DPR, Neighborhood Commission
Posted January 2, 2019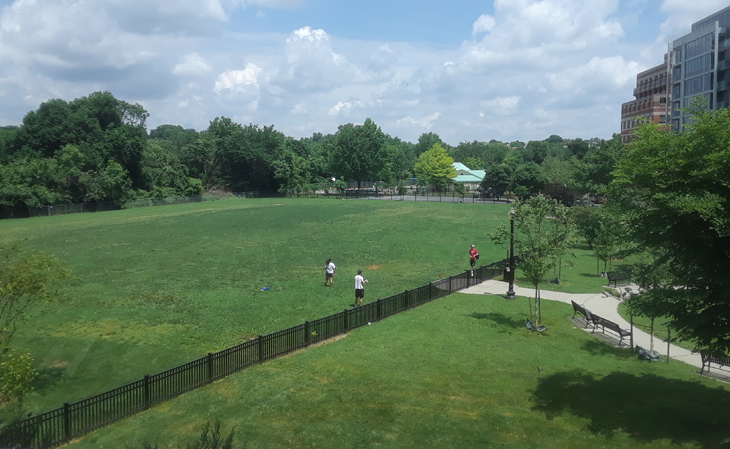 A new master plan for Francis Field, a park and recreation facility in the District's West End neighborhood, has been drafted in accordance with the 2018 partnership agreement between the D.C. Department of Parks and Recreation (DPR) and the Friends of Francis Field (FFF), a non-profit organization that is improving the field with private funding.
The photograph at left shows the state of the field in May 2018, after FFF completed a year long experimental "greening" program that involved planting trees, planting grass, and temporarily irrigating the field to allow the grass and other plants to thrive.
While the new master plan does not contemplate major additions or changes to the field, it updates the 10-year-old original master landscape plan, which was developed by FFF during a 2007 zoning case, and approved in September 2009 by DPR and the U.S. Commission of Fine Arts (CFA).
2019 Master Plan PDF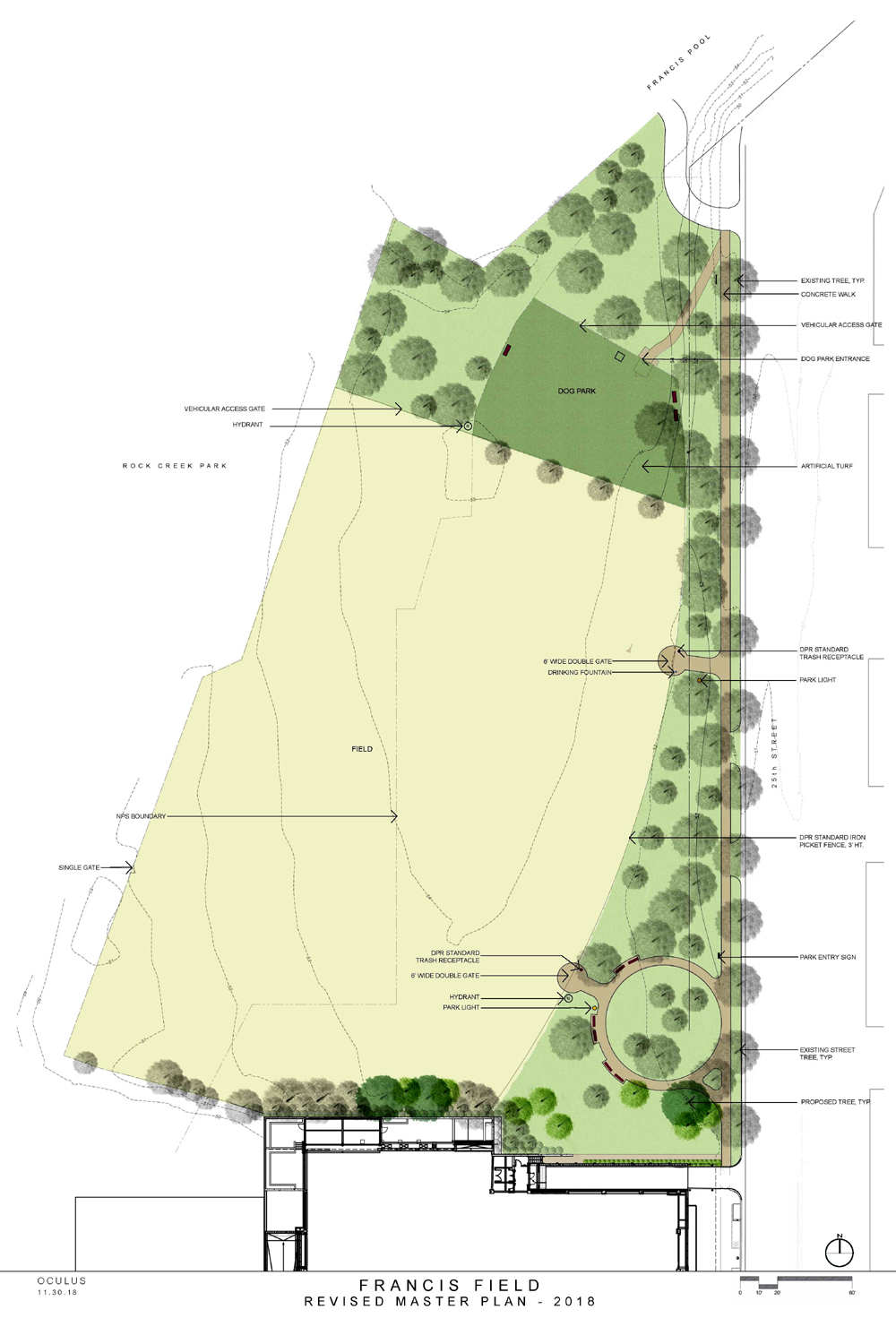 Mostly, the new plan documents changes that were made since 2009, including the addition of the Francis Dog Park in 2015, and the expansion of the 2501 M Street building at the south end of the field in 2016 and 2017.
The new landscape plan, shown at right, was drafted by the professional landscape architecture firm, Oculus, which also developed the 2009 plan. FFF has funded the architectural work, and according to the DPR-FFF agreement, will also fund the improvements, which are mostly landscape plantings.
Other changes and improvements include two water hydrants added in 2017, the proposed addition of a sign marking "Francis Field," and the proposed removal of an obsolete irrigation valve.
A larger view of the plan in on this website in PDF format. The labels for new features can be seen more easily on this large version. See 2019 Master Plan PDF.
Approval of the new plan rests with DPR, under the existing agreement. Once DPR gives its approval, the plan will be submitted to the CFA, a federal agency that has jurisdiction over parks, buildings, and monuments that can be seen from federal facilities. A large western section of Francis Field is a part of Rock Creek Park, a national park.
The plan may be presented to Advisory Neighborhood Commission 2A at its January 16 meeting, but the agenda has not been set as of this posting.
A more complete explanation of what would be changed on Francis Field according to this plan —and why—is provided in a more comprehensive article on this website. See Francis Field Master Plan Changes Explained.
---
Nicole Goldin, New West End ANC Commissioner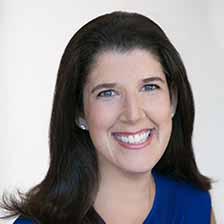 As a result of the November 6, 2018, election, three new commissioners will make up the eight-member Foggy Bottom/West End Advisory Neighborhood Commission (ANC-2A) when it convenes again this month.
Representing single-member district 2A02, where Francis Field is located, will be Nicole Goldin a resident of 1221 24th Street NW. Goldin, who ran unopposed, is shown in the photograph at left.
She will replace long-time commissioner Rebecca Coder, who died in May 2018, during her fifth, two-year term.
See more complete article on Commissioner Goldin and her views on this website.
---
Should Francis Dog Park Be Expanded?
As Friends of Francis Field (FFF) prepared a new landscape plan for Francis Field (see above), one suggestion was to expand the footprint of the official dog park that was added to the field in 2015.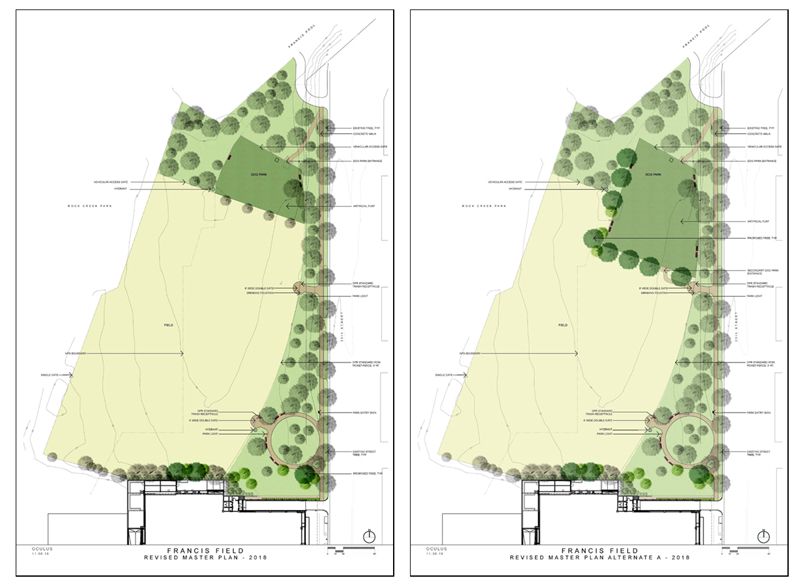 Among those making this suggestion was newly-elected ANC Commissioner Nicole Goldin. Many residents are not pleased with the current dog park. The stone surface material is its most criticized aspect, but the current configuration also lacks shade, and is smaller than other official dog parks in the District.
FFF agreed to have its architect prepare an aspirational drawing, showing an enlarged footprint for the dog park. It is shown at left, along with the landscape plan that does not expand the current dog park. A larger version of these two plans is on this website in JPG format.
FFF is neither supporting nor opposing the concept of an enlarged dog park, believing that the arguments for and against this idea should be argued by others, while FFF facilitates an open discussion.