Despite Social Distancing, Field Keeps Struggling
Maintenance Inspection and New Lab Experiment Proposed to Find Solution
Posted: May 9, 2020.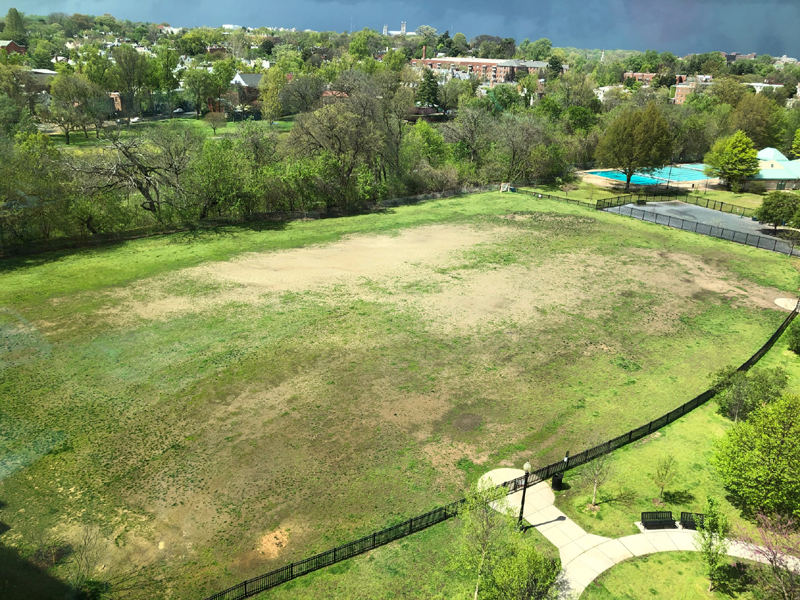 Not all the wear on Francis Field comes from over-use. Because of the Covid 19 situation, the field was officially closed by the District of Columbia government on April 2, 2020. It will remain closed until further notice from the Mayor.
At that time it was closed, the playing field was once again in poor condition, with much bare dirt, as shown in the photograph at right, taken 11 days later, on April 13. This was due mostly to over-permitting by one D.C. department, and under-maintenance by another during the 2018 and 2019 seasons.1
The permitting issue was addressed in a meeting with the Department of Parks and Recreation (DPR) on December 4, 2019, in which documentation was presented by the Friends of Francis Field (FFF) to show that adult sports teams using the field during the past two spring and fall seasons had many more participants than DPR's permit regulations allowed.2
DPR responded on March 13, 2020, with a well-reasoned schedule for the upcoming spring season. It gave priority of use to the two public schools in our area—both called Schools Without Walls—rather than to adult "social sports" teams.
That upcoming spring season was the current one that has now been cancelled by the Corona virus. This would have been an opportunity to plant grass, and still may be. One person on a tractor is about all that is necessary for most of the work the field needs. Social distancing is not an issue, and the job is outdoors.
DPR and its new director, Delano Hunter, have acted responsibly on the permitting problem, but DPR is not the department that is currently in charge of Francis Field's maintenance.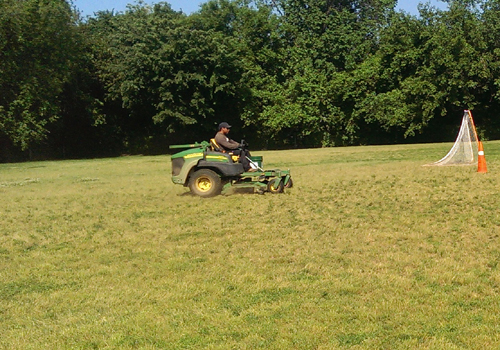 That is the D.C. Department of General Services, which since 2011 has been awarding the upkeep work to private companies in multi-year contracts.
The contractors are not only paid to mow the grass, but to maintain the field, replanting grass regularly, fertilizing seasonally, and aerating the packed-down soil.
A preliminary investigation by FFF in 2018 showed that the contract holder for Francis Field's maintenance was, and continues to be, Fort Myer Construction, which holds many other contracts with the District for asphalt paving and other work.3 Fort Myer hires subcontractors to tend Francis Field and the dozens of other playing fields the contract includes.
The work being delivered probably needs to be looked at more closely. The law requires the contractor to "have a satisfactory performance record."4 At DGS, there is a also a Contracting Officer's Technical Representation, known as a COTR, who should be paying more attention. See the first photo above.
We are going backwards in terms of the field conditions. The perennially dusty and bare-dirt playing field was in pretty good shape two years ago, after a 9-month experimental project using a different contractor, paid by private funding, and under different supervision. It is described below.
Making the Field Green 2016-2018: The Public-Private Experiment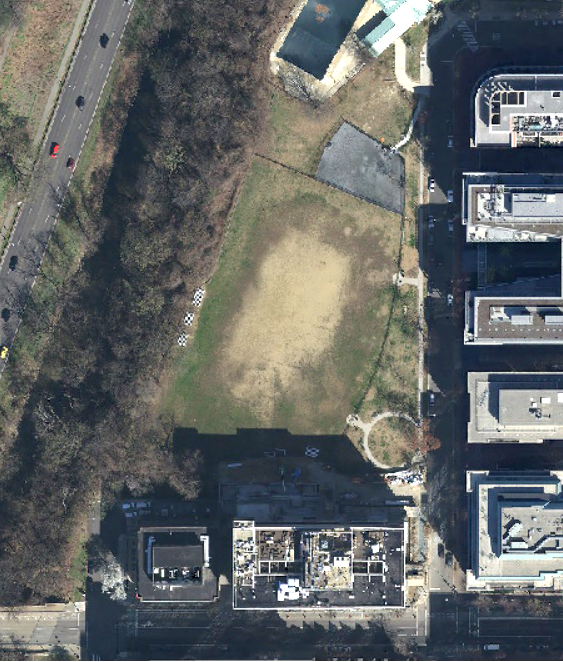 At left is an aerial view of the field in 2016 when FFF got the right pieces in place to plan a public-private experiment to bring the dead field back to a life using private, philanthropic funding, and a contractor it could consult directly.
The new Mayoral administration of Muriel Bowser had added a long-requested "official" dog park to the field in November 2015, which is shown as the gray portion at the top of the photo at right. The field had few trees, and the central, most-used section of the playing field, was bare dirt.
Fort Myer construction had been the contractor for Francis Field's maintenance for at least three years at that time. DGS was established on October 1, 2011, by Mayor Vincent Gray to "create efficiencies across the construction and management of the District's portfolio of assets."5
The field showed no improvement with DGS maintenance. FFF had began documenting conditions since April 2007.
The field was maintained in previous years by DPR, and not well. An inspector general's audit in 2008 found that the delivery of DPR services was negatively affected by "a lack of continuity in leadership," and noted that from July 1999 to November 2007, the job of DPR director turned over "on average, in less than a year and a half."6
By the time Mayor Adrian Fenty finished his single, four-year term (2007-2010), he had appointed four different DPR directors. One was fired overnight and another was not confirmed by the Council.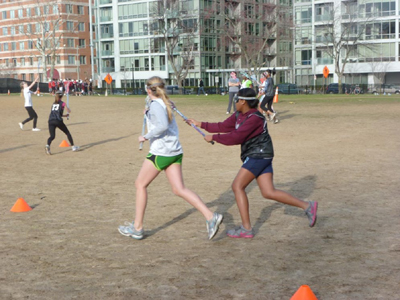 From 2011 to 2013, the public high school in our neighborhood, the nationally prominent School Without Walls, located in nearby Foggy Bottom, was building up its sports program for both boys and girls. Field hockey for girls was begun in 2011.
Lacrosse for both boys and girls was introduced in 2013. The field hockey and lacrosse teams obtained permits from DPR to use Francis Field for after-school practices during their respective seasons. As shown in the photograph at right, the teams were using a field that was so poorly maintained that it was mostly bare dirt—unsuitable and unsafe.
Thus, FFF increased its emphasis on making the field's playing surface safe for school sports. A wide-ranging improvement program was developed by FFF in 2016, working with Rebecca Coder, who was a founder of FFF and had been elected to the Foggy Bottom/West End Advisory Neighborhood Commission in the fall of 2008, and re-elected continually.
The plan, to be funded privately, included the planting of 40 additional trees, an experimental program to restore the grass, a study of irrigation needs, and the development of an updated master landscape plan. All of that was presented to ANC-2A on June 16, 2016. The resolution that resulted also expressed the ANC's unanimous view of the multi-purpose field's basic functions and constituencies.7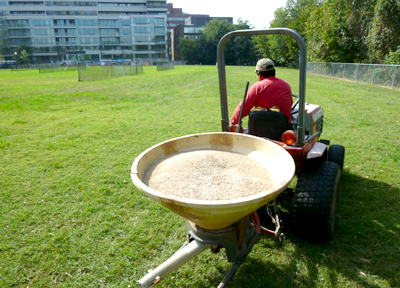 As reported on this website, during the summer and fall of 2017, FFF was able to "green the field" with a private contractor over a period of 9 months. See, in order: Grass Planting, 2017; October Report, 2017; and May Report, 2018.
The funds spent for labor, seed, fertilizer and other supplies amounted to less than $25,000. FFF filed donation agreements for that total amount: half to DPR and half to Rock Creek Park of the National Park Service (NPS).
The results were quite satisfactory, and were documented with photographs taken at various periods. The one at left was the second and final seeding on October 6, 2017.
No herbicides were used. The fertilizer was organic, and the seed species were specified by the NPS in the permit issued.
When the field opened to permitting again for the spring season in 2018, the playing surface was green and alive. The photograph below was taken on May 27, 2018. Unfortunately, it did not stay that way. A new policy by the National Park Service banned many sports, including kickball, from the National Mall in 2018. As a result, leagues obtained permits for Francis Field, and arrived with large groups of players.(See Over Permitting article on this website.)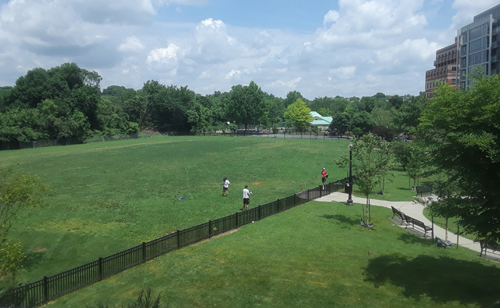 Francis Field, surrounded by residential buildings, was not as appropriate for those groups as the extensive National Mall, which has wide spaces and no residential buildings in close proximity. As noted above, DPR has recognized the problem, and made adjustments in its permit scheduling.
What we found during and after the greening experiment was that making the field green was not really that difficult. Keeping it green, however, proved impossible due to the over-permitting and under-maintenance.
Now that the field is closed, and DPR has changed its permitting schedule to prioritize school sports rather than adult leagues, FFF proposes to renew the 2017 experiment with an updated twist: Can the field be made green and kept that way?
We have had discussions recently with the principal and the athletic director at the School Without Walls at Francis-Stevens, which is the pre-school through grade 8 elementary and middle school located a few yards east of the field. FFF is exploring the possibility of having a few of the parents and students—and perhaps a teacher or two—join the new project as a grade-school level lab experiment. Stay tuned.
---
Notes
1. The permitting issue was first raised on this website on May 23, 2018 (see article). After an unproductive meeting with representatives of the Department of Parks and Recreation (DPR) and its permitting division on May 31, 2018, it was taken up by the ANC. See Advisory Neighborhood Commission 2A, The Over-Permitting and Under-Maintenance of Francis Field, July 5, 2018. PDF. It was addressed again during the spring 2019 season at special meeting with DPR and the permit holders (see article).
2. DPR permitting documents for the fall 2019 season were received by FFF pursuant to a Freedom of Information Act (FOIA) request. See FFF to DPR FOIA Officer, Request for DPR Permit Applications, Rules and Regulations, and Schedules, November 1, 2019. PDF.
3. A contract awarded to Fort Myer Construction Corporation by the D.C. Department of General Services, dated April 4, 2018, was obtained by FFF on July 17, 2018, pursuant to a FOIA request. The term provides for a "base year" and four additional one-year periods, for "Comprehensive Athletic Fields Maintenance Services." It includes 31 fields listed in an attachment. Francis is one of those, estimated with an area of 1.6 acres.
4. District of Columbia Municipal Regulations (DCMR) § 27-4706.1(c).
5. The date of the establishment of DGS and its functions are given at DCMR § 27-4700.1. Mayor Gray's office gave the date and function in a press statement after a director was in place and the merger of the previous agencies had been concluded. See Office of the Mayor of the District of Columbia, DGS First Anniversary Press Release, October 1, 2012.
6. Charles J. Willoughby, Office of the Inspector General, District of Columbia, Audit of the Department of Parks and Recreation's Oversight of Capital Projects, May 13, 2008, p. i.
7. Advisory Neighborhood Commission 2A, Support for Improvements to Francis Field with Private Funding. June 15, 2016. PDF.