The School Field: An Infrastructure Experiment
Posted October 30, 2019
Note: This page is not complete, but was posted to provide graphics for an upcoming discussion on improving the School Field located north of what is the former Francis Junior High School, and is now the School Without Walls at Francis-Stevens, abbreviated as SWWFS.
Nomenclature and Boundaries
Advisory Neighborhood Commission boundaries have "Francis Field" in ANC-2A and the "School Field" in ANC-2B. Both are in Ward 2. The Department of Parks and Recreation maintains and permits Francis Field, which is "owned" partially by the National Park Service and partially by the D.C. Government.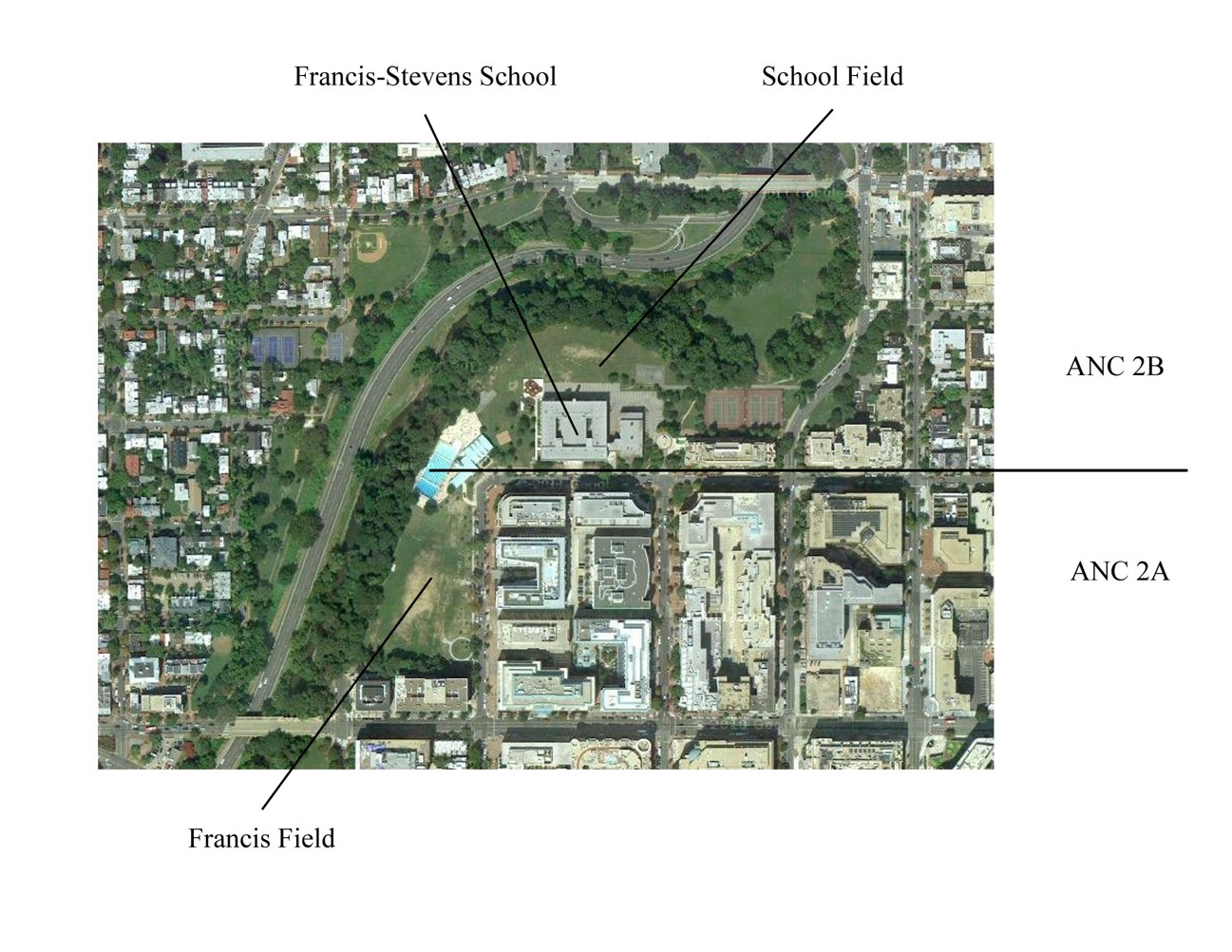 Landscape Architecture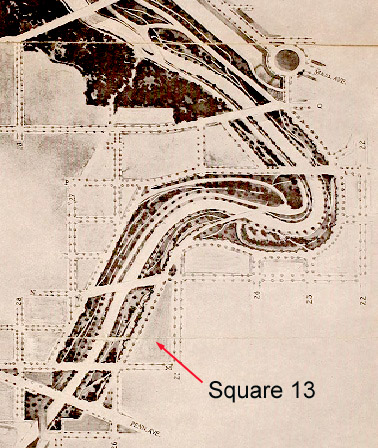 In 1908, architects and engineers had high hopes for this extensive border park, and stated: "the portion of the park between N and P streets, could be developed as the most beautiful urban park in the world."1
---
"A Controlled View of the Parkway"

Frederick Law Olmsted, Jr. the landscape architect, recommended to a U.S. Senate commission that the area between Pennsylvania Avenue and Q Street be planned so that park visitors and users would not see smokestacks, telephone poles, outhouses, the backside of buildings, or unsightly industrial or commercial structures.
"It is ... a very fortunate opportunity that permits the seclusion of the parkway in a valley, the immediate sides of which can be controlled and can be made to limit the view to a self-contained landscape, which may be beautiful, even though restricted."2
---
A Pool and a School: Baist Atlas, 1932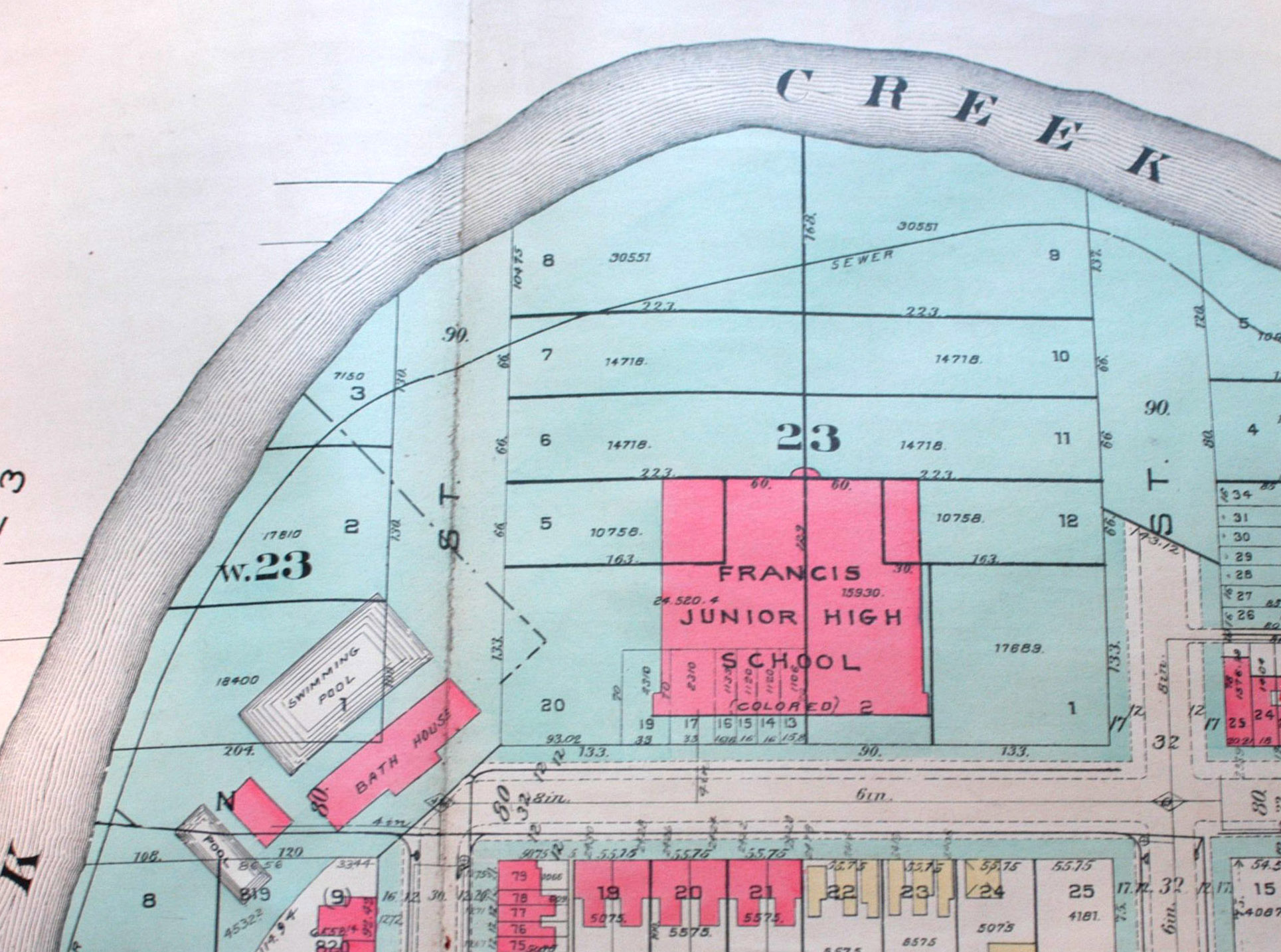 According to the Records of the Columbia Historical Society, Francis Junior High School was dedicated on March 20, 1928, and the "New swimming pool for colored at 24th and N" was opened on July 14, 1928.3
Olmsted wanted streets and "border roads" to be built well back from the parkway, and that new buildings should face the park. This arrangement, he suggested, would enhance "adjacent property values" and that "handsome houses facing the parkway" would serve several functions. They would provide "a more pleasant prospect for parkway users," and they would reduce "policing and maintenance problems" particularly the dumping of ash and refuse into Rock Creek, which had become a serious problem."4
---
Aerial photo, 1992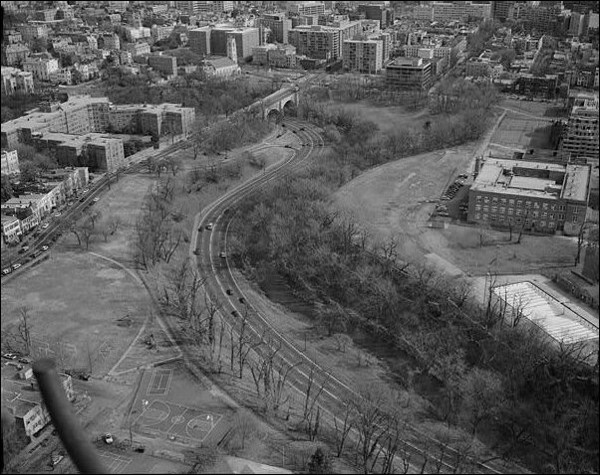 Nathaniel Michler, an engineer and former Civil War general, proposed building a park along Rock Creek in 1867, although it would not be built for many more years.
He noted however, "Back from the stream some level plateaus extend, which can be appropriately employed for zoological and botanical gardens, grounds for play and parade, and many other useful purposes." 5
This appears consistent with the features of the plateaus on Squares 13 and 23, and what became and remains U.S. Reservation 360, on which the School Field is located.
---
Junk or Artifact?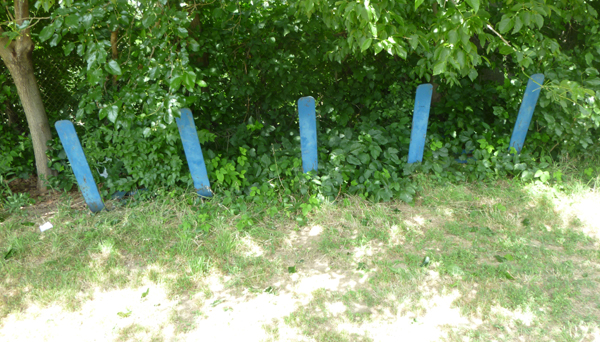 Francis Junior High had a football team for many years that practiced on the School Field.
Shown in the photograph at left is the remains of a five-man blocking sled, used to train offensive linemen in blocking. This has been in the bushes for more than twenty years.
Is it junk to be removed, or is it an archeological artifact of a by-gone age? Another good project in history, preservation, and education? Is it art?
---
School Without Walls, lacrosse practice on bare dirt of Francis Field, 2013
---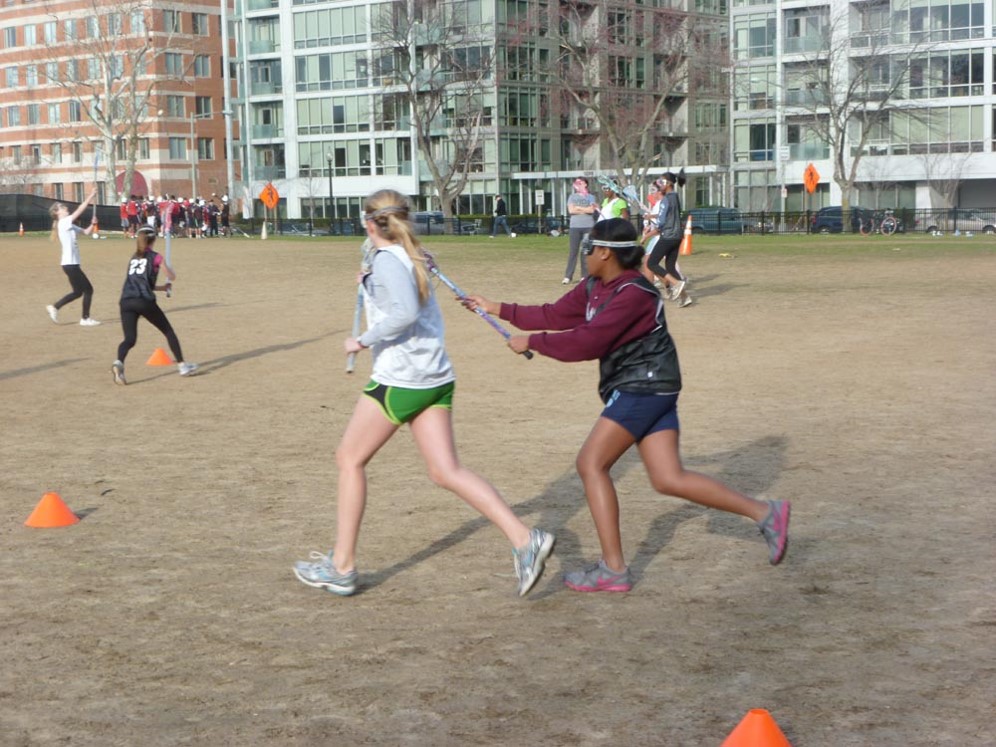 Girls' team in foreground, boys in background, March 13, 2013.
---
School Without Walls, field hockey scrimmage in dust, Francis Field, 2013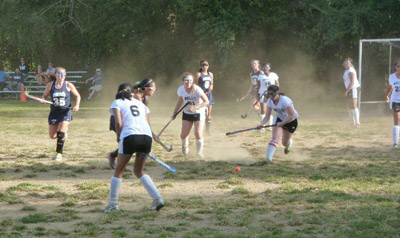 September 19, 2013
---
Green Infrastructure Presentation, Jill Eicher, Stanford University Engineering Dept., to ANC-2A, June 2016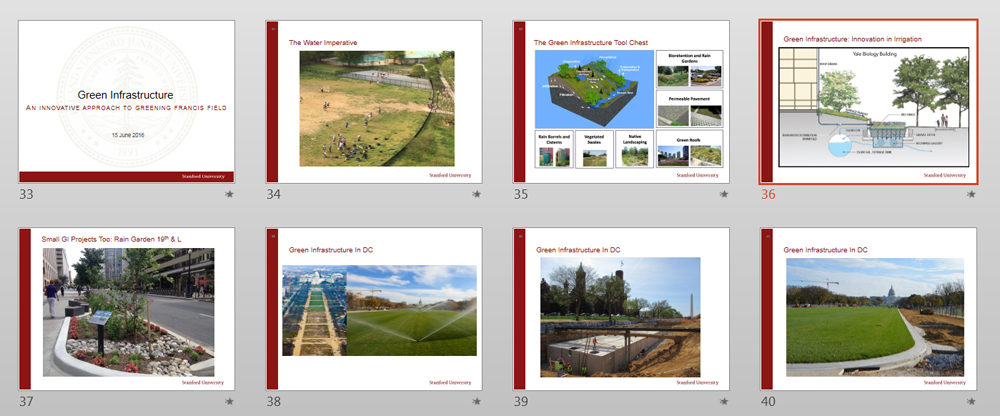 ---
Experimental Greening and Irrigation, June 2017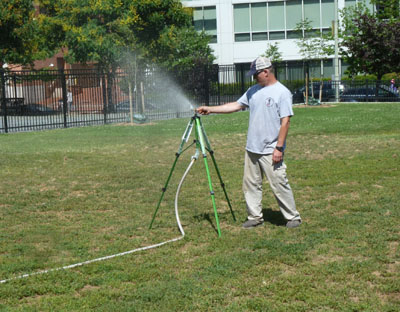 July 2, 2017
Location of first six sprinkers on battery-powered timers, run from a single spigot on the outside wall of Francis Swimming Pool. Ten sprinklers would be used before the end of the project.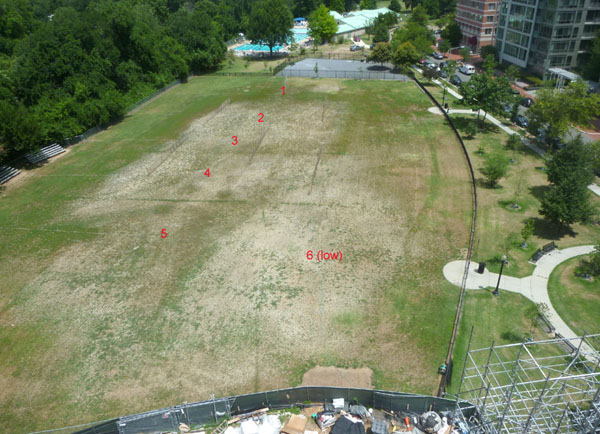 September 2017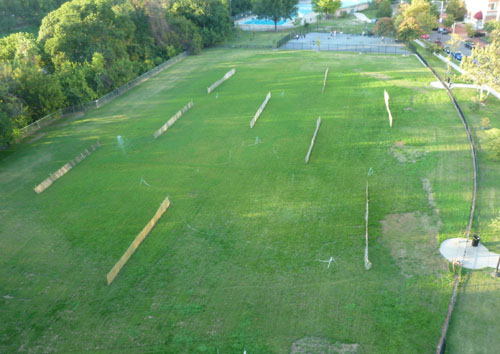 National Park Service, Rock Creek Park, standards and specifications
Decompaction: Tine-driven.
Herbicides: None.
Seeding: Kentucky Blue Grass and Tall Fescue.
Fertilizer: Milorganite organic.
Use discouragement: Wooden snow-fence.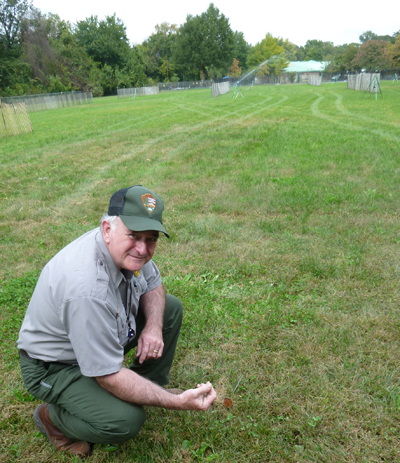 Doug Rowley, horticulturist. October 6, 2017.
---
School Without Walls High School, lacrosse practice, April 11, 2018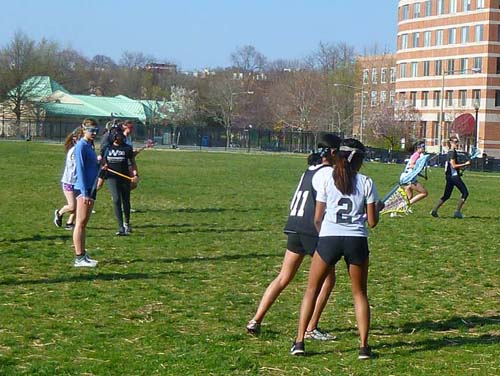 After experimental greening and irrigation by FFF.
---
Francis Field, May 27, 2018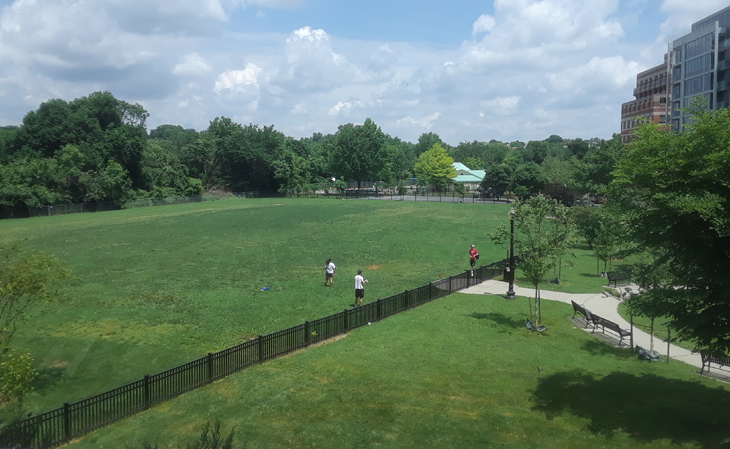 ---
---
School Field Setting and Architecture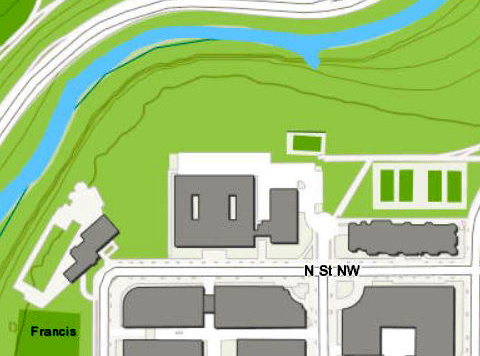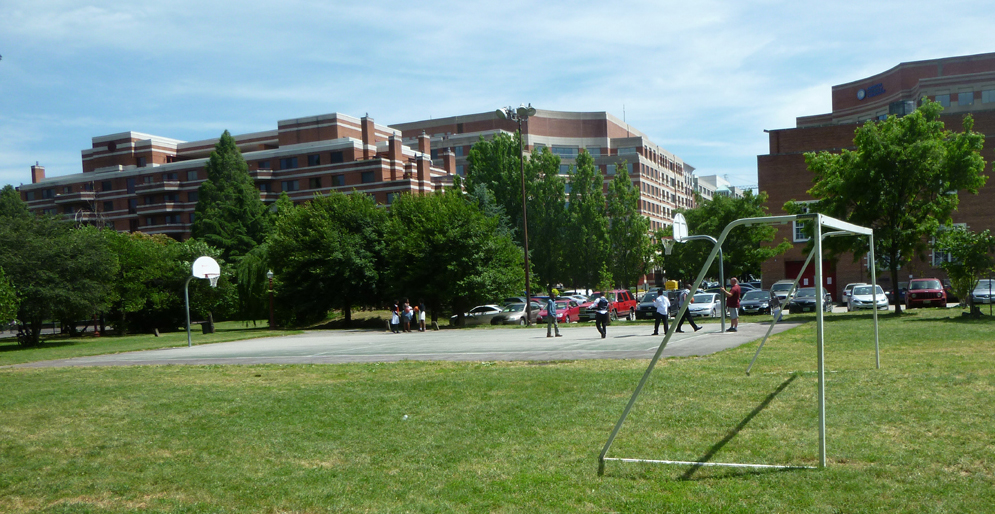 SWWFS, recess recreation, October 29, 2019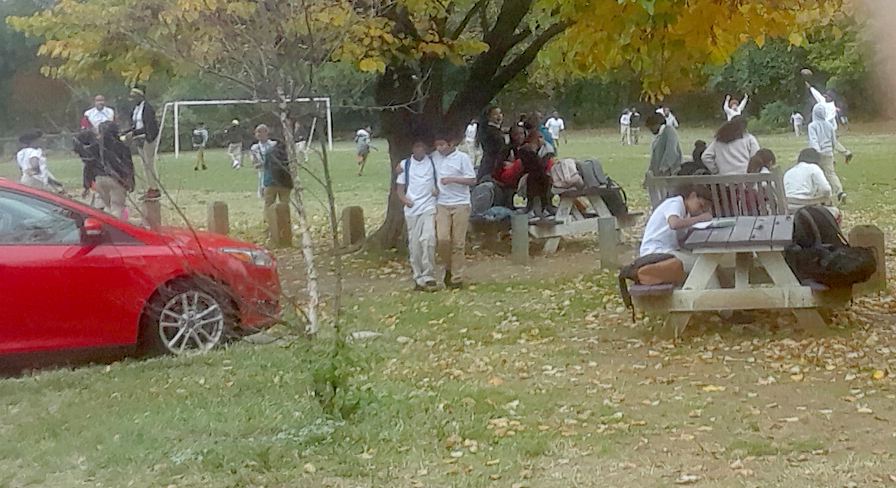 ---
Among the obstacles and obstructions ...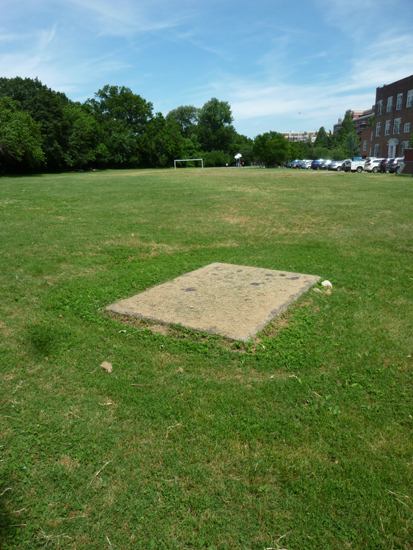 Metal plate, perhaps for drain or valve. Something is under there.
---
"There is no engineering problem back there that the Romans could not have solved in the first century."
Designing a multi-use field behind a school probably should be an educational experience and learning opportunity. It serves elementary, junior high, and high school students. Why not the best field for these two Schools Without Walls?
It is a real-world laboratory opportunity for many subjects and projects.
Infrastructure Topic: Moving and Bridging Water: The Pont du Gard.
In Latin: aquaductus
aqua = water, ducere = to lead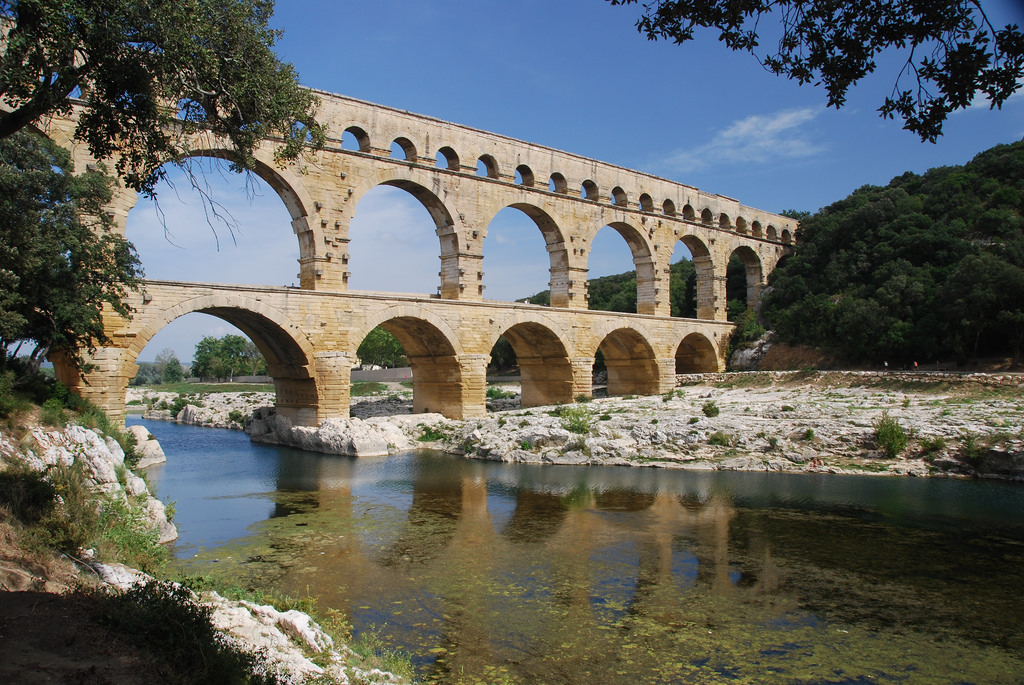 The Pont du Gard is an aqueduct in what is now the Department of Gard, near the town of Nîmes in France. It allowed water in the channel on the top level to cross the Gard River and flow by gravity to an area where it was needed. It was built before the Christian era by Roman architects and hydraulic engineers. It is regarded as a technical as well as an artistic masterpiece.
En France, il s'appelle « l'aqueduc de Nîmes ». C'est aussi un pont.
In France, it is called "the Aqueduct of Nîmes." It is also a bridge.
---
Notes
01. District of Columbia, Board of Commissioners, Report Upon Improvement of Valley of Rock Creek (Washington, DC: United States Senate, 1908), p.27. Hereafter referred to as Morrow and Markham. [ Internet Archive ]
02. Charles Moore, ed., The Improvement of the Park System of the District of Columbia (Washington, DC: U.S. Senate Committee on the District of Columbia, 1902), p. 86. Hereafter referred to as McMillan Commission Report. [ Internet Archive ]
03. "Chronicler's Report for 1928," Records of the Columbia Historical Society, Vol. 31/32 (1930), p.372.
04. Timothy Davis, Rock Creek and Potomac Parkway: History and Description (Washington, DC: National Park Service, Historic American Buildings Survey, HABS No. DC-697, 1992), p. 63. [ Library of Congress link ]
05. Nathaniel Michler, "Communication of M. Michler, major of engineers, to the chairman of the Committee on Public Grounds and Buildings ..." (Senate Mis. Doc. No. 21, 39th Congress, 2nd session), in Charles Moore, ed., Park Improvement Papers (Washington, DC: Government Printing Office, 1902), p. 124. [Hathi Trust]