Rear Field Landscaping
---
Posted: April 2, 2021
When the mixed-use office and residential building at 2501 M Street was planned for conversion to all-residential in 2014, the architectural view of the rear of the building was to embrace Francis Field as a pleasant green park.
A construction easement was granted by the District government to use a part of field during the changeover. This involved cutting down nine trees, and restoring the area with improved landscaping afterwards.
Because the building can be viewed from Rock Creek Park, a part of the National Park Service, the U.S. Commission of Fine Arts had jurisdiction to review and approve the architecture of the building and the landscaping.
---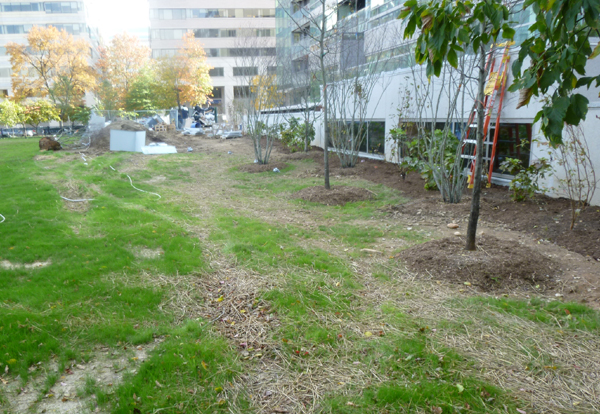 The photo at right shows the state of the construction easement after most of the new construction was finished, and the restoration of the landscaping had begun.
---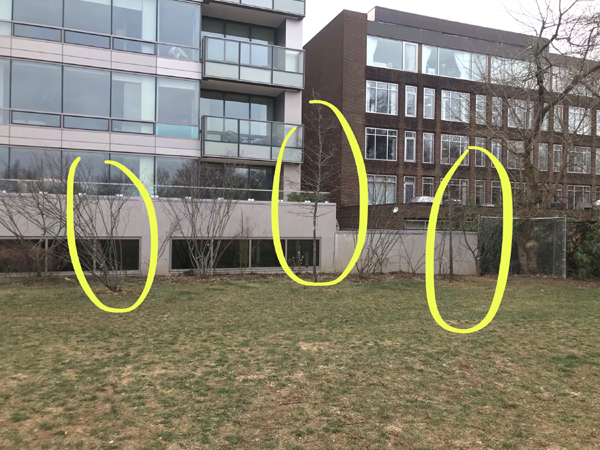 Several of the trees planted for the easement restoration died. The photo at right, taken and marked by the Urban Forestry Division of the D.C. Department of Transportation, shows the dead trees, which have since been replaced.
In addition, many of the other landscaping plantings have also died. While these plantings were required by the District government to restore the construction easement, no maintenance appears to have been considered or delivered.
Similarly, the smaller plantings in the beds were soon overgrown with weeds.
---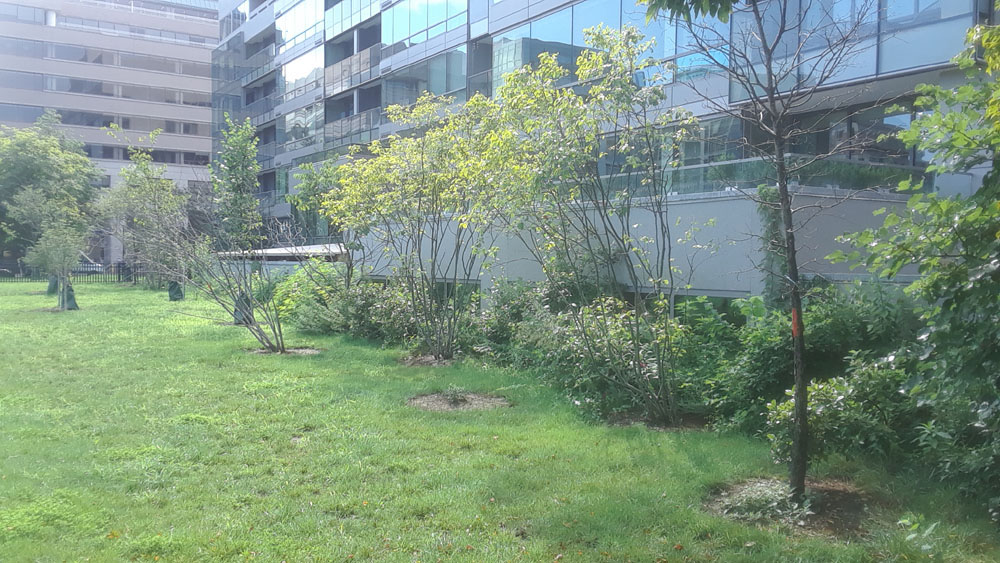 While the trees on the field have been looked after well, little maintenance is provided by the District government for the playing field area other than regular mowing.
Thus, weeds and native species took over the planting beds. We are learning that this north side of the building keeps this section of the field in shadow most of the day and deprives the nursery-grown plants placed by the developer's landscaping contractor of light and nutrients.
---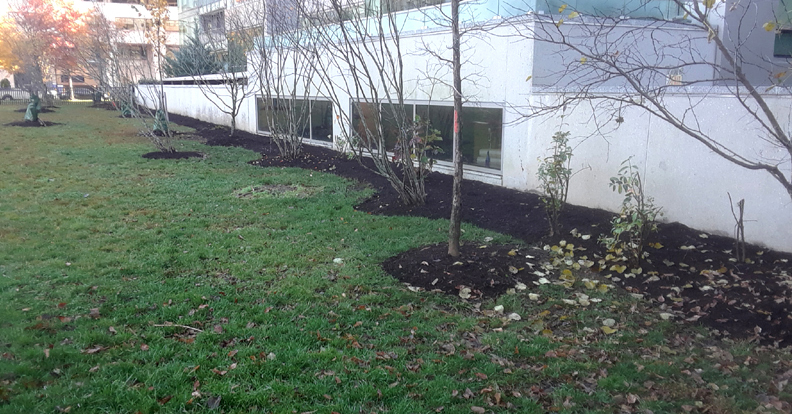 Last fall, FFF hired a private landscaping contractor to identify and clear out the weeds, and redefine the beds for new planting. The photo at right shows the results.
The dead tree in the foreground was removed and replaced in January 2021. Three other replacement trees were also planted at the same time in this area.
Before replanting the landscaping beds, FFF began consultation with a landscaping expert to study the sunlight and shade situation in this area close to the building, to understand what plantings will work best in this shady area, with minimum maintenance from the District government.
---