January 2021
---
West End Flyer for January
Posted: January 4, 2021.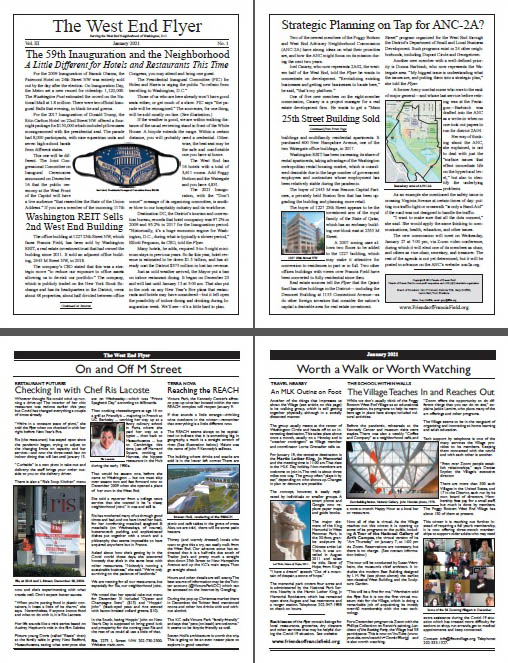 Articles this month:
The 59th Inauguration and the Neighborhood: It will be different this time for our local hotels and restaurants.


Washington REIT Sells Second West End Building: Office building at 1227 25th Street NW is sold to State of Qatar fund.


Strategic Planning on Tap for ANC-2A?: New commissioners discuss their priorities for neighborhood.


Checking In With Chef Ris Lacoste: A favorite restaurant is in "constant state of pivot."


Reaching the REACH: Outdoor wine bar reopens this month at Kennedy Center.


An MLK Outing on Foot:Martin Luther King, Jr. Memorial is a walking destination.


The Village Teaches In and Reaches Out: Aging-in-place group keeps members in touch with technology.
---
Back Issues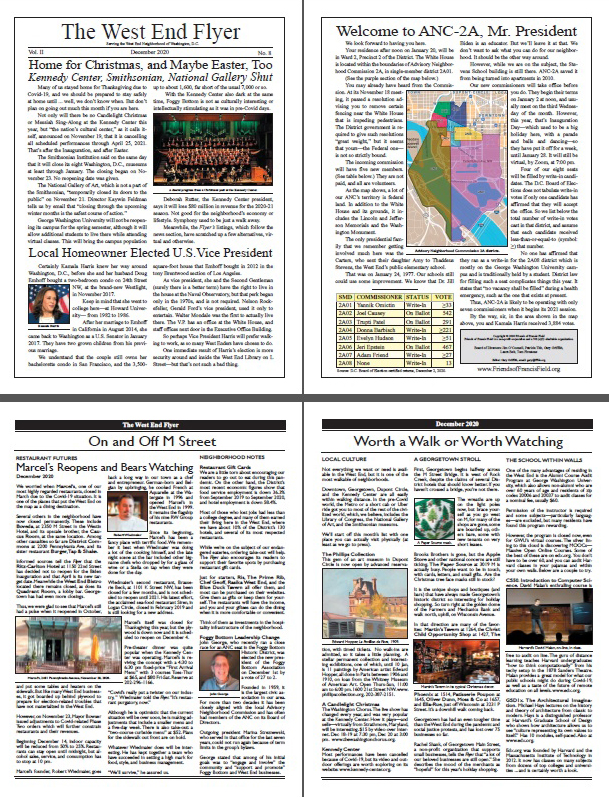 December 2020
Home for Christmas, and Maybe Easter, Too: The Kennedy Center, Smithsonian, and National Gallery of Art are all shut because of Covid-19.


Local Homeowner Elected U.S. Vice President: Kamala Harris could walk to work if she wants to.


Welcome to ANC-2A, Mr. President: The White House is inside the Commission's boundaries. Also, certified election returns.


Listings: Marcel's Reopens and Bears Watching: While others are now lost or in limbo, one of our renowned restaurants is back.


Worth a Walk or Worth Watching: Listings for cultural amusement, holiday shopping, and learning.
---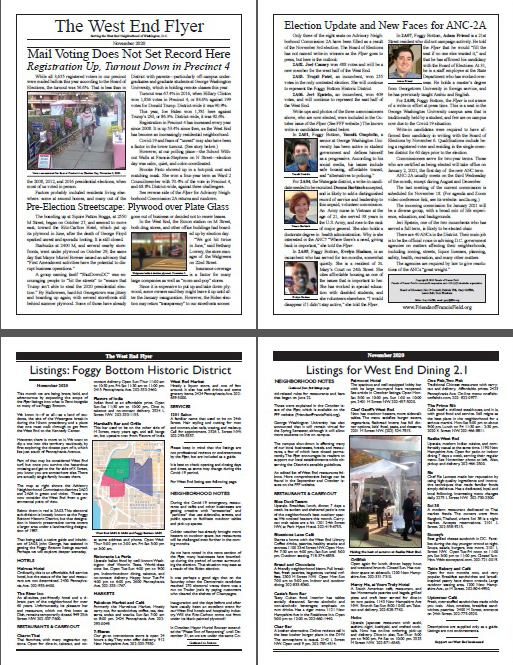 November 2020
Mail Voting Does Not Set Record Here: Although voter registration was up, turnout was less in Precinct 4 than in the 2008, 2012, and 2016 presidential elections.


Pre-Election Streetscape: Plywood over Plate Glass: Unrest over the presidential election causes local businesses to board up.


Election Update and New Faces for ANC-2A: Only three of the eight seats on the Advisory Neighborhood Commission were filled by the November election. Winners of write-in campaigns should fill four other seats.


Listings: Foggy Bottom Historic District: We venture south into the closest part of Foggy Bottom to the West End.


Listings for West End Dining, 2.1: Restaurants and bars are still in Phase Two of Covid-19 reopening order until December 31, and now face cold weather.
---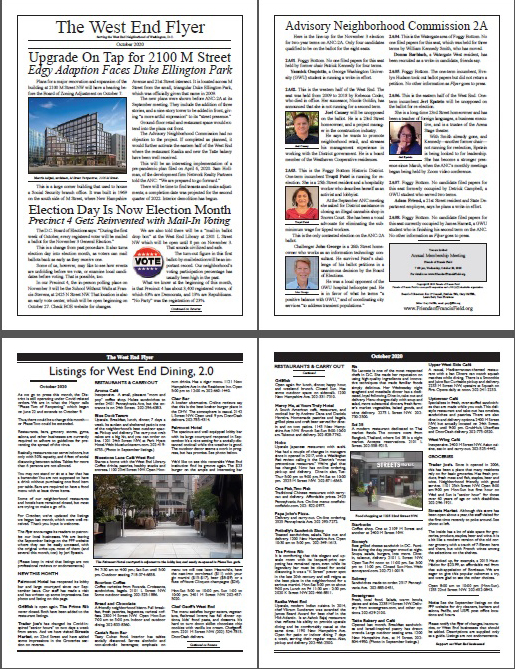 October 2020
Upgrade on Tap for 2100 M Street: Pre-Covid plan for expansion and renovation of existing office building goes before Board of Zoning Adjustment on October 4.


Election Day Is Now Election Month: Ballots are to be mailed to all registered voters "first week in October," several choices for casting them. Record turnout expected.


Advsory Neighborhood Commission 2A: Candidates will be on the ballot for only three of the eight seats. However, the West End will be represented. Seat-by-seat report.
Listings section:
Listings for West End Dining, 2.0: Restaurants and bars are still in Phase Two of the Covid-19 reopening order, which is in effect until October 9. Status could change this month.


Fairmont Hotel: Lobby bar and courtyard are now open. First impressions.


Streets Market: Food shopping at 1225 22nd Street NW.
---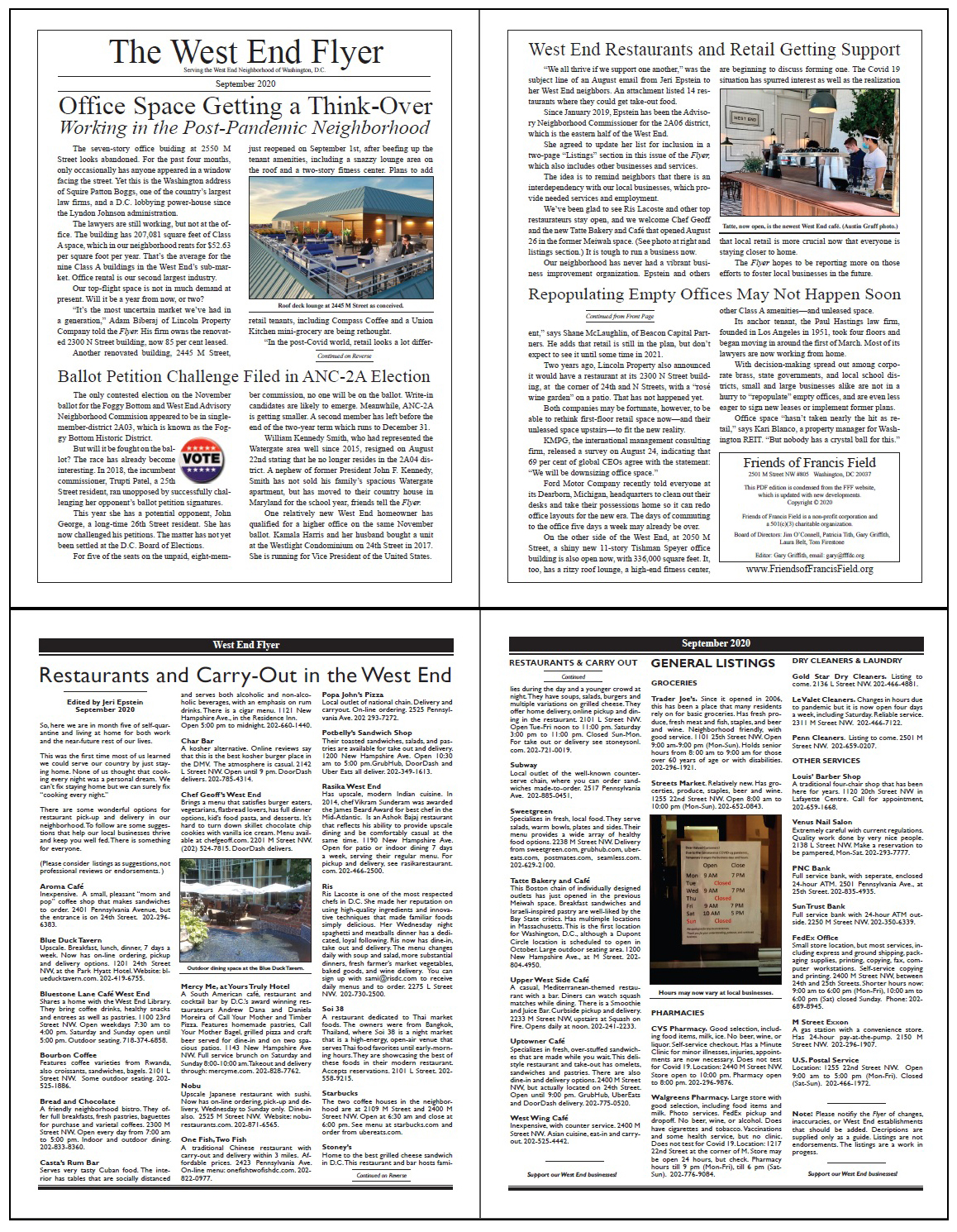 September 2020
This was the first issue with listings. Articles included:
Office Space Getting a Think-Over: Working in the Post-Pandemic Neighborhood


Ballot Petition Challenge Filed in ANC-2A Election


West End Restaurants and Retail Getting Support


Restaurants and Carry-Out in the West End
---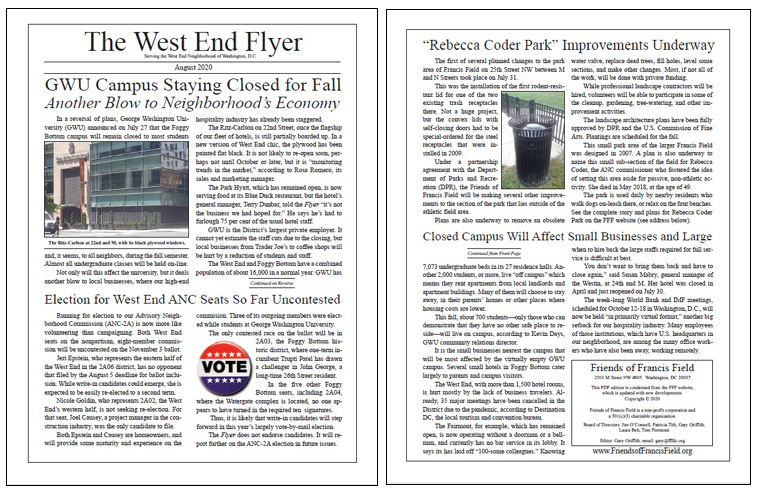 August 2020
Articles included:
GWU Campus Staying Closed for Fall: Another Blow to Neighborhood Economy


Election for West End Seats So Far Uncontested


Rebecca Coder Park Improvements Underway


---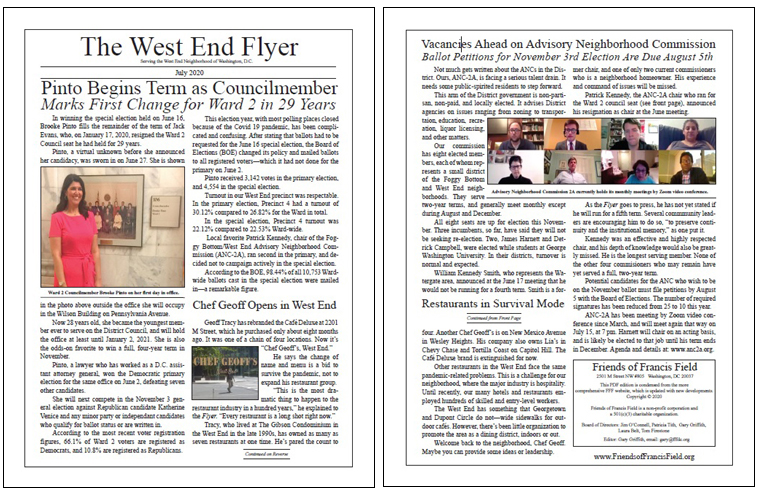 July 2020
Articles included:
Pinto Begins Term as Councilmember: Marks First Change for Ward 2 in 29 Years


Chef Geoff Opens in West End


Vacancies Ahead on Neighborhood Commission


---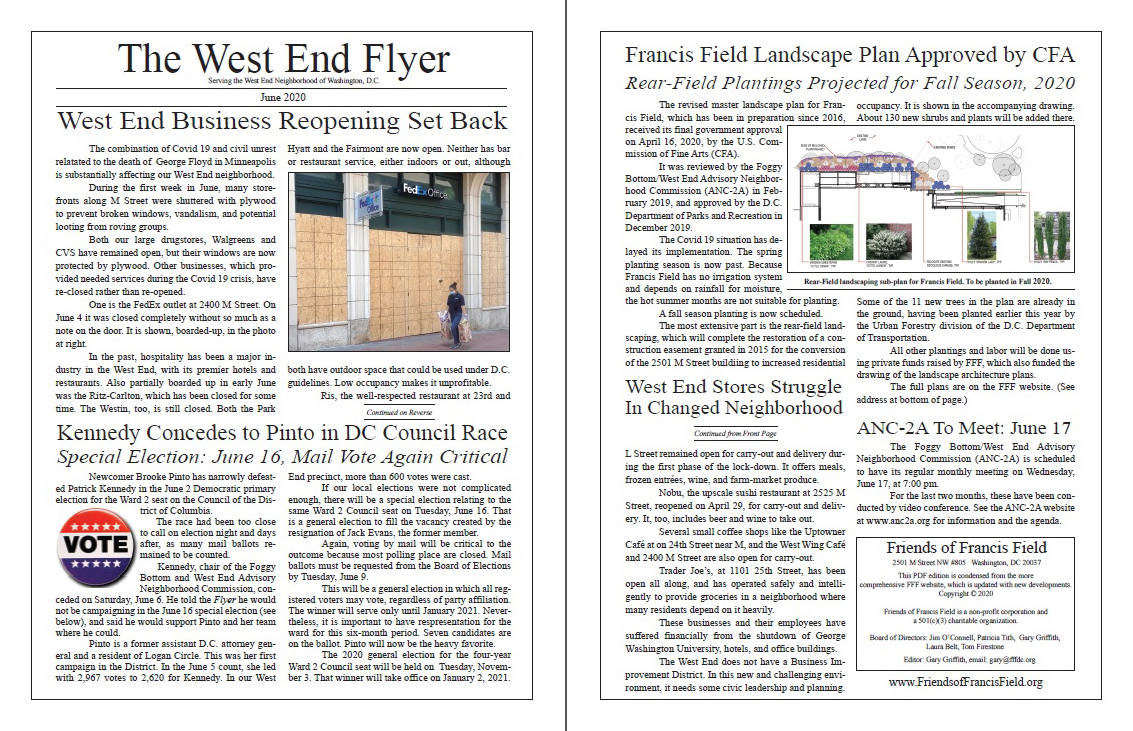 June 2020
Articles included:
West End Business Reopening Set Back


Kennedy Concedes to Pinto in DC Council Race


Francis Field Landscape Plan Approved by CFA


---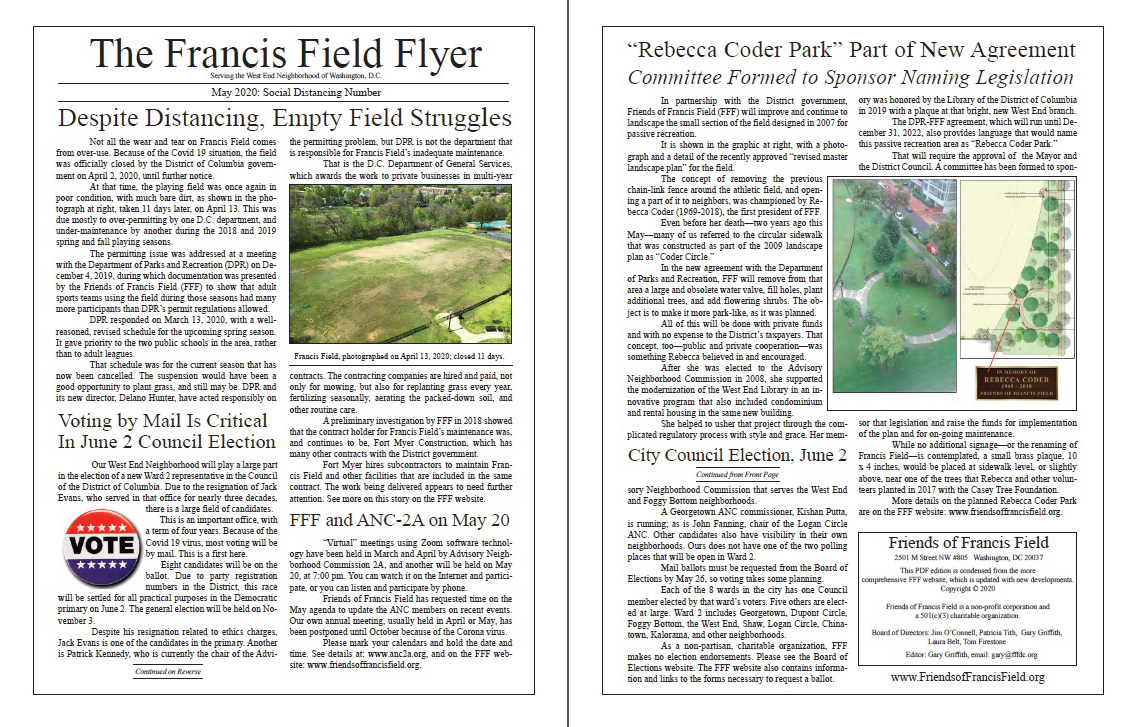 May 2020
This was titled The Francis Field Flyer. Articles included:
Despite Distancing, Empty Field Struggles


Voting by Mail is Crucial in Council Election


Rebecca Coder Park Part of New Agreement


---