Business Reopening in West End Gets Set Back
Posted: June 6, 2020.
The combination of Covid 19 and civil unrest relatated to the death of George Floyd in Minneapolis is substantially affecting our West End neighborhood.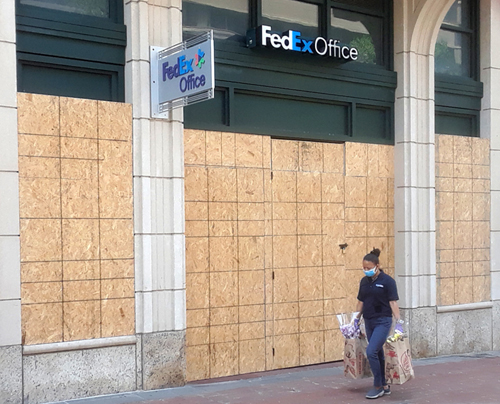 During the first week in June, many storefronts along M Street were shuttered with plywood to prevent broken windows, vandalism, and potential looting from roving groups.
Both our large drugstores, Walgreens and CVS have remained open, but their windows are now protected by plywood. Other businesses, which provided needed services during the Covid 19 crisis, have re-closed rather than re-opened.
One is the FedEx outlet at 2400 M Street. On June 4 it was closed completely without so much as a note on the door. It is shown, boarded-up, in the photo at right.
In the past, hospitality has been a major industry in the West End, with its premier hotels and restaurants. Also partially boarded up in early June was the Ritz-Carlton, which has been closed for some time.
The Westin, too, is still closed. Both the Park Hyatt and the Fairmont are now open. Neither has bar or restaurant service, either indoors or out, although both have outdoor space that could be used under D.C. guidelines. Low occupancy makes it unprofitable.
Ris, the well-respected restaurant at 23rd and L Street remained open for carry-out and delivery during the first phase of the lock-down. It offers meals, frozen entrées, wine, and farm-market produce.
Nobu, the upscale sushi restaurant at 2525 M Street, reopened on April 29, for carry-out and delivery. It, too, includes beer and wine to take out.
Several small coffee shops like the Uptowner Café at on 24th Street near M, and the West Wing Café and 2400 M Street are also open for carry-out.
Trader Joe's, at 1101 25th Street, has been open all along, and has operated safely and intelligently to provide groceries in a neighborhood where many residents depend on it heavily.
These businesses and their employees have suffered financially from the shutdown of George Washington University, hotels, and office buildings.
The West End does not have a Business Improvement District. In this new and challenging environment, it needs some civic leadership and planning.