Special Election for Ward 2 Council Seat: June 16
Mail Ballots Must Be Requested by Tuesday, June 9
Posted: June 6, 2020.
Mail voting will be critical in the special election to be held June 16 to temporarily fill the vacant Ward 2 seat on the Council of the District of Columbia. Once again, there will be no polling place in the West End Neighborhood.
To vote by mail, registered voters must request a ballot from the Board of Elections by Tuesday, June 9 at 4:45 pm.
Seven candidates will be on the ballot. This is a general election, not a primary. All registered voters may vote, regardless of party affiliation. The winner will serve the unexpired portion of the term from which former member Jack Evans resigned on January 17. That term ends on January 2, 2012, about six months from now.
See separate Election 2020 article on this website for the list of candidates, and information on requesting a mail-in ballot. Friends of Francis Field does not endorse candidates, but encourages voter turnout and participation in the West End neighborhood.
This will be the second election this month involving the important Ward 2 Council seat. The Democratic primary for the four-year term was held on June 2, and was conducted mostly by mail ballots due to the Covid 19 shutdown. See following article.
---
Kennedy Concedes to Pinto in Council Primary
Posted: June 6, 2020.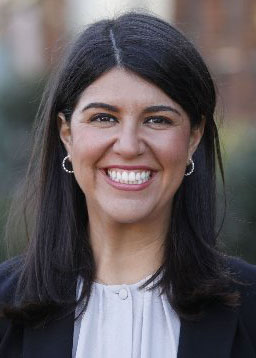 Newcomer Brooke Pinto has narrowly defeated Patrick Kennedy in the Democratic primary election for the Ward 2 seat on the Council of the District of Columbia.
On election night and days after, the race was too close to call, with only 102 votes separating the two top vote-getters. Many mailed-in votes remained to be counted.
However, on June 6, Kennedy, the chair of the Foggy Bottom/West End Advisory Neighborhood Commission, conceded to Pinto, a former assistant D.C. attorney general and resident of Logan Circle. Her photo is shown at right.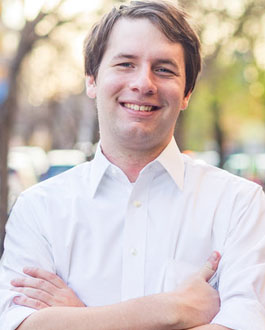 "I hope and suspect that she will win the special," Kennedy told this website. He said he would not be campaigning in the June 16 special election. (See article above.)
In a written statement, he added in part: "Based on the number of ballots left to be counted, Brooke Pinto is the presumptive Democratic nominee for Ward 2. I wish her success in the fall campaign ... and I will support her and her team where I can." His photo is shown at left.
In the latest count Pinto had 2,967 votes, to Kennedy's 2,620. Jack Evans, who held the Ward 2 seat until his resignation in January, was also candidate. He finished seventh in the eight-candidate race, with 344 votes according to the June 5 figures.
Our West End precinct had a respectable turnout in the largely mail-in primary contest, with more than 600 votes cast. The general election for the four-year office will be held on November 3.
---
Business Reopening in West End Gets Set Back
The combination of Covid 19 and civil unrest related to the death of George Floyd in Minneapolis is substantially affecting our West End neighborhood.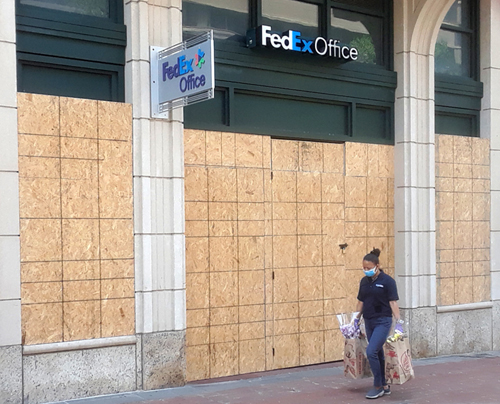 During the first week in June, many storefronts along M Street were shuttered with plywood to prevent broken windows, vandalism, and potential looting from roving groups.
Both our large drugstores, Walgreens and CVS have remained open, but their windows are now protected by plywood. Other businesses, which provided needed services during the Covid 19 crisis, have re-closed rather than re-opened.
One is the FedEx outlet at 2400 M Street. On June 4 it was closed completely without so much as a note on the door. It is shown, boarded-up, in the photo at right.
In the past, hospitality has been a major industry in the West End, with its premier hotels and restaurants. Also partially boarded up in early June was the Ritz-Carlton, which has been closed for some time.
The Westin, too, is still closed. Both the Park Hyatt and the Fairmont are now open. Neither has bar or restaurant service, either indoors or out, although both have outdoor space that could be used under D.C. guidelines. Low occupancy makes it unprofitable.
See the complete story, West End Reopening, on this website.
---
Francis Field Landscape Plan Approved by CFA
Rear-Field Plantings Projected for Fall 2020
The revised master landscape plan for Francis Field, which has been in preparation since 2016, received its final government approval on April 16, 2020, by the U.S. Commission of Fine Arts (CFA).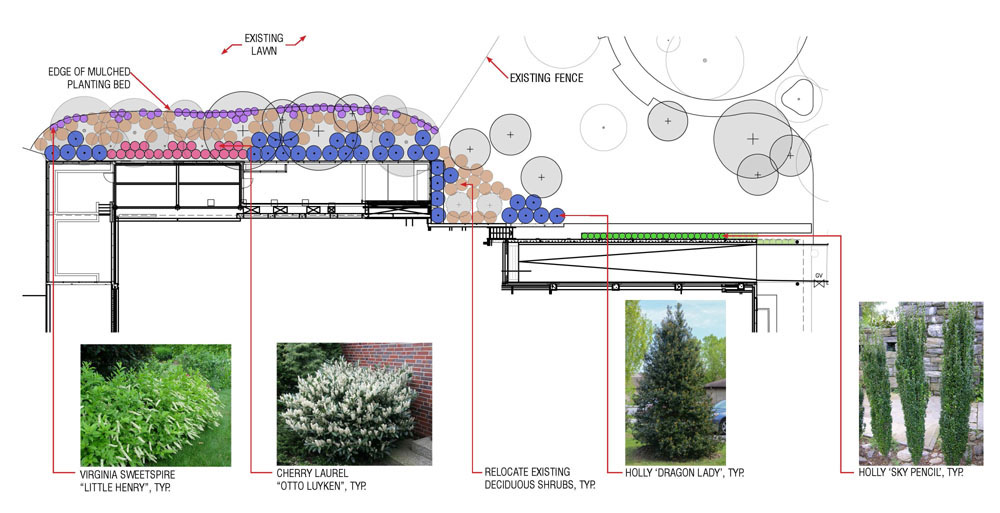 It was reviewed by the Foggy Bottom/West End Advisory Neighborhood Commission (ANC-2A) in February 2019, and approved by the D.C. Department of Parks and Recreation in December 2019.
The Covid 19 situation has delayed its implementation. The spring planting season is now past. Because Francis Field has no irrigation system and depends on rainfall for moisture, the hot summer months are not suitable for planting.
A fall season planting is now scheduled.
The most extensive part is the rear-field landscaping, which will complete the restoration of a construction easement granted in 2015 for the conversion of the 2501 M Street building to increased residential occupancy. It is shown in the accompanying drawing.
See full story Fall Planting, on this website.
---
The Flyer Revived for This Stay-at-Home Time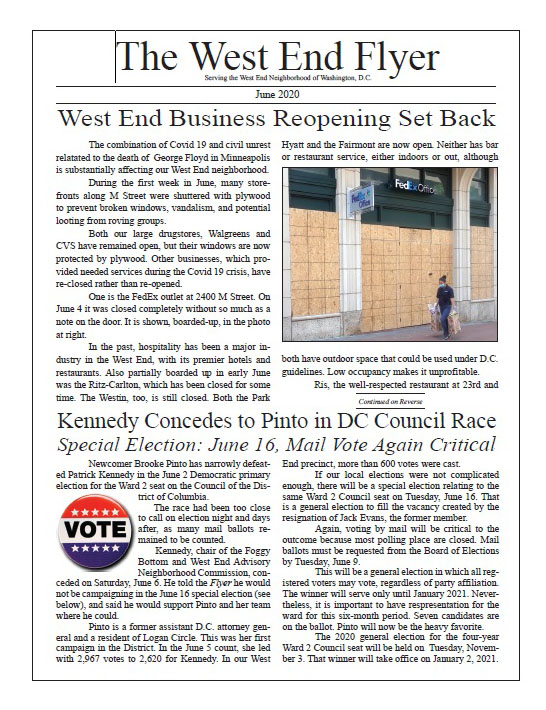 Last month, Friends of Francis Field (FFF) revived the monthly Flyer it published several years ago, when the West End was undergoing changes to its public library, fire station, and public schools, all at once.
It was distributed to the residential apartment and condominium buildings in the West End, and left in the lobbies, or in some cases, on the mail room tables where other such publications were found. We used to have the Foggy Bottom Current in those days, too. Now that's gone, just when we need neighborhood news again. We're more tied to our homes now, because of the Corona virus, than we've ever been before.
The FFF website can handle a lot of information. The Flyer was intended to let the neighbors know the website existed. We're not as up on the technology as we once were. We can use some help with that and with the reporting. The West End has a public swimming pool, a public library, a public school, and a public recreational field. The local government that sets and influences policy for those facilities is getting important again. Our Advisory Neighborhood Commission still meets once a month, but in a different way.
The Flyer will be sent in PDF form to the residential buildings that want it, and to our FFF members. We don't spam our members and neighbors with a lot of emails. The Flyer will not be issued more than once a month, and perhaps not for too long. We hope life gets back to normal soon.
And we don't have to send it all, as it can be viewed this website. Here's the link: Flyer. That will display it as a PDF in a new window. Feel free to download it and distribute to your neighbors or others as you wish.