"Social Sports" Leagues Mob Re-Opened Field
Neighbors Seek Relief from DPR Permit Office
Posted May 31, 2018
Since Francis Field reopened on March 17, the DC Department of Parks and Recreation (DPR) has issued permits for more than 300 hours of use for the Spring 2018 season, which runs until June 17.
Shown in the photograph below, taken on Saturday, May 5 from a resident's window, is one of the "social sports" kick-ball leagues that have been permitted on weekends. More than 70 people can be counted on the field. These leagues conduct multiple games, played simultaneously, on different sections of the field. Most of the players wear cleated shoes.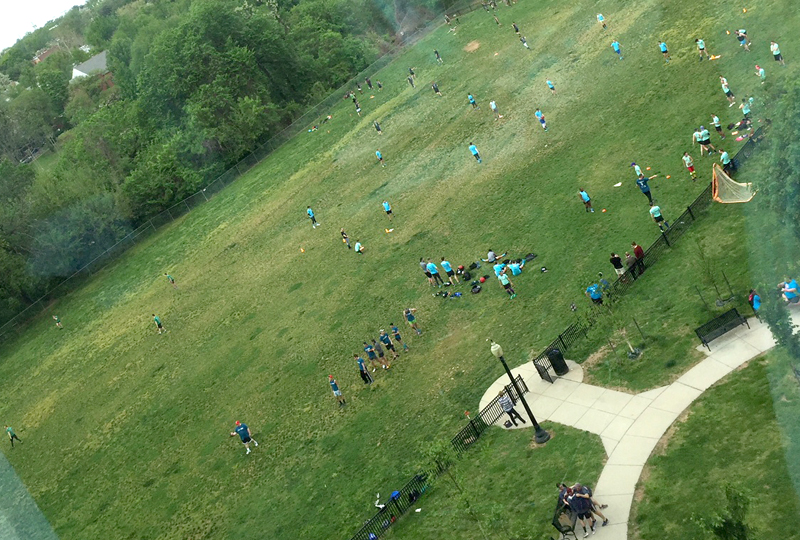 Residential neighbors have complained to Friends of Francis Field about the crowds, noise, and excess wear on the field. Several of these teams bring "boom-boxes" and play loud music that can be heard in residential apartments. FFF is in discussion with the DPR permit office about these complaints. See full story, Over-Permitting, on this website.
---
New "Master Landscape Plan" Underway
Presentation to ANC-2A Scheduled: June 20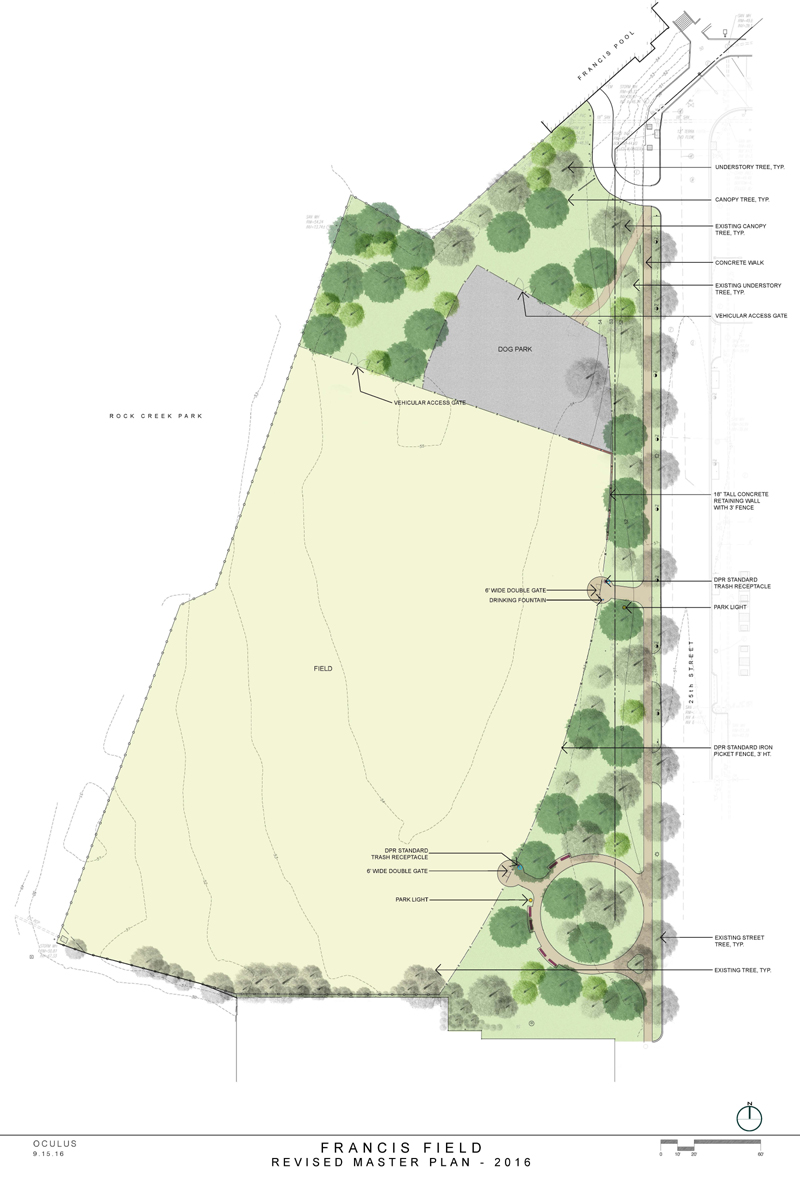 Under a new, 2018 partnership agreement with the DC Department of Parks and Recreation (DPR), our organization, FFF, will continue development of "a revised master landscape plan" for Francis Field.
This will be designed by a professional landscape architect to make physical and aesthetic improvements to the field. The changes must be approved by DPR, and then submitted to the U.S. Commission of Fine Arts for federal approval. About half the field is owned by the National Park Service and is part of Rock Creek Park.
The DPR-FFF agreement is scheduled to be presented to the general community at the June 20, 2018, meeting of the Foggy Bottom/West End Advisory Neighborhood Commission (ANC-2A). It meets at the West End Public, 2301 L Street NW, at 7 pm. All are invited to attend.
FFF will be funding the architectural plan, and upon approval, will raise private funds for its implementation.
The new agreement plan was first presented and discussed at the FFF Annual Meeting on April 19, 2018.
For more complete details and plans, see the Master Plan II article on this website.
---
Remembering Rebecca K. Coder (1969-2018)
First FFF President, and ANC-2A Commissioner
Rebecca Coder died peacefully on May 1, after a long battle with ovarian cancer. She was 49. A founder of our Friends of Francis Field group, she also served as our first president.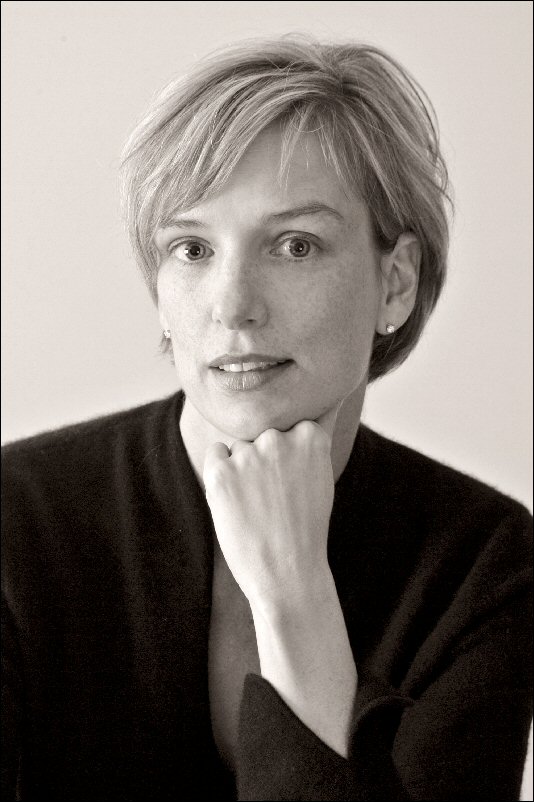 In 2008, when we needed some political muscle to get things done, she ran for public office—a seat on the Advisory Neighborhood Commission for the Foggy Bottom/West End district, known for short as ANC-2A. In that first election, Rebecca defeated a do-little incumbent in a write-in campaign. She was re-elected in 2010, 2012, 2014, and 2016.
Rebecca was serving her tenth year on the ANC at the time of her death. She shepherded many of the large development projects though the approval stage, including the new West End Library, the new Fire Station, and Duke Ellington Park.
With her death, our organization and community have suffered a great loss. She was a beloved friend and neighbor.
A funeral mass for Rebecca was held at St. Stephen Martyr Church in the West End on May 10. Memorials for Rebecca are in the planning stage at the West End Library and on Francis Field. Her portrait, is shown at right. See the full obituary on this website at Rebecca Coder (1969-2018).
---
May 2018 Field Report:
Spring Brings Field Back to Horticultural Life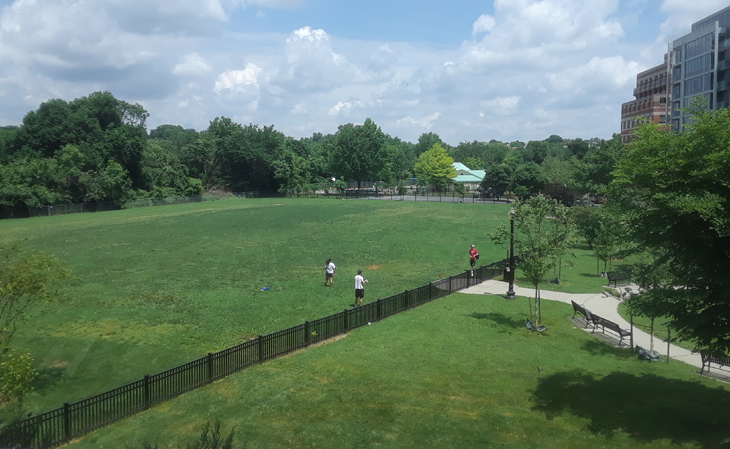 As shown in the photograph at left, taken from the second floor of 2501 M Street on May 27, 2018, Francis Field responded well to last summer's planting of grass and irrigation.
It is not a perfect, country-club lawn. Many species of grasses and other natural plants are living on the field. During the experimental planting that Friends of Francis Field organized and financed last summer and fall, no weed-killers or herbicides were applied, and native species—often known as "weeds"—were allowed to grow.
Also thriving and budding are the 43 trees planted by volunteers in May 2017. See the full story in the May Report article on this website.