Nicole Goldin, New ANC-2A Commissioner
To Represent West End District, January 2
Posted January 2, 2019.
As a result of the November 6, 2018, election, three new women commissioners will make up the eight-member Foggy Bottom/West End Advisory Neighborhood Commission (ANC-2A) when it convenes again this month.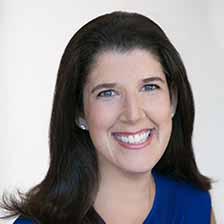 Representing single-member district 2A02, where Francis Field is located, will be Nicole Goldin a resident of 1221 24th Street NW. Goldin, who ran unopposed, is shown in the photograph at left.
She will replace long-time commissioner Rebecca Coder, who died in May 2018, during her fifth, two-year term (see Coder article).
Ms. Goldin, who describes her occupation as a "development economist," holds several advanced academic degrees, including a Ph.D. from School of Oriental and African Studies at the University of London.
While much of her consulting and academic work has been in international affairs, she says that the Advisory Neighborhood Commission (ANC) post provides "an opportunity to shape how our neighborhood and community works."
Her main issue of interest is "clearly parks and rec," she said in a recent interview. She is a dog owner, and noted that "certainly the initial encouragement came from fellow dog owners."
She is in favor of expanding and improving the Francis Dog Park," but stated that "I would not like to see it done at the expense of the community. I don't see the dog owners having more priority than others."
Other issues she is interested in, she said, was residential parking on 24th and 25th Street; longer summer hours at the Francis Swimming Pool; and increased space for community gardening.
Goldin ran a well-organized, uncontested campaign, and won substantially more votes than any of her soon-to-be colleagues on the eight-member commission. On election day, she greeted many voters at the School Without Walls at Francis-Stevens polling place.
"I was outside the precinct the entire day," she said.
---
| | | |
| --- | --- | --- |
| District | Commissioner | Vote |
| | | |
| 2A01 | Patrick Kennedy | 97 |
| 2A02 | Nicole Goldin | 590 |
| 2A03 | Trupti Patel | 367 |
| 2A04 | William K. Smith | 342 |
| 2A05 | Philip Schrefer | 210 |
| 2A06 | Jerri Epstein | 381 |
| 2A07 | Detrick Campbell | 126 |
| 2A08 | James Harnett | >21 |
The table at right shows the official vote totals. The other new women elected to ANC-2A are Trupti Patel and Jerri Epstein. The five men on the commission have all served previous terms and were re-elected.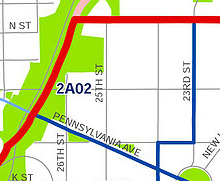 A map of the ANC-2A single-member district A202, which Ms. Goldin represents, is shown at left.
It generally is bordered on the north by N Street, on the south by Pennsylvania Avenue, on the west by Rock Creek Park, and on the east by 23rd Street NW.
A map of the entire ANC-2A Commission boundaries is also on this website in JPG format.