Mayor Bowser Lifts Most Covid Restrictions, Flyer Suspends!
Posted: June 21, 2021.
By order of Mayor Muriel Bowser on May 17, most businesses, restaurants, and bars were permitted to resume normal, pre-Covid conditions, and large entertainment venues such as sporting events could resume on June 11. Thus, the emergency period is at an end, and the West End Flyer has suspended publication. The Friend of Francis Field (FFF) organization will concentrate largely on field matters going forward.
About the Flyer
The West End Flyer was published by FFF during the Covid-19 health emergency, from May 2020 to May 2021.
It was intended to keep the nearby neighbors informed of civic matters, since the local newspapers that used to cover the Foggy Bottom and West End had gone out of business. The Flyer was distributed in PDF format by the building managers in 16 residential apartment and condominium buildings in the West End.
Originally two pages, it was expanded to four pages in September and then reduced again to two pages in March, to begin phasing it out as the worst of the pandemic was over. Back issues are provided below. Click on the images to view the PDF copies, which will open in a new window.
The publication originated in November 2009, when several large projects were in progress in the West End neighborhood, and FFF created a "West End Friends" committee to participate more actively in local concerns. The publication ran until November 2010 after 13 monthly issues. It was revived during the Covid-19 situation, with the May 2020 issue called the Francis Field Flyer and the next 12 using the previous name of the West End Flyer.
The Flyer may be revived from time to time, on an occasional basis as he need arises. FFF hopes that other organizations or for-profit concerns will engage again in neighborhood journalism. The FFF website will continue to report on Francis Field developments.
---
Back Issues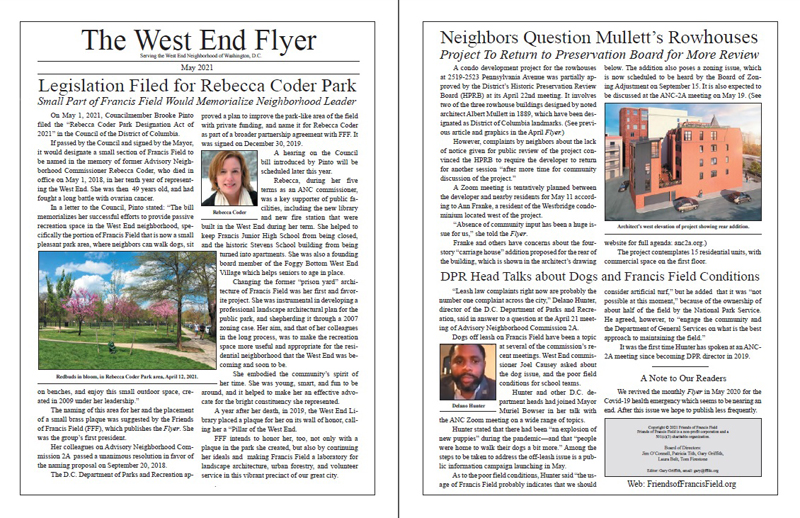 May 2021
Legislation Filed for Rebecca Coder Park: Councilmember Pinto introduces bill in District Council.


Neighbors Question Mullett's Rowhouses: Project will return to Preservation Board for more review.


DPR Head Talks about Dogs and Francis Field Conditions: Delano Hunter speaks for first time at an ANC-2A meeting.


---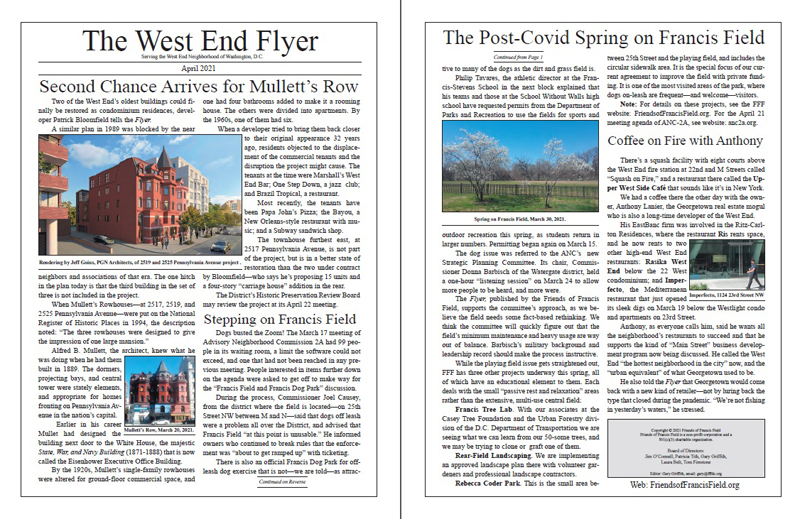 April 2021
Second Chance Arrives for Mullet's Row: Developer plans condominiums at West End's oldest historic building.


Stepping on Francis Field: Post-Covid strategic plan taken up by ANC-2A.


Coffee on Fire with Anthony: West End landlord Anthony Lanier in favor of "Main Street" business development.


---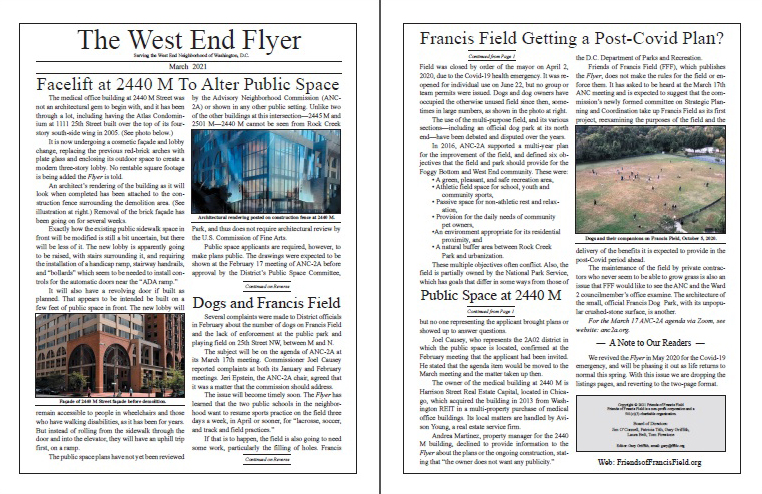 March 2021
With the March issue we dropped the listings pages, and reverted to the two-page format to begin phasing out the publication as life returns to normal.
Facelift at 2440 M To Alter Public Space: Owner has not shown plans for use of public sidewalk space.


Dogs on Francis Field: Post-Covid plan for field may be taken up by ANC-2A.


---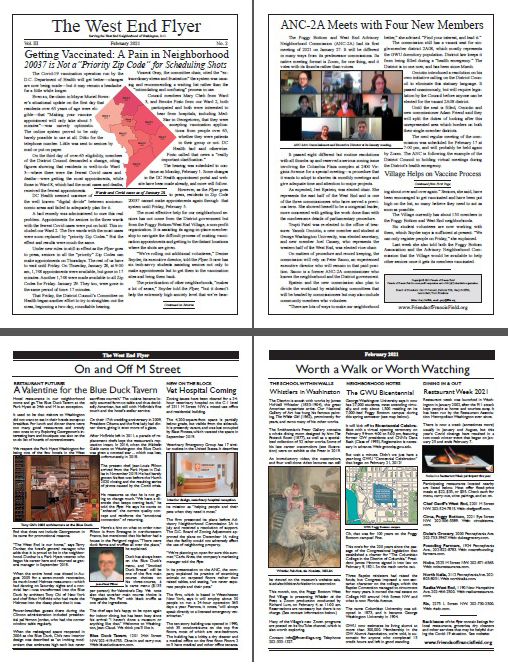 February 2021
Getting Vaccinated: A Pain in the Neighborhood: 20037 is not a "priority Zip Code" for scheduling shots.


ANC-2A Meets with Four New Members: Advisory Neighborhood Commission elects officers, will form committees.


A Valentine for the Blue Duck Tavern: New chef takes over at this high-quality hotel restaurant.


Vet Hospital Coming: Veterinary Emergency Group to open facility at 2311 M Street NW.


Whistlers in Washington: Two opportunities to learn about James McNeill Whistler, his paintings and watercolors.


The GWU Bicentennial: George Washington University celebrates its founding as Columbian College in 1821.


Restaurant Week 2021: Fixed-price meals featured at $22, $35, or $55 at eight neighborhood restaurants.
---
January 2021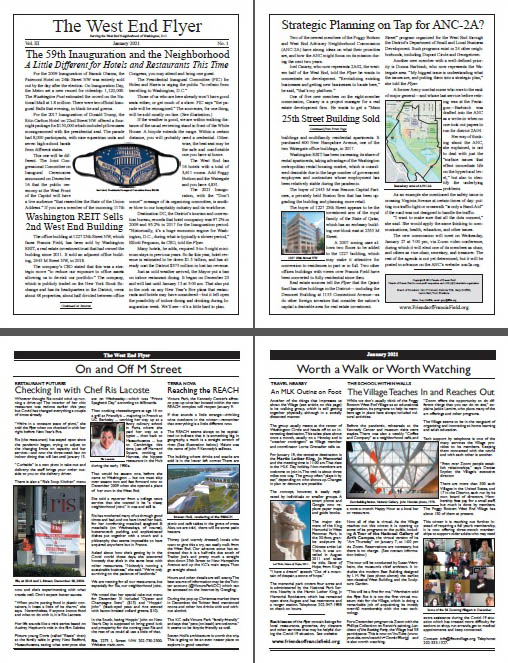 The 59th Inauguration and the Neighborhood: It will be different this time for our local hotels and restaurants.


Washington REIT Sells Second West End Building: Office building at 1227 25th Street NW is sold to State of Qatar fund.


Strategic Planning on Tap for ANC-2A?: New commissioners discuss their priorities for neighborhood.


Checking In With Chef Ris Lacoste: A favorite restaurant is in "constant state of pivot."


Reaching the REACH: Outdoor wine bar reopens this month at Kennedy Center.


An MLK Outing on Foot: Martin Luther King, Jr. Memorial is a walking destination.


The Village Teaches In and Reaches Out: Aging-in-place group keeps members in touch with technology.
---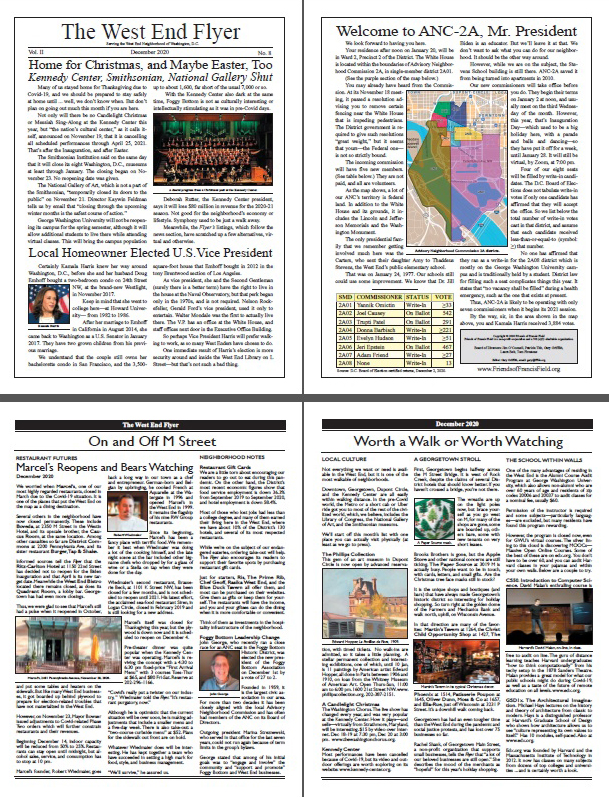 December 2020
Home for Christmas, and Maybe Easter, Too: The Kennedy Center, Smithsonian, and National Gallery of Art are all shut because of Covid-19.


Local Homeowner Elected U.S. Vice President: Kamala Harris could walk to work if she wants to.


Welcome to ANC-2A, Mr. President: The White House is inside the Commission's boundaries. Also, certified election returns.


Listings: Marcel's Reopens and Bears Watching: While others are now lost or in limbo, one of our renowned restaurants is back.


Worth a Walk or Worth Watching: Listings for cultural amusement, holiday shopping, and learning.
---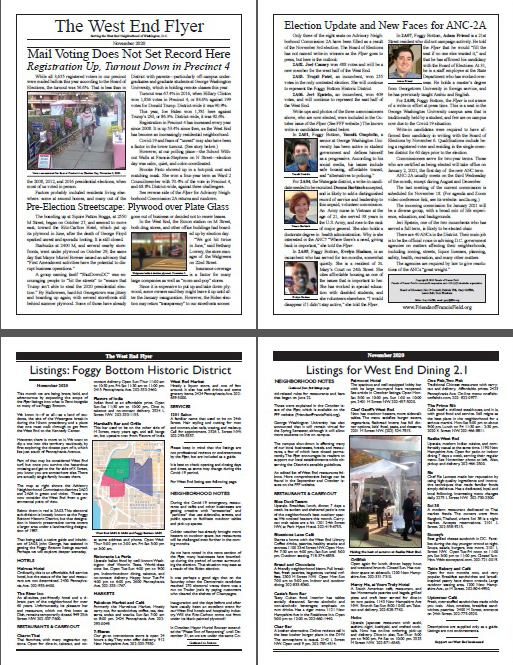 November 2020
Mail Voting Does Not Set Record Here: Although voter registration was up, turnout was less in Precinct 4 than in the 2008, 2012, and 2016 presidential elections.


Pre-Election Streetscape: Plywood over Plate Glass: Unrest over the presidential election causes local businesses to board up.


Election Update and New Faces for ANC-2A: Only three of the eight seats on the Advisory Neighborhood Commission were filled by the November election. Winners of write-in campaigns should fill four other seats.


Listings: Foggy Bottom Historic District: We venture south into the closest part of Foggy Bottom to the West End.


Listings for West End Dining, 2.1: Restaurants and bars are still in Phase Two of Covid-19 reopening order until December 31, and now face cold weather.
---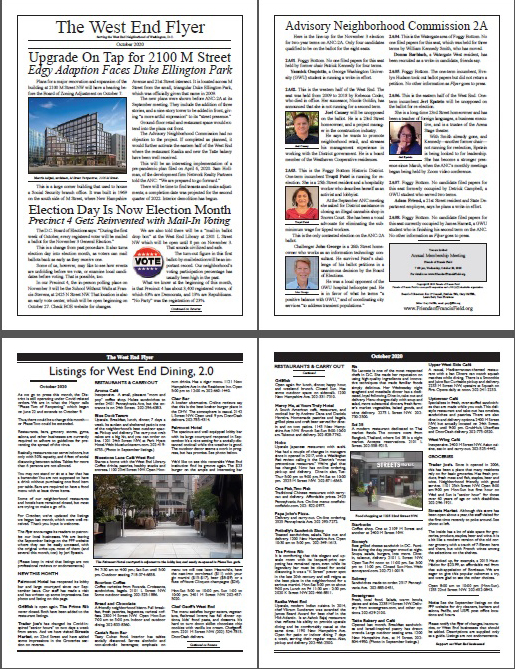 October 2020
Upgrade on Tap for 2100 M Street: Pre-Covid plan for expansion and renovation of existing office building goes before Board of Zoning Adjustment on October 4.


Election Day Is Now Election Month: Ballots are to be mailed to all registered voters "first week in October," several choices for casting them. Record turnout expected.


Advisory Neighborhood Commission 2A: Candidates will be on the ballot for only three of the eight seats. However, the West End will be represented. Seat-by-seat report.
Listings section:
Listings for West End Dining, 2.0: Restaurants and bars are still in Phase Two of the Covid-19 reopening order, which is in effect until October 9. Status could change this month.


Fairmont Hotel: Lobby bar and courtyard are now open. First impressions.


Streets Market: Food shopping at 1225 22nd Street NW.
---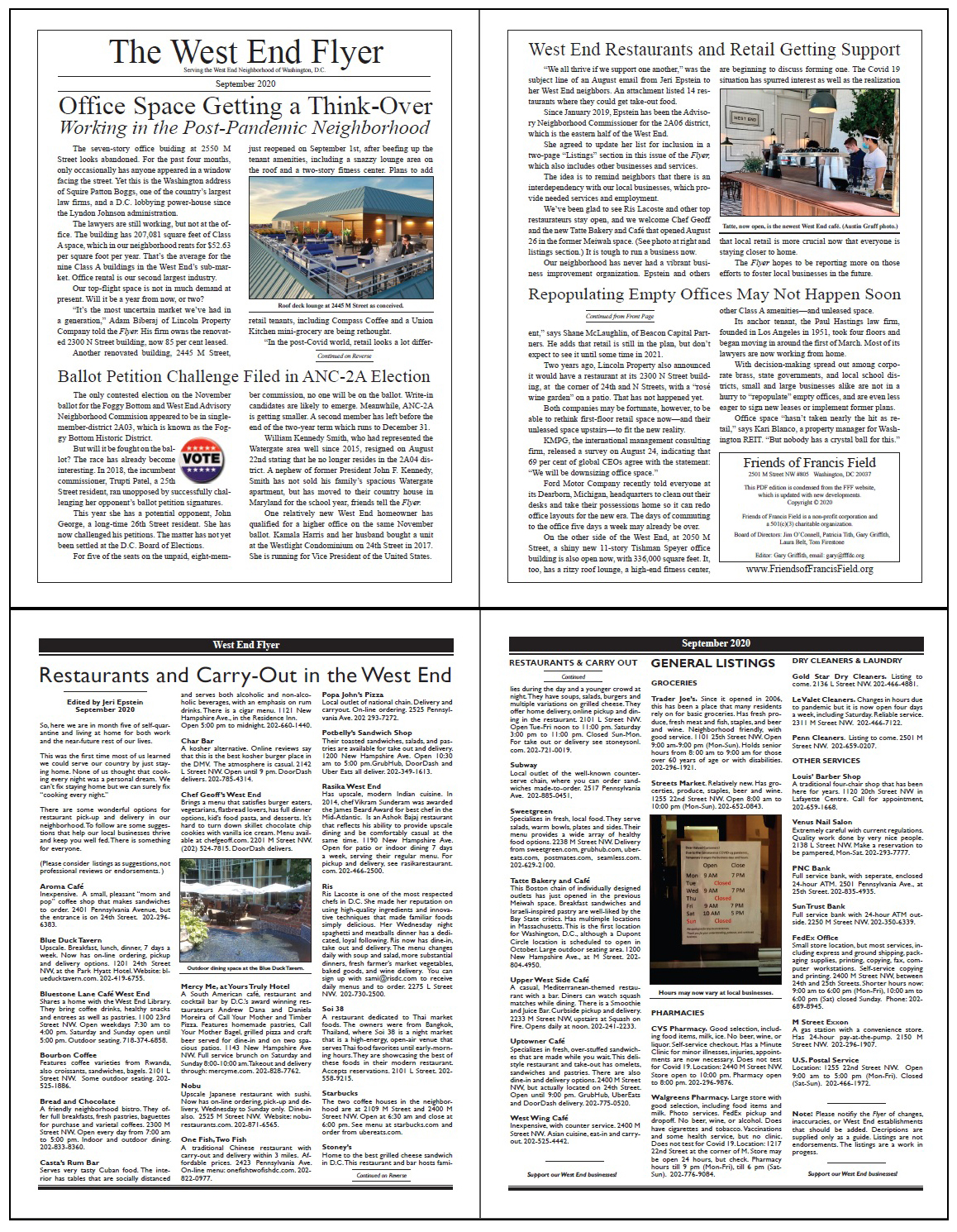 September 2020
This was the first issue with listings. Articles included:
Office Space Getting a Think-Over: Working in the Post-Pandemic Neighborhood


Ballot Petition Challenge Filed in ANC-2A Election


West End Restaurants and Retail Getting Support


Restaurants and Carry-Out in the West End
---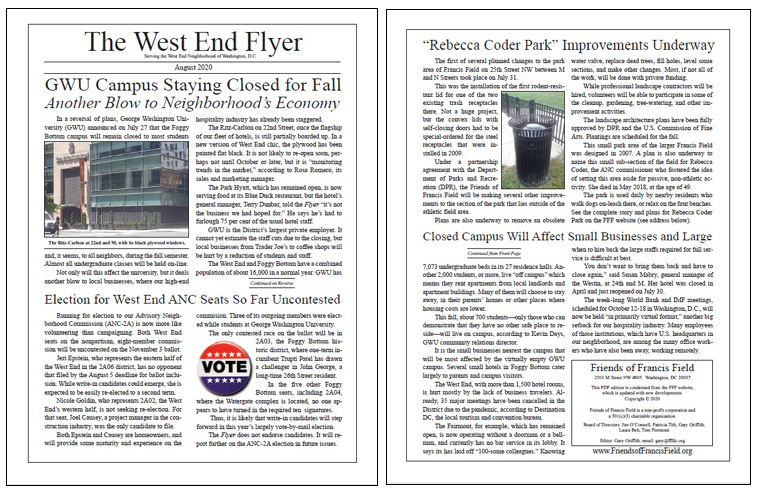 August 2020
Articles included:
GWU Campus Staying Closed for Fall: Another Blow to Neighborhood Economy


Election for West End Seats So Far Uncontested


Rebecca Coder Park Improvements Underway


---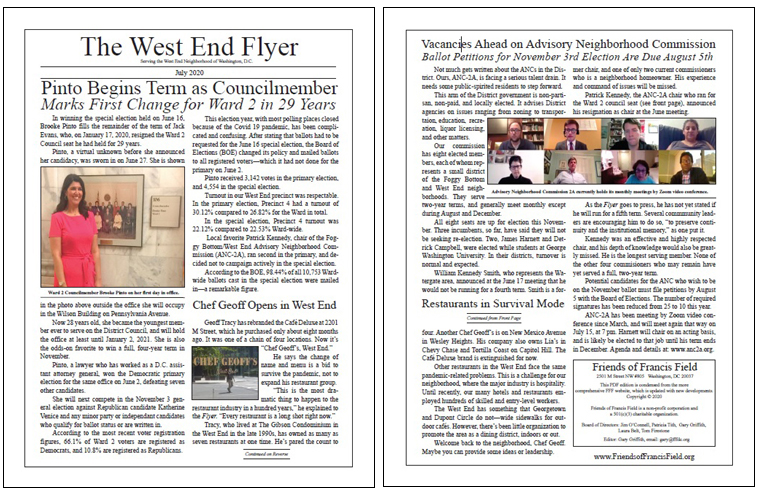 July 2020
Articles included:
Pinto Begins Term as Councilmember: Marks First Change for Ward 2 in 29 Years


Chef Geoff Opens in West End


Vacancies Ahead on Neighborhood Commission


---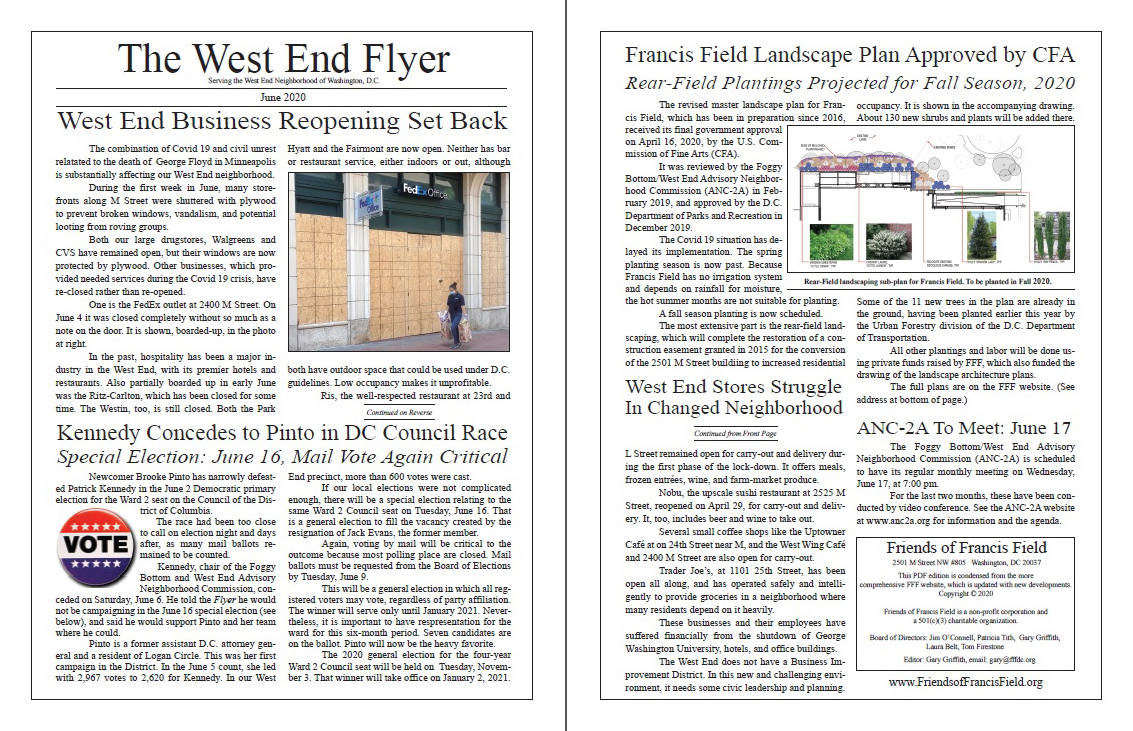 June 2020
Articles included:
West End Business Reopening Set Back


Kennedy Concedes to Pinto in DC Council Race


Francis Field Landscape Plan Approved by CFA


---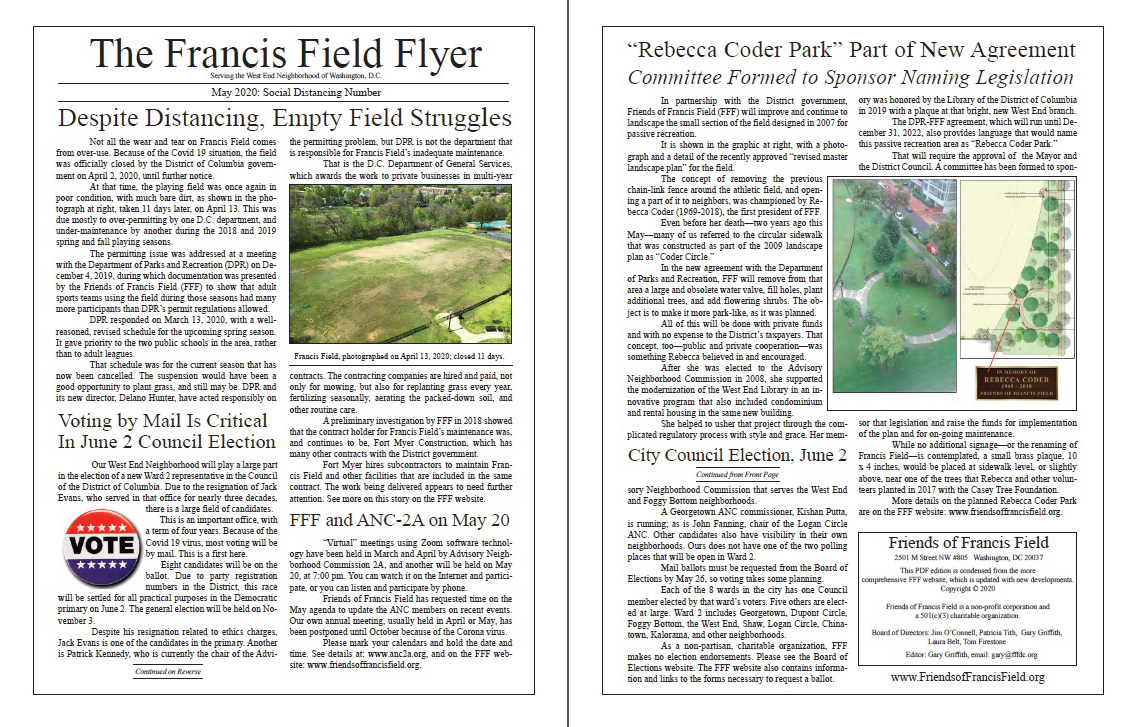 May 2020
This was titled The Francis Field Flyer. Articles included:
Despite Distancing, Empty Field Struggles


Voting by Mail is Crucial in Council Election


Rebecca Coder Park Part of New Agreement


---