"Rebecca Coder Park" Is Part of New Agreement
Master Plan for Field Gets Federal Approval, DPR Agrees on Naming
Posted: May 10, 2020.
In a new partnership agreement with the Department of Parks and Recreation (DPR), signed on December 31, 2019, Friends of Francis Field (FFF) will continue to make improvements to the recreational field that is now further defined by a revised landscape plan that DPR approved on December 4, 2019. A small sub-section, to be named "Rebecca Coder Park," is part of that agreement, but it still requires legislation to finalize the naming.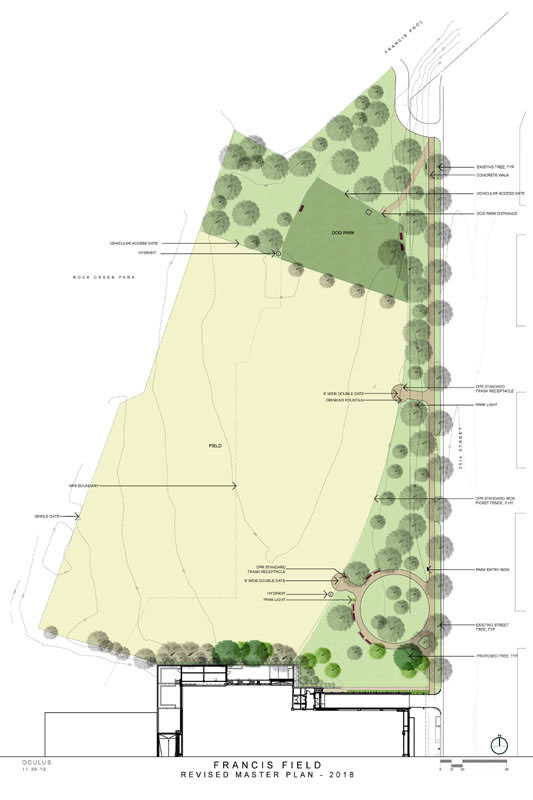 The sub-section is defined as "the park area between the playing field and 25th Street NW," which is to be improved "for passive recreation and non-sports activity consistent with the revised master plan."1
That revised plan was approved by the U.S. Commission of Fine Arts (CFA), at its meeting by video conference (due to the Corona virus) on April 16, 2020. The approved plan is shown at right. Its development has been reported previously on this website.2
The FFF-DPR agreement, which runs until December 31, 2022, provides for FFF to remove of an obsolete water valve in the sub-section, fill holes that currently exist there, and have grass and other landscaping elements planted by a professional contractor. All of this would be done with private funding.
This improved, park-like area, may also be named for Rebecca Coder (1969-2018), the first president of FFF, and an elected member of the Advisory Neighborhood Commission in our neighborhood from January 2, 2009, to her death on May 1, 2018. That language in the FFF-DPR agreement is given below:
Plan to include the naming of this sub-section of Francis Field as "Rebecca Coder Park," and the placement of a sidewalk plaque, provided that enabling legislation is passed by the Council of the District of Columbia and signed by the Mayor of the District of Columbia.
Coder was largely responsible for the concept of making a part of the large athletic field available to the residential neighbors and others who were not involved in competitive sports.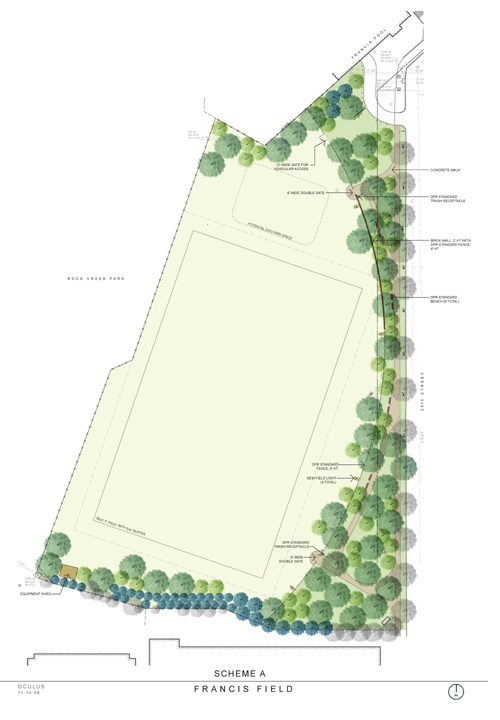 In 2007 when she became involved, the field was surrounded by a chain-link fence, six-feet high on 25th Street.
When a zoning case was opened for the conversion of buildings across 25th street from office to residential use, Coder became a leading proponent of improving the field by taking down the chain-link fence, and adding benches, safety lighting, and trees to provide more of a park-like setting.3
Equally important was a professional landscape plan so the new elements were not placed haphazardly, and to assure ample space for multi-use playing field.
The mayor at that time was Adrian Fenty, and the DPR director was Clark Ray. They were engaged in a project to install artificial turf on as many District athletic fields as possible. A soccer league was advocating that Francis Field should become a state-of-the-art soccer venue, with an artificial surface.
One plan, which DPR wished to finalize, was called Scheme A. It had a large, regulation soccer field, 58 by 100 yards, with a 5-yard buffer on all four sides. Dated November 10, 2008, the plan is shown at left.
During the review process, the National Park Service (NPS) informed DPR that it was attempting to make changes on federal property, and it was correct.4 Much of Francis Field was a part of Rock Creek Park. Artificial turf was antithetical to the NPS mission of keeping the nation's national parks in as natural a state as possible.
During the federal review process by CFA, it agreed with NPS, and with the suggestions of Rebecca Coder and FFF that there was too much focus on the soccer field, and not enough to the field's location in an increasingly residential neighborhood. The CFA wrote to DPR on January 29, 2009, stating in part:
The Commission members ... asked that more attention be given to the design of these areas as a neighborhood park. In particular, they recommended that the wider part of the south end be developed as a gathering space, perhaps by creating an open lawn ringed by trees and benches ...5
Better designs resulted before a master plan was approved. Two of those, and the final 2009 master plan, approved on September 24, 2009, are shown in a previous article on this website. See Master Plan 2009.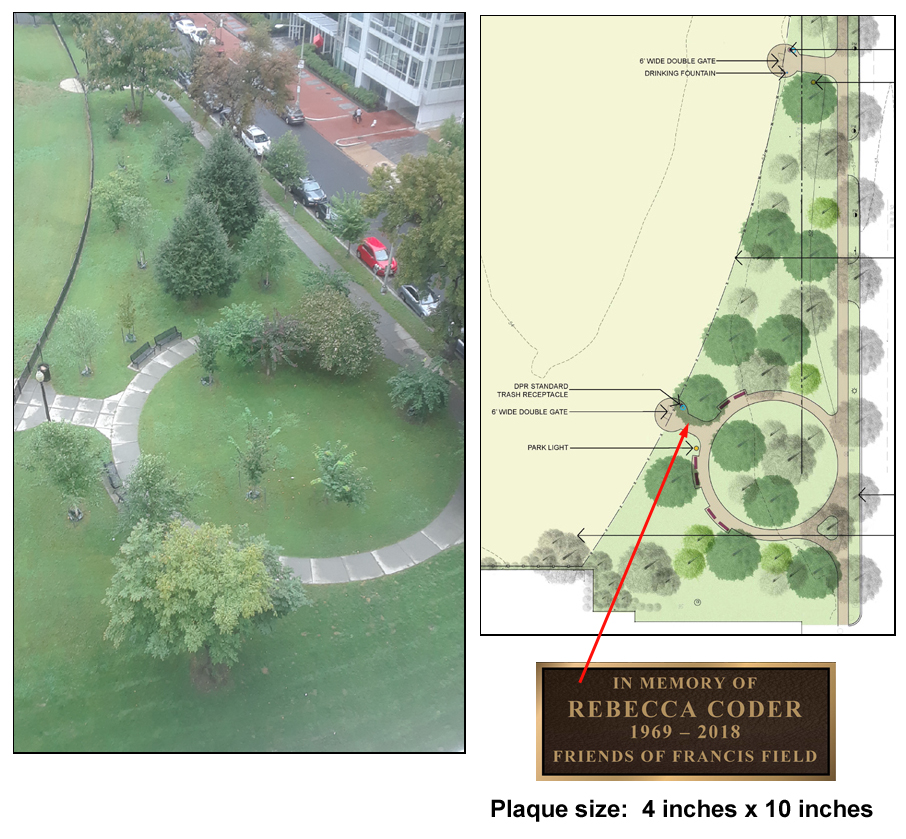 While the soccer field was not reduced in size, a more park-like design emerged. It was constructed in 2010, adjoining 25th Street.
It is that section that will become Rebecca Coder Park. It is shown in the graphic at right, with a recent photograph and a detail of the recently approved revised master plan.
Even before her death—two years ago this May—many of us referred to the circular sidewalk there as "Coder Circle."
A resolution in support of naming that park area after Rebecca was introduced at the Advisory Neighborhood Commission 2A meeting of September 20, 2018, and was passed unanimously.6
All such permanent memorials require the approval of the Mayor and the District Council. The person memorialized must be deceased at least two years.7
Now that sufficient time has passed, a committee of Rebecca's friends and colleagues has been formed to sponsor the legislation. It will also raise the funds for the implementation of the park improvements and to provide for on-going maintenance.
While no additional signage—or the renaming of Francis Field—is contemplated, a small brass plaque, 10 x 4 inches, would be placed at sidewalk level, or slightly above, near one of the trees that Rebecca and other volunteers planted in 2017 with the Casey Tree Foundation.
Rebecca believed in the concept of cooperation between the public and private sectors. Improving Francis Field with private, philanthropic funding was only one of several such public-private projects in which she became involved.
After she was elected to the Advisory Neighborhood Commission in 2008, she supported the modernization of the West End Library in an innovative program that also included private condominium and rental housing in the same new building as the public library.
She helped to usher that project through a complicated regulatory process with style and grace. Her memory was honored by the Library of the District of Columbia in 2019 with a plaque at that bright, new West End branch. See the Coder Plaque article on this website.
An obituary, Remembering Rebecca Coder, written in 2018, is also on this website.
---
Notes
1. D.C. Department of Parks and Recreation and Friends of Francis Field, Partnership Plan, 2019-2022, Attachment A.2. PDF.
2. See First Look at 2019 Master Plan (May 26, 2018), and New Francis Field Master Plan Changes Explained, (February 11, 2019).
3. See The Zoning Case, 2007-2009, (November 2, 2016).
4. Adrienne A. Coleman, Superintendent, Rock Creek Park, to Thomas E. Luebke, U.S. Commission of Fine Arts, February 15, 2009.
5. Thomas E. Luebke, U.S. Commission of Fine Arts, to Clark E. Ray, D.C. Department of Parks and Recreation, January 29, 2009.
6. Advisory Neighborhood Commission 2A, Proposal to Install a Plaque Honoring Former Commissioner Rebecca Coder at Francis Field, September 20, 2018. PDF.
7. "Public Space Names and Commemorative Works," D.C. Code §§ 9-204-1,5.